2022 Home Design Trends
To ensure our content is always up-to-date with current information, best practices, and professional advice, articles are routinely reviewed by industry experts with years of hands-on experience.

Reviewed by

on Nov 17, 2022
Have you ever walked through a house and thought, "This was probably really pretty in its time?" I certainly have. Every summer, my family and I go to garage and estate sales, looking for nothing in particular but to have a pleasant afternoon.
Once the inside of a few homes are seen, however, it's apparent how easily outdated a home can get, depending on how trendy the chosen décor was. The '70s had orange counter tops and floral textiles, the '90s had triangles and multicolored carpets.
Even just a few short years ago, stark white cabinetry and rigid, modern lines were featured in every home style magazine. The problem with being trendy is that those distinct, decorative characteristics quickly loose appeal once the style falls out of fashion, leaving a homeowner with landmarks of a previous time.
The trends for 2022, however, are said to be less drastic, and a welcome exception to this rule. Check them out below and see if any of such styles would work in your own home DIY renovations!
Natural, Unstructured Lines and Texture
Long gone are the days of cold and rigid home decor. 2016 is said to be about incorporating natural angles and textures for a soft and welcoming appearance. Accomplishing this could be as simple as replacing plastic placemats for natural woven ones, or plain brown or black picture frames with ones of unstained wood. Have a traditional coffee table? Why not make an interesting substitute using a natural wood slab? Simply add legs, sand where ridged, and cover the whole project in a clear sealant, creating a unique and eco-friendly room centerpiece.
Warm Tones
Though stark white may once have been thought sophisticated, a popular trend for this year is to fill a room with warm, inviting colors. Experts say that copper, brass, and gold accents found in fixtures, lamps, and even mantelpiece décor (candle stick holders, clocks, etc.) modernize a home without making it stark and cold.
Tribal and Animal Prints
I love movies from the '80s and '90s that daringly display wild prints in every nook and cranny of a space. While such brash expression isn't quite on trend this year, its influence can be felt. Do you still have those zebra pillows stored from long ago? Use them as focal points to complement natural inspired décor. Again, we won't be seeing tiger print wall-to-wall carpet, but a simple touch of adventure will off set otherwise stale rooms in the upcoming decor of tomorrow.
Greenery and Live Plants
A great design trend for 2016 is the potted plant -- but we're not talking your mother's English ivy. Large, full, almost unkept-looking houseplants are in style this year, which works well alongside the movement toward the natural-inspired decorations and furniture.
So, what kinds of houseplants are we talking about? Stylebooks suggest huge tropical plants that are expensive and hard to take care of, which will of course not work in most households. On a trip to a local home goods store, I saw quite a few plants that looked crazy enough to fit with this décor theme. When shopping, my suggestions are Dragon Tree (Dracaena Marginata), bamboo, and potted Snake Plant (Sansevieria).
Embrace the Tropics
Have you ever heard of botanical wallpaper? Before researching this article I hadn't, either. Though I tend not to be a huge fan of wallpaper (thanks in part to its typically hard-to-remove nature), home design professionals are starting to bring color and drama to their rooms by adding wallpaper with tropical looking leaves, trees, flowers, and colors. Now we should all be advised that embracing a home with bold, green leafed wallpapers sprawled on every wall is still looked down upon in spite of this trend. Most will use the idea as part of an accent wall or in a small space like a bathroom, worked in conjunction with more traditional carpets and furniture pieces.
Handmade Art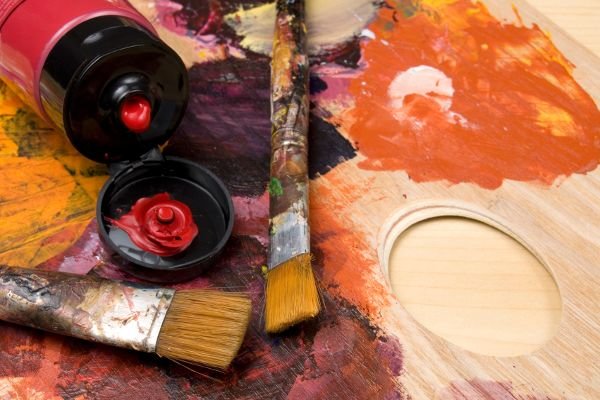 The final trend to create a lovely atmosphere for any home this year is handmade art. I tend to be a traditionalist when it comes to what paintings I will hang on my walls, yet this new style is said to be leaning toward basic, minimalist art intentionally crafted to appear as if the home owner did it on their own. With the mixing of organic shapes, colors, and textures into abstract conversation pieces, this can even become a fun DIY project for the whole family!