3 Handicap Bathtubs Options
To ensure our content is always up-to-date with current information, best practices, and professional advice, articles are routinely reviewed by industry experts with years of hands-on experience.

Reviewed by

on Mar 26, 2021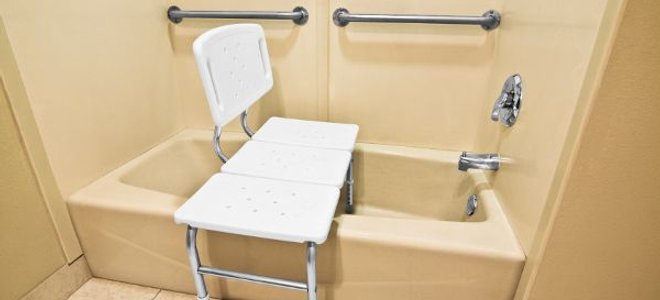 Easy access tubs, also called handicap bathtubs, make life easier for people who have limited mobility. They provide safety, independence, and dignity for individuals with mobility challenges.
Handicap bathtubs come in various brands and models, but they have several common features, which are grab bars, walk-in-access, a hand-held shower, slip-resistant floor, leak locks, and thermostatic temperature control.
Remodeling a Regular Bathtub
There are two ways to accommodate people with limited mobility. The first is installing a handicapped bathtub. The second is less pricey, but it offers fewer options. It requires removing a part of the outer bathtub wall and placing a ledge over the opening to allow walk-in access. For more comfort, a water-tight door may be fitted to ensure that the tub is tightly sealed.
Extra-Deep Handicap Bathtubs
The extra-deep bathtub is of the same height as the regular bathroom counter. It allows bathing while seated. The user enters the bathtub over a threshold that is 6-inches above the ground and sits over a molded seat. When the door is tightly sealed, the user may turn on the water and fill the bathtub up to shoulder level. These bathtubs come in a variety of models. Some are square-shaped, while others look just like regular bathtubs. Other models are equipped with power seats.
Bathtubs for Persons With Limited Mobility
Persons with restricted mobility may choose an easy access tub, equipped with a door that opens outwards. Some models are additionally fitted with a sit-and-pivot chair which facilitates transfers.
Additional Features
All handicap bathtubs are equipped with hand-held showers, but some models also have an overhead spray and a shower curtain. Some bathtubs are fitted with separate controls for the overhead shower head and the bathtub filler. This option is especially useful as water sprayed on the user's face has to be cooler than the average temperature of the bath. Another option is to choose a bathtub that is fitted with an adjustable height shower nozzle. The nozzle is attached to a sliding track so that the user adjusts it to the most comfortable position.
Grab handles or rails allow safer use of the handicap-accessible bathtub. Slip-resistant flooring is another feature that increases the safety of handicap-accessible bathtubs. Modern bathtubs come with textured floors that are sometimes insufficient for secure footing. Non-slip features are easy to incorporate and may last for years. Finally, bathtubs equipped with water jets are great for massage. They stimulate blood circulation and soothe stiffness in the muscles.