3 Ways to Decorate With Real Dried Leaves
To ensure our content is always up-to-date with current information, best practices, and professional advice, articles are routinely reviewed by industry experts with years of hands-on experience.

Reviewed by

on Jun 26, 2023
Decorating your home with natural elements is a wonderful way to get in touch with the great outdoors. Materials such as colorful autumn leaves are free, easy to find, and can be used in so many different ways. And thanks to the beauty of nature, no two will be exactly the same.
Leaves are especially beautiful during the beloved season of autumn. The bright hues of red, yellow, and orange make for amazing photo opportunities coupled with décor potential. Sometimes, you might even be lucky enough to score purple-hued leaves. All it takes is a walk through the park or your backyard to score these gorgeous supplies.
Decorating with leaves is much like decorating with twigs. Collecting materials should be done safely and cautiously. Do not pick up leaves that have bugs or are clearly decaying. Leaves that are soggy and in huge piles may be more prone to collecting worms, ants, or spiders. Instead, only pick up leaves that have just fallen and are in clear sight. Give each leaf a good shake to make sure there is nothing attached to them. If possible, wear gloves while gathering leaves and store them in a plastic bag until they are ready to be used.
Looking for inspiration? Check out these three décor ideas using real autumn leaves. Follow it up by filling your home with fall scents to welcome the new season in the best way.
1. Decoupage an Item
Fans of collage and mixed media will adore using decoupage to decorate with real leaves. This technique uses glue and a paint brush to adhere thin materials, such as paper, to an object of your choice. Once the glue dries, the object will be protected with a clear and solid coat. It is a beginner-friendly project that can be personalized to your heart's content.
Common objects used in decoupage include vases, boxes, candle holders, and glass bottles. Decoupage glue can be used to adhere layers of leaves to the object. For best results, use leaves that still have a small amount of moisture and are fairly thick. They should not crack or fall apart when you handle them. This will ensure that the leaves stay intact when curved or bent around an object.
Before starting your decoupage project, determine the position of your leaves. For example, you might want to layer the leaves like a collage or spread them apart to create a pattern. Next, add a thin layer of decoupage to the object and place the leaves according to your preference. Carefully smooth out any air bubbles with your fingers. Apply another layer of decoupage glue and leave to dry completely.
Like most home décor projects, you can customize this idea to suit your taste and style. Decoupage is available in various finishes such as matte and glossy. You can also add scraps of paper or fabric to create a piece that matches your existing décor.
2. Fill a Vase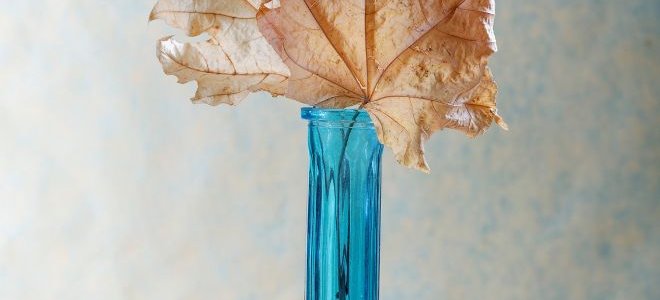 For another extremely easy décor idea, fill a glass vase or jar with colorful autumn leaves. Mix it up and bring in pinecones and acorns for ultimate fall-friendly vibes. You can also paint these materials with metallic gold or copper spray paint for a more luxe touch.
Once the vase is filled with leaves and natural materials, try adding a few twigs to create a rustic centerpiece. Wheat stalks and fake flowers in warm hues also work exceptionally well. If you're looking for something less conventional, swap out the clear vase for an empty lantern or apothecary jar. Remember, the flea market is your friend. It never hurts to keep your eyes open for interesting containers that can be filled with seasonal autumn elements.
The container can be left as-is or embellished with additional materials. A strip of burlap or lace fabric can emphasize that rustic vibe. A long strand of twine or festive ribbon wrapped around the holder is easy and attractive. Once you've finished your filled vase or container, try styling it next to pumpkins or candles on your table, desk, or mantle.
3. Showcase in Frames
The simple act of framing items is an easy, brilliant way to upgrade your space. This idea is inexpensive and barely requires any skill or effort. It's an excellent way to transform ordinary items into extraordinary art. Autumn leaves are no exception.
Before framing leaves, flatten them between paper towels and heavy books. Next, place the leaves on wax paper and apply a light layer of decoupage with a brush. Once dry, place in a frame of your choice. Admirers of minimalist design can use multiple smaller frames to house individual leaves. Alternatively, a row of leaves can be showcased in a larger frame.
Don't be afraid to personalize each piece with colored paper backgrounds. This is an effortless way to coordinate your framed leaf art with the existing décor in your living room, kitchen, or bedroom. Bring it up a notch by brushing gold paint to the tips of each leaf.
Kirsten Nunez is a freelance lifestyle writer and published craft book author. Born and raised in New York, she currently calls the Bay Area of California home. 

H.R. Helm is an accomplished DIY craftsman. He has been DIY since childhood and is now a septuagenarian. He is experienced in wood and metal construction, having designed and built several houses and metal buildings. He built every permanent building on his current homestead and did all the plumbing and electrical work. He has several years experience as a professional cabinet builder, and he is an accomplished auto repairman, having operated an auto repair business for many years. He currently has a home shop where he sharpens and rebuilds saws, repairs lawn mowers, mobility scooters, hydraulic jacks, and anything else that comes along. He also builds custom tools for metal working. Invention prototypes are another of his many accomplishments. He owned and operated a manufacturing business building Compact Utility Vehicles for homeowner use. H.R. enjoys making jams and jellies during fruit season along with cooking meals. He is committed to outdoor cooking in a Bar-B-Q pit he welded together several years ago. He maintains fruit and nut trees along with helping his wife with a vegetable garden. He farmed commercial garden produce for several years. It helps to have over 50 years of farming and ranching experience. Employment/Education Highlights ASE Certified Master Auto Technician Certified Welder Cross country truck driver -- over dimensional freight Design Engineer/Project Manager for injection molded plastic company Bus Driver/Substitute Teacher Inventor with two patents (weight training – anti-rollback for manual wheelchair) BS in Industrial Technology