4 Reasons to Choose a Roman Tub Faucet
To ensure our content is always up-to-date with current information, best practices, and professional advice, articles are routinely reviewed by industry experts with years of hands-on experience.

Reviewed by

on Apr 18, 2022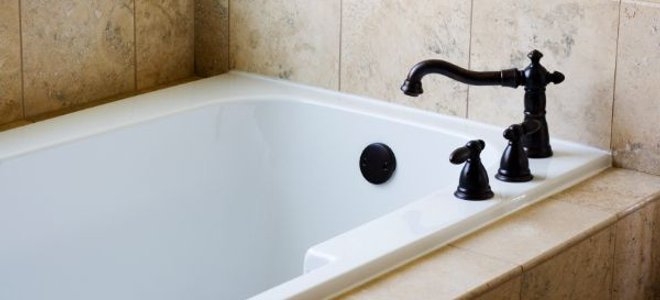 1-3 hours

•

Intermediate

•

50-500
A Roman tub faucet just might be the finishing touch your remodeled bathroom needs for an elegant and regal look.
Everything from the toilet and cabinetry to the lighting, tub, tile, and accessories are being pieced like a puzzle. The final piece of the puzzle that can add pop to your design is a roman tub faucet.
Studies have shown that remodeling a bathroom is the second most stressful project a homeowner can undertake, right behind the kitchen. So you've earned a soak in a tub filled with a Roman tub faucet.
What Is a Roman Tub Faucet?
A Roman tub faucet has handles that are attached to the deck of the tub instead of the wall or bath itself. It also has an arched spout.
These faucets come in a range of handle settings, which include a single, double, or even triple handle design. Roman tub faucets come in various finishes to compliment the overall bathroom design.
1. An Elegant Look
Roman tub faucets add opulence to the bathroom and tub area. They are styled after the great ancient Roman baths.
The sleek lines and mounting design are reminiscent of a bygone era that has been modernized for an elegant, luxurious look in your bathroom.
2. High Quality and Workmanship
A Roman tub faucet is not to be confused with a regular wall-mounted fixture. Because of the unique placement of the faucet on the tub decking, they require a little more work than a common faucet.
To offset that, they are made with quality crafting and workmanship. It is not uncommon for this type of faucet to last up to 30 years.
3. Great for Stand Alone Tubs
Modern bathrooms are becoming larger and more expansive. More and more homeowners are choosing stand alone bathtubs that are removed from a wall and shower enclosure.
A Roman tub faucet is ideal for this type of bath configuration.
4. Investment in Value
Homeowners usually don't think about fixtures as a means of increasing the resale value. However, Roman tub faucets add a level of luxury and value to the overall home.
When you are buying fixtures for a bathroom, consider a Roman tub faucet.