5 Essential Elements for a Cozy Autumn Living Room
To ensure our content is always up-to-date with current information, best practices, and professional advice, articles are routinely reviewed by industry experts with years of hands-on experience.

Reviewed by

on Jun 26, 2023
Autumn is all about relaxing by the fireplace and indulging in tasty treats. So, it only makes sense to prep your living room just for the season. This is especially useful if you'd like to host a party for Halloween or Thanksgiving. Regardless, transforming your living room is still worth the effort. It's one of the best ways to make the most of this glorious season.
Of course, this doesn't mean you need to completely redesign your living room. In fact, you might not even need to remove anything. The key to effortless fall decorating is to use versatile elements that can easily match with your existing décor.
With the right mindset, you'll be well on your way to creating the ultimate autumn haven. Now, who wants a pumpkin spice latte?
1. Wood Décor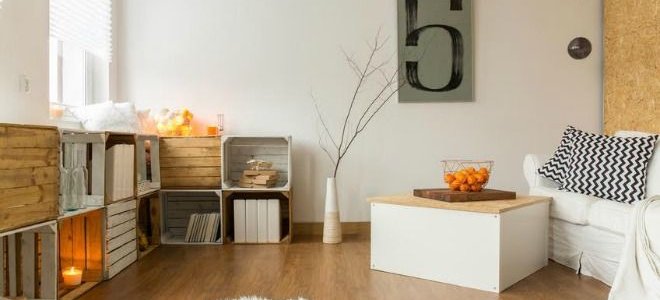 Thanks to the neutral tones of wood, incorporating this natural element into your living room is extremely easy. After all, nothing says autumn like embracing the beautiful simplicity of wood. The best part is that it can work with everything from modern designs to quaint country style. It all comes down to the type of décor used.
For a minimalist take, keep an eye out for geometric shapes. Choose items that have a clean, monochrome finish. Examples include sleek square coasters, small sphere sculptures, and a hexagon-shaped frame. For a more rustic touch, opt for wooden décor with a distressed finish. Scope out your local flea market or thrift store for charming objects.
Stretch your dollars even further by choosing items that do double duty. For example, a frame can showcase a memory while a bowl can hold candy. Don't hesitate to use wood items in slightly different finishes. This is exactly what will add a natural touch to your living room setup.
If you're looking for a more organic route, consider decorating with twigs. This technique is inexpensive, beginner-friendly, and easy to customize. You'd be surprised at how good a handful of twigs in a decorative vase can look.
2. Pumpkins
It goes without saying that pumpkins are the ultimate icons of fall. This member of the squash family is known for its bright orange skin and comforting aroma. It also happens to be a must-have for fall-friendly living room décor.
For instant autumn vibes, add a mini pumpkin to your mantle or coffee table. You can also style several of them together as a centerpiece. If you'd like a more polished look, pick pumpkins that are similar in size and color. Faux store-bought pumpkins are best for creating a uniform bunch. Otherwise, a group of pumpkins in different shades, shapes, and sizes makes for a lovely rustic visual.
Think of pumpkins as canvases. Ribbon, fabric, and twine can be tied around each one. Acrylic paint and metallic pens can be used to create stunning drawings. If you have kids, let them embellish the pumpkins for a fun fall activity.
3. Plaid
There is something so comforting about plaid flannel. It's the type of fabric that boasts a classic and timeless mood. And since it can be found in so many different color palettes, you can be sure that there's something out there for your living room.
The easiest way to decorate with this print is to add a plaid blanket to your couch. It's easy to move around and doesn't have to stay there forever. To top it off, a plaid blanket adds an inviting warmth to your room. It also serves as the perfect reason to curl up with a good book and a cup of tea during a chilly autumn night.
4. Seasonal Scents
While the visual aspect of a room is crucial for creating a theme, we can't forget about the other senses. Treat your nose by filling your living room with traditional autumn scents. It's an excellent way to jumpstart thoughts of a warm home during the holidays.
The easiest method is to light a candle or set out some potpourri. Choose scents that have notes of autumn elements like apple, pumpkin, and cinnamon. If you're feeling crafty, make stovetop potpourri in the comfort of your own kitchen. Try making a homemade fall candle from scratch for a chance to showcase your favorite scents of the season.
5. Pinecones
Like wood, pinecones are ideal for adding natural touches to your home. If you're lucky enough to live in an area that has pinecones, consider using them in your fall-themed living room. Otherwise, they are sold at craft stores. Try filling a bowl or clear vase with pinecones for a rustic centerpiece. You can also hang them from your mantle by gluing loops of twine or ribbon to the top of each pinecone. Take it even further by stringing the pinecones onto a long strand of cord to create a garland.
Alternatively, you can turn a pinecone upside down and place it in a small clay pot for a charming woodsy topiary. Additional ideas include gluing pinecones to a wreath form to be hung above your fireplace. You can also arrange pinecones around a large candle holder for a glowing fall centerpiece.
Kirsten Nunez is a freelance lifestyle writer and published craft book author. Born and raised in New York, she currently calls the Bay Area of California home. 

H.R. Helm is an accomplished DIY craftsman. He has been DIY since childhood and is now a septuagenarian. He is experienced in wood and metal construction, having designed and built several houses and metal buildings. He built every permanent building on his current homestead and did all the plumbing and electrical work. He has several years experience as a professional cabinet builder, and he is an accomplished auto repairman, having operated an auto repair business for many years. He currently has a home shop where he sharpens and rebuilds saws, repairs lawn mowers, mobility scooters, hydraulic jacks, and anything else that comes along. He also builds custom tools for metal working. Invention prototypes are another of his many accomplishments. He owned and operated a manufacturing business building Compact Utility Vehicles for homeowner use. H.R. enjoys making jams and jellies during fruit season along with cooking meals. He is committed to outdoor cooking in a Bar-B-Q pit he welded together several years ago. He maintains fruit and nut trees along with helping his wife with a vegetable garden. He farmed commercial garden produce for several years. It helps to have over 50 years of farming and ranching experience. Employment/Education Highlights ASE Certified Master Auto Technician Certified Welder Cross country truck driver -- over dimensional freight Design Engineer/Project Manager for injection molded plastic company Bus Driver/Substitute Teacher Inventor with two patents (weight training – anti-rollback for manual wheelchair) BS in Industrial Technology