5 Exterior House Painting Tips
To ensure our content is always up-to-date with current information, best practices, and professional advice, articles are routinely reviewed by industry experts with years of hands-on experience.

Reviewed by

on Nov 14, 2022
When painting the outside of your house, using exterior house painting tips will ensure that you have everything in order before you begin. While the job of exterior house painting is not difficult, there are a few things you'll need to do for preparation of the exterior of your home.
1. Paint and Tools
Calculate an estimate of how much paint you will need to paint your home. This is done by multiplying the width of the wall by the height. Choose a quality paint for a longer lasting effect. The instructions on the paint you choose will tell you how much area the paint will cover.
Ensure that you choose quality paint brushes and rollers. If you decide to use a paint sprayer, ensure that you read the manufacturer's instructions to prevent malfunction. Wood filler, putty knives and putty, and drop cloths are other items you will need to assemble before beginning to paint your home.
2. Prepare the Perimeter
Set a perimeter around your home that creates a safe zone for you and others in the area. Tie back all limbs that may be close to your home to prevent paint from getting on them and so that your safe zone is as unobstructed as possible. It will be necessary to place drop cloths on items within your work zone that can not be moved. Air conditioning units and shrubbery are items that you will want to keep paint free.
3. Remove Shutters
If your home is outfitted with shutters, you will want to remove them so that paint does not get on them. Trying to paint around shutters isn't always practical as paint can still get on the sides. Ensure that your windows are closed and inspect the home as you prepare the perimeter for any cracks or holes around the window seals and other areas. If cracks or holes are present, use a quality wood filler to fix the problem. Use a sander to smooth the wood filler before you paint. If any putty around your windows is cracking or peeling, you will want to remove it with a putty knife and apply new putty. This will prevent you from having to do it after painting.
4. Prepare Paint Surface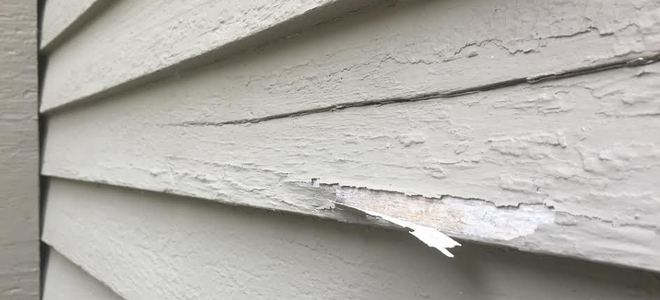 Check the surface of the home for any chipped or peeling paint. Use a wire brush to remove the old paint. If there are cracks in the wood, fill all affected areas with wood putty and allow it to dry. Use a sander to smooth out the areas. This will allow the paint finish to be smooth after you paint over the area.
5. Sand All Chipped Areas
To ensure that there are no rough areas in your finished paint job, sand all areas of the home that have chipped or peeling paint around the entire perimeter of your home. Once you are done, use a garden hose with strong pressure to rinse away the debris from the home's surface. Allow to dry before beginning to paint.