5 Non-slip Tread Ideas for a Wooden Staircase
To ensure our content is always up-to-date with current information, best practices, and professional advice, articles are routinely reviewed by industry experts with years of hands-on experience.

Reviewed by

on Dec 24, 2019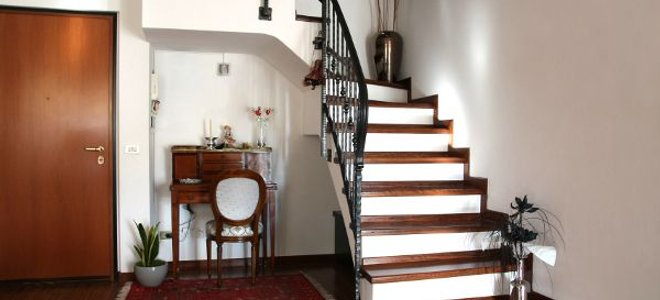 From paints to tape, rubber, vinyl, and even carpet, there are all kinds of options to make sure that your wood stairs are not dangerous for anyone to walk on. This article will outline your choices for adding non-slip tread to your staircase.
1. Carpet
Yes, you can carpet your entire wood stair and make it non-slip, but then it wouldn't really be a wood stair anymore. Luckily, there are carpeted, non-slip strips that you can stick right to your steps. This gives the design benefits of carpeting and a variety of colors and textures to match any décor, while keeping the wooden look for the rest. Carpeted, non-slip strips are moderately expensive in cost; with the average staircase consisting of 15 steps, it will cost about $100 to place these strips on every one. But, the trade-off is how much it will save in medical bills if you can avoid falling and injuring yourself on slippery steps.
2. Rubber
If you really aren't fond of carpet and the dust mites it can contain, you can always go with rubber non-slip treads. Rubber has the advantage of being easy to clean, very durable, and inexpensive. The downside is that the rubber treads are not that appealing to look at. Some manufacturers have caught on to this and are making rubber non-slip tread in a variety of colors. However, the additional colors and textures can send the price well into the hundreds of dollars, which takes the cost-effectiveness out of this option.
3. Paint
There are also a wide variety of non-slip paints that you can use on your wood stairs. Either sprayed or painted on, these can come in a variety of colors to match your décor and allow for a less conspicuous way of preventing slips and falls. This is the most permanent solution as well, so make sure you really are okay with changing the appearance of your wood stairs before painting them. This type of paint can be used for both indoor and outdoor stairs, which makes it particularly appealing for a deck area or for steps that may lead from a pool.
4. Tape
Tape is the cheapest non-slip option that you have for your home. Just buy one or two rolls, stick them on your steps, and you are done. You do need to take care that you purchase a non-slip tape that is not too abrasive to use inside your home. Everyone will be using these stairs barefoot at some point, so you want to make sure that these tape strips are not painful to walk on. Tape strips also have a tendency to peel up with use and will become an unsightly hazard eventually if you aren't careful. Ask your local hardware store which type of non-slip tape they recommend most before buying.
5. Vinyl
Vinyl, non-slip stair tread is similar to rubber tread and has the same advantages, such as being very durable and easy to clean and install. Vinyl stair tread will cost slightly less than rubber, but have generally the same appearance. You can purchase flat stair tread, or stair tread that will even curve around the nose of your stairs. Vinyl does not have as many color options as rubber, but it is still a viable non-slip option.