5 Types of Towel Warmers Explained
To ensure our content is always up-to-date with current information, best practices, and professional advice, articles are routinely reviewed by industry experts with years of hands-on experience.

Reviewed by

on Oct 14, 2020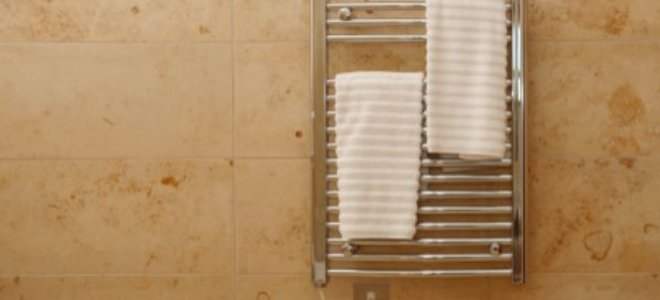 Once considered a luxury, towel warmers now come in a variety of styles to suit every home. If your bathroom is heated by a radiator, you can replace the old radiator with a towel radiator warmer. In a modern bathroom that uses electric or gas heat, you can turn down the thermostat when you install an electric towel warmer. If you just wish to dry wet towels once a day, install an electric towel warmer that plugs into a wall socket. To dry delicate lingerie in the bathroom, install a towel warmer with a hanging rack that extends out from the top. Learn more about these 5 types of towel warmers from the descriptions below.
Combination Towel Warmer/Radiator
This type of towel warmer can replace your old bulky radiator, freeing much-needed floor space. The radiator towel warmer is connected to the hot water supply just as the heating radiator was. The hot water runs through a central radiator panel and through all the horizontal racks of the towel warmer. It runs continuously, so your towels will dry and warm up free of mold and mildew. Connect the towel radiator pipes directly and safely to the hot water piping, then attach the towel warmer support bars to wall studs in the bathroom.
Electric Towel Warmer, Wired With Switch
This type of electric towel warmer connects directly to the electrical system of your home. It has an on-off switch. Other models come with a programmable timer that you can set for just a number of hours or for a certain time every day. The warmer rails are heated by internal coils that can reach up to 140° F. (55°C.). Some models have a rail at 90° to the vertical supports, while other styles have bowed rails to enable you to hang up thick bath sheets. The electrical control panel and the supports must attach to the bathroom wall studs and be situated at least 12-inches from any water source that may splash onto the rails.
Some bathroom convection electric heaters are specially designed with a towel bar stretching above it and leaning forward where towels can be hung to dry after use. Since a convection heater continuously circulates the air to provide heat for the room, it makes that particular design very convenient.
Electric Towel Warmer, Plug-In
The simplest warmer is the electric towel warmer. It is easy to install and it can hang from the wall studs near an electrical outlet. Just plug it in to start and unplug to turn off. They are handy for installing at cottages, where they will be used seasonally but not daily, or used all year round. They are also great for a college dorm, so students can dry towels and hand-washed clothes.
Hydronic Towel Warmers
Hydronic towel warmers are electrically operated, but the electricity warms a thick gel fluid inside the hanging racks to warm and dry towels. Cooler gel flows to the bottom and warmed gel rises and flows through the horizontal bars to the top assisted by a small pump installed inside the wall. Hydronic towel warmers operate continuously.
Towel Warmers With Overhead Rack
Radiator, hydronic, and electric towel warmers are available with this feature. You can dry washcloths, lingerie, or other small hand-washed items on the overhead rails directly, or hang wet items on hangers to dry. Ensure the towel rack supports are attached securely to the wall studs.