5 Ways to Update Your Basement Ceiling
To ensure our content is always up-to-date with current information, best practices, and professional advice, articles are routinely reviewed by industry experts with years of hands-on experience.

Reviewed by

on Nov 09, 2021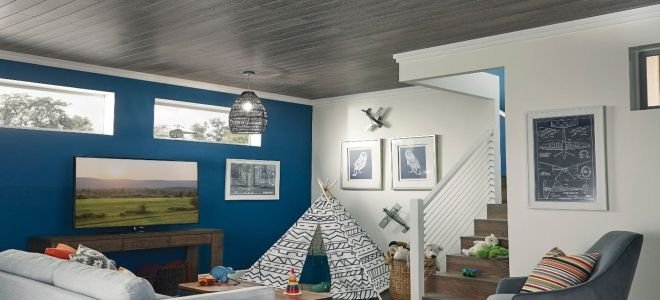 When you're remodeling or renovating your home, one area that's often overlooked is the ceiling. This is especially true when it comes to the basement. If you think about it, the basic ceiling on its own in any room is a large, unused canvas. With the addition of a suspended drop ceiling and the installation of ceiling tiles, the basement ceiling can be updated to become a visually pleasing and viable area with a distinct atmosphere. Here are several options to update the basement ceiling to improve the look, especially if you're planning to use the basement as a family or living area.
1. Install Coffer-Look Ceiling Tiles
Coffer ceiling tiles are an easy way to transform a nondescript ceiling into one with a modern and upscale look. The coffered PVC tiles are lightweight, resist mold, mildew, and moisture, and are easily installed. 24"x24" tiles can either be installed into an existing grid or fitted into a new suspended grid system.
The Easy Elegance square panels are available in pristine white or impressive black with varying depths. Longer borders around the tiles result in a more dramatic effect while shorter borders create a chic and upbeat design.
2. Cover a Ceiling Grid with Wood Ceiling Planks
Updating with wood-like panels is another option to revamp the ceiling. WoodHaven wood-look planks are available in a variety of colors from classic white and soft grey to the natural look of pine or maple.
You can use a suspended ceiling grid that is already in place. Easy Up clips are placed on the grid, each plank is positioned on the grid, and then the clips are adjusted and secured in place. The result is a room with the richness of wood-look planks.
3. Add Metallics with a Tin Ceiling
Metallaire real metal panels make a memorable statement through color, style, and texture. The 24"x24" panels are easily installed in a 15/16" grid system. There are color coordinated grid systems for matching the panel color, or you can paint the existing grid to match the panels.
With the variety of five colors and 12 assorted patterns and finishes available, creating the type of atmosphere you want is only limited by your imagination.
4. Convert 2'x4' Ceilings to Stylish 2'x2'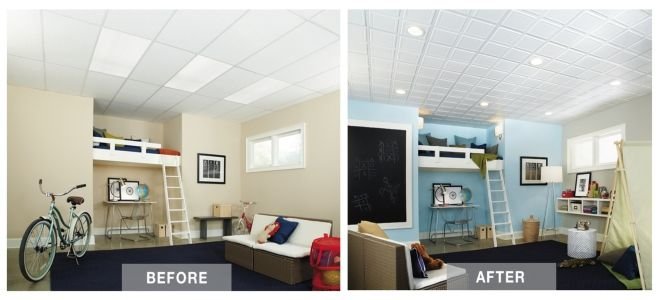 Get inspired with the conversion of a 2'x4' ceiling to a 2'x2' by using Armstrong Prelude 2-foot cross tees.
The installation steps include testing the grid with a 2' cross tie to ensure a fit, buying the rest of the 2-foot cross tees you need, removing the existing 2'x4' panels, attaching the cross tees to the grid, and installing the 2'x2' panels.
Drop ceiling tiles can include a variety of performance features such as resistance to sag, mold, humidity, and fire. Make your panel selection from high-performance tiles that include Sahara™, Fine Fissured™, or Classic Fine Textured, or decorative ceiling panels that include Raised Panel™, Single Raised Panel, or Tincraft™ Circles.
5. Control Noise with Your Basement Ceiling
Add a touch of class and elegance to the basement along with the benefit of acoustics with one of several choices in ceiling panels such as the 24"x24" Sahara™, Classic Fine Textured, or Fine Fissured™.
Each uses the standard 15/16-inch suspended ceiling grid system. The panels provide the benefit of performance, grid-concealing edge detail. Along with sound control, these tiles are also resistant to humidity, sag, and mold.
With the easy installation or utilization of a current suspended grid system to secure versatile ceiling tiles in assorted styles, colors, and textures, your basement can be turned into a viable entertainment, relaxation, or work space in your home.