50 Things to Throw Away Right Now
To ensure our content is always up-to-date with current information, best practices, and professional advice, articles are routinely reviewed by industry experts with years of hands-on experience.

Reviewed by

on Feb 26, 2020
If you're overwhelmed, don't avoid the clutter. Instead, begin the process with these items that you can toss today without regret.
1. CDs, Cassette Tapes, 8-Tracks, DVDs, VHS Tapes
Everything can be streamed now. Plus, that 1983 movie gem may no longer hold the same appeal.
2. Phonebooks
You look up numbers on your phone or computer, so recycle the heavy paperweight.
3. Broken Things You Intended to Fix
After five years of intending to fix that broken picture frame, it might be time to admit it's not going to happen.
4. Old Documents
Dispose of receipts for items past the warranty date and for whatever you no longer own. Also dispose of tax records from more than seven years ago and utility bills—those records are online.
5. Outdated Décor Items
Don't hang on to the toothbrush holder and shower curtain you replaced after updating the bathroom décor last year.
6. Mismatched Candles and Holders
Got tapers, but only votive holders? Ditch the mismatched items.
7. Plastic Potting Containers
These are great for getting your new plant home, but after that they are of little use if you re-pot the plants. Send that stack of plastic potting containers straight to the recycling bin.
8. Cookbooks
If it's the only recipe you use in the book, take a picture or print it out. Then, examine the rest of your cookbooks. The BBQ Bible may not fit into your current vegetarian lifestyle.
9. Textbooks
Your education is an important part of your past, and that's where it stays. Sell or recycle old textbooks.
10. Old, Broken, or Unused Holiday Decorations
Keep the ones with special memories and those that make you smile. (Or try upcycling some!)
11. Marketing Materials
It's great to receive freebies, but if you're not using that inflatable beach ball, donate it!
12. Extra Blankets
Donate to the nearest homeless shelter. They probably need them more than you.
13. Unpaired Socks
Holes? Stretched out? Missing a mate? Let them go.
14. Magazines
If the sight of that unread mag causes guilt, ditch the print and the guilt at the same time. Rip out special articles and file them in an easy-to-find location.
15. Old Suitcases and Duffle Bags
If it has a broken zipper, a tear, or is a gym bag from your Richard Simmons days, it's time to trash it.
16. Computer Disks
Floppy and hard disks are long gone and they're not coming back.
17. Activity and Coloring Books
Your kids are teens now. Let them go.
18. Items That Cause Feelings of Sadness or Regret
This one can hurt and may include a loved one's clothing items or memorabilia. Photograph the item or find a picture of the person wearing the clothing and then let the article go.
19. Extra Water Bottles
Save a few favorites and let the rest go, especially those low-quality plastic versions.
20. Extra Kitchen Utensils
How many ladles does one kitchen need?
21. Miscellaneous Cords Cables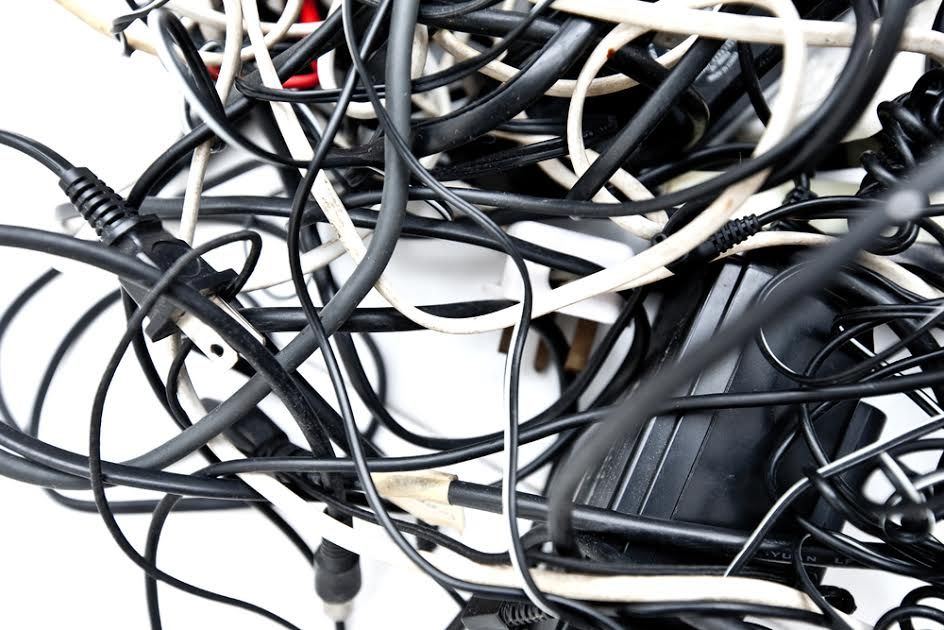 Part with anything that belongs to a device you no longer own or that is part of old technology. If you can't figure out what it goes to, toss it!
22. Old Cell Phones
Recycle, please!
23. Take Out Menus
If the restaurant is no longer in business or you don't order from there, recycle the menus. Nearly all menus can also be found online.
24. Expired Coupons
No explanation needed.
25. Business Cards
Save the number into your phone or scan or photograph them if you must.
26. Extra Grocery Bags
Think about how many you actually use and get rid of the rest (paper, plastic, and reusable).
27. Expired Food
If it's close to expiration or is something you aren't likely to eat, donate it to the local food bank or toss it.
28. Wire Clothes Hangers
Return them to the dry cleaner or put them in the recycling. Replace with plastic or wood as the thin wire can stretch out clothing.
29. Old Phone Accessories
If the phone is long gone, it's unlikely the cases or cables will ever be of use again.
30. Neglected Games and Puzzles
Missing pieces? Haven't played the game in the past two years? Let it go.
31. Dried out Pens and Markers
Test the markers and highlighters. Throw out everything that doesn't work anymore.
32. Dried out Glue
Glues dry out—quickly. Check them and toss as necessary.
33. Hotel Samples
Admit it—you're never going to reach for them. Donate.
34. Manuals
These are all available online now, so whittle down the paperwork mound and grow the recycling pile.
35. Fancy Serving Dishes and China
When was the last time you used them? How likely is it that you will use them again?
36. Half-Used Prescription Medications
Properly dispose by doing a web search for drop locations, such as fire and police stations.
37. Old Gardening Seed Packets
If they're older than one year, replace them.
38. Maps
We now have computers and phones.
39. Old Cameras
Still have a 35mm rattling around? How about a disposable water camera? You won't miss them.
40. Sippy Cups and Toddler Dinnerware
Your children have grown out of them. Give them up.
41. Emails
Delete all unnecessary emails and consider canceling the junk mail account.
42. Old Paint and Wood Stain
Donate to your local Habitat for Humanity ReStore.

43. Extra Lumber
You may intend to build something with it, but be realistic, especially when it comes to your storage space. If you ever happen to get rid of some lumber you later decide you need, you can always buy it new.
44. Old Texts, Photos, and Voicemails
Free up the memory on your phone.
45. Tupperware Lids and Cheap Containers
This includes everything from yogurt tubs to baby food jars. If you run out of containers, it probably means it's time to clean out the fridge.
46. Extra Office Supplies
How many staplers, hole punches, and tape dispensers do you truly need?
47. Unfinished Craft Projects
Save three projects to focus on and part with the rest.
48. Old Keys
One of the many mysteries of the world that you will just have to leave unanswered.
49. Gift Cards
Use them! Make a date with yourself or someone else. Shop, eat, and see that movie.
50. Expired Cosmetics
It's not 1990 anymore. Let the look go.