6 Free Building Plans for Greenhouses
20+

•

Intermediate

•

500+
There are many great benefits to building a greenhouse in your backyard, but building a greenhouse can get pricey quickly. If you're looking to save money on your gardening bill, consider using free greenhouse plans. We've rounded up a few of our favorites, so you don't have to sacrifice style and functionality to save a little green.
Benefits of a Greenhouse
Now, if you're anything like us, your main motivation for building a greenhouse in your backyard might be beautiful Tik Tok videos featuring all-glass greenhouses with stunning lighting and a really cute aesthetic. But there are many benefits to building a greenhouse in your backyard that don't include having a structure that is social-media-worthy.
One really big benefit of a greenhouse is that they extend your growing season. In some places, greenhouses make it possible to grow fruits and vegetables, plants, and flowers year-round. And if you live in a zone in the United States that's pretty chilly, a greenhouse can significantly lengthen the amount of time that you can grow plants in your area. You'll have the ability to start your growing season early, and extend it past the end of the natural growing season.
Greenhouses also bring another great benefit—a controlled weather environment. And while it is incredibly beneficial to be able to have more control over the light and water your plans get, one of the biggest benefits of having a greenhouse is control over the wind.
The wind can wreak havoc on fledgling plants, so having the protective barrier really increases safety for plants as they're just budding. Even larger plants benefit from the protection of a greenhouse in areas with strong winds that can pull plants right out of the ground.
Because you have some control over the environment in your greenhouse, you can make it safe for plants in terms of making sure that the pests stay out and that good bugs are welcomed in.
If you're an avid gardener, you've had the experience of coming outside to find that your favorite plant has been devoured by a host of hungry bugs. With a greenhouse, you have much more control over what kind of bugs enter and what kind of bugs you keep out.
The control in the greenhouse also extends its benefits to growing healthier plants overall. A controlled environment means a more ideal growing situation for your plants.
It also means that you have the opportunity to plant things that you may not be able to plant outside in the area of the country that you live in. By expanding the plants, vegetables, and flowers you grow, you can reap what you sew, quite literally, and the reward is great.
And though it does cost you some money to build a greenhouse, there are inexpensive ways to bring the project to life so that you quickly make your money back on the project. You'll be surprised by how much you can save on fresh produce, herbs, and spices over time.
In our greenhouse, we grow cut flowers for arrangements and sell them at our farmer's market to make a little extra money on the side. We also give them as gifts to friends and family, which saves a little money too.
Lastly, another big benefit of a greenhouse is the fact that it is, in and of itself, a structure. A greenhouse can be a great place to increase your storage in your backyard.
Our patio chairs make their way into the greenhouse in the winter, and all year long, you can find garden tools and other assorted lawn games tucked neatly into greenhouse shelves or hung on the wall. It doesn't add much storage space to a backyard, but it definitely has some, and it's been a big unexpected benefit.
Greenhouse Kits
If you want a simpler way to DIY your own greenhouse, consider purchasing a greenhouse kit. Similar to the way a cabin kit works, a greenhouse kit can be picked up at a store or ordered online and provides the plans and all of the materials that you'll need to construct your greenhouse.
You do have fewer customization options when you order something like this, but it can be cost-effective in the long run. Even with free plans, materials can be expensive, and it can be time-consuming to find a cost-effective way to bring free plans to life.
If you're looking to save a little time, and you're okay spending a little bit more money on the front end of the project, a greenhouse kit might be a smart move for you.
If you're going to buy a greenhouse kit online, make a list of features that are important to you before you purchase. This will help you narrow down the many options available to you.
It's also really important that you read the reviews for online kits, and you'll want to consider the cost of shipping as well. Many of these kids won't ship free, and shipping can be expensive.
1. Geodome Greenhouse Plans
This geodome Greenhouse is a unique greenhouse that makes sure that your plants are getting lots and lots of sunshine and warmth. Created by Northern Homestead, this greenhouse is a great example of making a big impact in a smaller space. The plans are complete with a few plant arrangement guides so that you're set up for success from beginning to end.
If you want to put a hot water tank in your greenhouse, there is also a section of the plans that lay that process out for you, so if that's a must on your greenhouse list, this set of plans is for you.
Click here for the plans: Geodome Greenhouse
2. Basic Wood Greenhouse Plans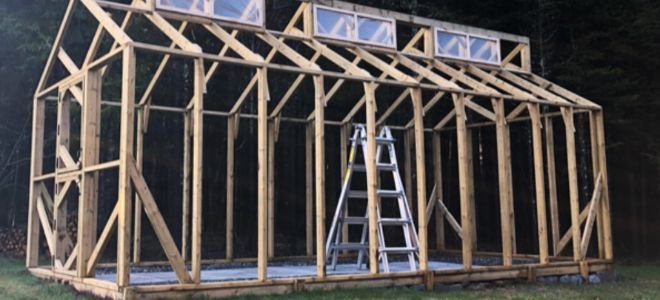 If you want a traditional-looking greenhouse, this fourteen-foot greenhouse might be the one you're looking for. The set of plans is free, and it helps you construct a simple, yet sturdy, greenhouse in just a few days.
Look at the materials list provided for you on these plans, and that will help you get a good cost estimate for what the build will cost .
Because the price of materials changes with inflation, you may look at this plan and decide to wait a few months for the cost of wood to go down, or you might decide that it's the perfect time to build with whatever's cheap right now.
Click here for the plans: Basic Fourteen-Foot Greenhouse
3. Large Basic Wood Greenhouse Plans
From the same group that brought you plans to perfectly execute a fourteen-foot greenhouse, comes a sixteen-foot greenhouse. Very similar to the previous plans, these plans just help you build something a little bigger.
If you're wondering which size is right for your yard, we recommend getting visual with it. Go out in your backyard and stake out the area with string and stakes to help you really visualize how much space a sixteen-foot greenhouse would take up in your backyard.
Look at the plans before you do this so that you know how wide the greenhouse will be too, not just how deep.
Click here for the plans: Basic Sixteen-Foot Greenhouse
4. Tiny Greenhouse
In a world with tiny homes, why shouldn't there be tiny greenhouses? If you're looking for a greenhouse that's more like it green-cottage, that has space to grow just one or two small plants, this is the set of free greenhouse plans for you.
Crafts a La Mode has created a cute greenhouse made of upcycled windows. It's tiny. It's super cute. And it's easy to construct. This DIY is beginner-friendly, so with a little work and patience, you can create this quaint little greenhouse.
Click here for the plans: Tiny Window Greenhouse
5. Upcycled Window Greenhouse
If you love the look of an upcycled window greenhouse and you're looking for something a little bit bigger than tiny, these are the free plans for you.
We first fell in love with upcycled window greenhouses on TikTok as we watched creators bring these stunning structures to life, but a TikTok tutorial is only a few minutes long and doesn't really help the way that free plans do.
Building anything out of upcycled windows is going to be tricky because your windows are going to be different than the windows used in the tutorial, so it's hard to make something specific when you're getting crafty like this. But this tutorial does a great job of helping you bring your window greenhouse dreams to life.
Get the plans here: Recycled Window Greenhouse
6. Giant Greenhouse
If you're in the market for a really big greenhouse, this one clocks in at over thirty feet long. Our dream backyard has enough space for a greenhouse this size, and if you already have our dream backyard and you've got space for this, consider yourself very lucky.
This is a really beautiful greenhouse design, it's simple but stylish, and the plans use a combination of PVC pipe to achieve a domed look, and wood for the structure, so you save a little bit of money compared to what you'd spend on a structure this large made completely of wood and glass.
Get the free plans here: Thirty-Two-Foot Greenhouse
How to Build a Greenhouse
Once you have your free greenhouse plans, it's time to begin building. But before you construct anything, you need to map out your backyard and prepare the land for a structure.
First, pick the area of your yard where the greenhouse will have optimal success. You're not going to want to put a greenhouse under a bunch of shady trees where it will never see any sunshine. Choose your location wisely.
After you have selected your greenhouse location, map it out. As we suggested previously, take stakes and string and map out exactly where your greenhouse will go in the ground. This will help you know what area you need to prepare for the greenhouse.
Check the area in your backyard. Does your soil need smoothing? Does the greenhouse plan call for a cement pad? What do you need to do to the land to make sure that the structure is sound?
Ask yourself these questions, and you will be able to prepare the ground for the greenhouse in the best way possible. You want the ground to be prepared so you don't have a bunch of supplies lying around your yard, killing your grass or getting wet while you have hours of work ahead of you to prepare the ground.
After you have everything ready to begin building, look over your supply list and make sure that you have all of the supplies that you will need. We recommend shopping around for great prices on supplies and reusing or upcycling where you can. This is great for your wallet and the environment.
Don't start the build without everything you need to get the project done. If you're going to take the project in phases, that's fine, but make sure you have everything to complete each individual phase. There's nothing worse than having to stop a project to go buy the screws that you forgot or purchase a new drill bit.
Then, set a schedule for yourself. Make a plan. The plans you select should let you know about how much time the project will take to complete, but set a realistic timeline for yourself.
This will help you with project pacing, and ensure the greenhouse doesn't turn into an unfinished project taking up space in your backyard.
Then you're ready to start creating the greenhouse of your dreams.