6 Home Wind Turbines You Can Buy Right Now
A windy hill. An exposed side of the house. A big, clear area. There are lots of places around your property where you can put up a small wind turbine and start to make a really big difference with your energy bills. Many people think that having wind power is terribly expensive or it's just for big companies that have a ton of space for big turbines. That's no longer as true as it once was! There are many styles of wind turbines that are made for home use. They're easy to install, they're easy to maintain and they're a great way to generate your own renewable, sustainable energy.
Picking a Wind Turbine
According to the Department of Energy, a small wind turbine can last 20 years and longer with proper installation and maintenance. Check for signs of corrosion and check the wires annually, replacing pieces as needed. After 10 years, the blades or the bearings may need to be replaced.
Made in a sleek design with five blades, this wind turbine is made to provide low noise and low maintenance. It will function in temperatures ranging from -40 degrees F to 176 degrees F. The Teflon wire inside is heat-resistant and the blades are made with a copper inlay that helps them maintain their shape. A magnet roto alternator helps decrease resistance torque.
Made with reinforced nylon fiber, the blades of this wind turbine are made in a wheel blade design that gives it a truly distinct look. The aerodynamic shape sets it apart even from other wind turbines. The design is made for low vibration. The shell is made of stainless steel in a low-maintenance design.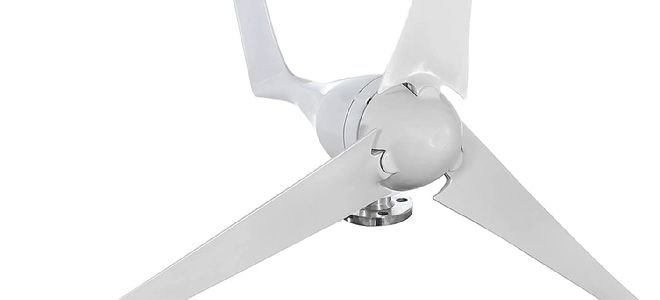 This wind turbine is incredibly sleek with a three-blade, low-noise design. The core wiring is heat-resistant Teflon and the blades are made to resist deforming and warping. This turbine functions in temperatures from -40 to 176 degrees F. It's easy to install, easy to maintain and extremely unobtrusive. This turbine has mostly positive reviews on Amazon from actual users.
This three-bladed wind turbine has a unique design that allows it to be mounted right on your home or garage. It's made with three blades in nylon glass fiber with anti-UV, anti-corrosion material. The low-noise design is made with dual bearings for stability and low vibration. The entire design is made for smooth flow and high functionality. The entire thing is coated to prevent corrosion and provide water- and sand-resistance.


Made with a longer blade design, this wind turbine has a rotating body and a three-blade design. The blades are made with lightweight, waterproof, corrosion-resistant nylon carbon fiber. Thanks to the rotating design, you can adjust it to find the windward angle. Reviewers say it's easy to put together and the design is solid and well-built, which is definitely what you want in any DIY project.
When you want to add a little oomph to your renewable energy sources, this wind turbine may be just the right solution. You can get this turbine in bright red. In red or white, it's made from lightweight aluminum alloy and stainless steel in a unique lantern style. The design is more compact than traditional blade styles.