6 Robotic Lawn Mowers You Can Get Right Now
1 hours

•

Beginner

•

350-1,500
Remember when robots were science fiction? We may not have the movie version of walking, talking interactive robots as part of our daily lives, but we do have options for robotic helpers inside and outside the house. If time savings and convenience are at the top of your lawn maintenance list, a lawn mowing robot might be just the helper you need.
The good news is, they're more common than you might think. Plus, they come with a variety of features and are becoming increasingly more affordable with each passing season.
Features to Look For
The world of innovation is at our feet—and in our yards. Robotic lawn mowers can make it easier to keep up with the yard work, but each model offers different features to consider. When perusing the options, think about your space and what mower will function the most efficiently within it.
Do you have a large lawn or a small one? Is the terrain flat and level or sloping? What's the climate like where you live? What features are important to you?
Here are some specifications to consider.
Level of Automation
Robotic lawn mowers take many forms, with varying levels of automation. Some are completely automatic, performing the task with little effort from you. You can put advanced models on a schedule, then set it and forget it.
These types of mowers work at regular intervals to keep up with the task in an ongoing way. Other robotic lawn mowers merely have a few mechanical features to make the job easier.
Blade Length/Mowing Width
Like traditional mowers, smaller, robotic mowers offer different lawn mower blade lengths. The longer the blade, the wider the mowing path. Wider paths equal fewer passes across the yard and less work for the person pushing it (in the case of a push mower).
However, lawn mowers that are wide can be oversized for a small yard, making it difficult to maneuver and efficiently get the job done. For the best results, match the available mowing width with the size of your yard.
Noise Level
Nobody likes to wake to a lawn mower too early in the morning or just when dozing off for an afternoon nap. Battery-powered, electric, or gas-powered—lawn mowers all come with different noise ratings so evaluate the level that's right for your situation.
Smartphone Capability
Even ultra-intelligent robots need guidance now and then. Fortunately, many can be monitored and controlled via a phone app. If you're at home most days, this may not be a priority to you. However, if you're remote it's a nice way to virtually track what the machine is doing.
Battery Performance
Batteries are an expensive component for robotic lawn mowers. Some models have a built-in battery that requires you to plug in the entire machine (like indoor robotic vacuums). Other models feature removable batteries that are placed on a charger.
There are several factors to consider when deciding which type of battery charges up your goals. For example, you'll want to consider docking space and access to outlets. Also, be sure to understand the minimum charging time required for the battery.
Consider this in conjunction with the size of your yard and the capabilities of the mower. A mower that needs four charges to finish a job and a 12-hour charging window will not be able to keep up with the demands.
On the other hand, if your model finishes the job with one battery charge, it will be ready for service whenever you need it.
Battery life is, therefore, another consideration. Make sure your battery is spec'd for a long enough life to finish mowing without a recharge. It may be the single most important factor in your final decision.
Sensors
Robots are innovative solution-based machines with the goal of performing the task as completely and efficiently as possible with minimal human intervention. When it comes to robotic lawn mowers, the more sensors and associated technologies there are, the more 'smart' the machine is.
With this in mind, you'll find a range of different sensor options and some may make the difference between being the right model for your needs and being the wrong robot for the job.
Moisture sensors are one example. Just like humans who try to avoid mowing the lawn while it's raining, many robot models do too. We know it's easier, and potentially better for the machine and the lawn, to mow when it's dry out.
Robotic lawn mowers use sensors to identify moisture levels and either return the device to base if it begins raining, or delays the mow job based on the circumstances.
Impact sensors keep mowers from running into obstacles, such as trees, an above-ground pool, or the deck. Similarly, sensors communicate with flags or wires that mark off areas outside the mowing area. This is the feature that keeps the mower from wandering into flower beds and the street.
Height Adjustment
Some lawn management is based on personal preference. While science says it's best to leave the tufts of grass a bit longer, some functions require a shorter cut.
Regardless of whether it's a result of function or preference, you'll want to know what to expect from your mower so pay special attention to the maximum and minimum mowing height.
Weight
If portability is a concern, make sure the model's weight is something you can handle when moving it in or out of vehicles or getting it into the garage for charging and storage.
Safety Features
Moving blades aren't a good combination with fingers and toes, so most robotic lawn mowers have sensors to stop the blades if the mower is lifted from the ground. Blades will also stop spinning if the machine tips over.
There are not a lot of variations in safety features between automated mowers. In fact, they are significantly less likely to cause any type of injury compared to traditional mowers.
Slope Tolerance
Matching your new robotic mower to your terrain requires evaluating the slope of your yard. While many mowers will chug along just fine, others will underperform if the grade is too steep.
Zone Capability
Like underground sprinklers, robotic mowers can be set to operate in different zones.
For a small, square lawn, it won't make a difference, but for a landscaped yard with obstacles and differing requirements from one area to another, the more advanced the zone capabilities are, the happier you'll be with the performance of the machine.
Weighing in at just 16.5 pounds, the Gardena is portable and easy to move into work mode.
Like all electric tools, this lawn mower is emissions free so it's an eco-friendly choice for minimizing contributions to air pollution. Plus, it's quiet and, best of all, programmable.
You can train your little lawn buddy to know where he can and can't mow, with the use of boundary wires.
Cutting height options range from .7" to 2" and the Gardena will even show up for work when it's raining.
Worx is a growing brand with many tool options. This one might become your new best friend though. Different models can tackle from ⅛" of an acre up to a larger ½-acre plot.
It's quick and easy to set up with boundary wire and the aid of an app to adequately measure the lawn. You can set a detailed schedule that works for your needs.
The Landroid will go on strike on rainy days, sensing the moisture and returning to its dock until the next scheduled run.
This is an easily identifiable brand that has been a yard helper for decades so it's no surprise they've offered up a robot option.
Keep your grass height a little longer with this mower, which offers setting options between two and 3.6 inches in height. You can program and control your Automower with an app on your phone.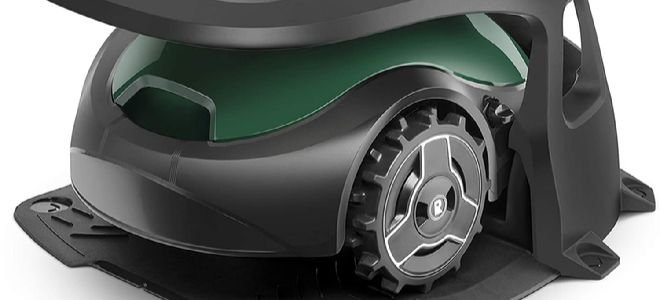 The Robomow is designed for small yards up to 2,180 square feet or 1/20 acre. The mowing blade is 7" wide so it can maneuver in tight spaces.
Like other lawn robots, it can be controlled remotely, programmed to move from one area of the yard to another, and is quiet enough to mow any time of day.
Although not technically a robot, Greenworks has been making a name for itself for a while now.
With a focus on offering alternatives to gas and corded lawn and garden tools, this battery-powered mower fits neatly in their lineup of options and is a model to consider if you're not ready to go completely robo-matic.
Simply keep your battery on the charger until you're ready to go. Then pop the battery into the mower and use it in the same way you'd use a gas model.
If you have other Greenworks products, the batteries are interchangeable between them.
This model is just one option. Look for the self-propelled and smaller 20" and 17" models too.
While you're equipping your yard with an army of autobots, you might as well grab one that does the weeding for you too.
The technology is similar to that for the mowers. To use, you'll set boundaries and protect very small plants.
Then you program Tertill and let it loose to weed the flower bed, maneuvering around established plants as it works.
This model was designed for large yards, covering a range of up to ⅔ acre.
It earned the title of "The Most Rugged" in "The Best Robot Lawn Mowers for 2022" by PCMag, attesting to its durable design. It's a determined worker bee, charged with a 5,200mah built-in lithium battery that's rated to last 120 minutes on a full charge.
The AYI robot is designed for lawns up to 27,000 square feet (0.62 acres) and can handle terrains with a 37% incline. It offers route options and even cutting design variations to accomplish the spiral, random, or edge cut goals.
There are a few different models to consider. The brand is established and has been around long enough there are refurbished options too.
The RM24SMRT weighs 45 pounds, offers a 9.5-inch cutting width, and is WiFi capable so you can monitor your robot's activities, get notified if it gets stuck, and watch the battery charge level.
The moisture sensor will divert the mower back to the docking port when it's raining and restart when it dries up. It's quiet at 65 decibels and will cover a quarter acre with up to a 30-degree incline and cutting options between one and two and a half inches.
Robotic Lawn Mower Care
Caring for your robotic lawn mower is easier than maintaining a traditional mower. Of course, parts will still malfunction and there will be maintenance issues, but without the gas engine, spark plug, pull string, and other common culprits.
While mechanical lawn mowers feature waterproof casings, it's best to bring them under shelter during heavy rain. Off-season, when cold temps roll in, store your robotic mower in the garage or shed.
Regularly clean your robotic lawn mower by removing clumped grass from the blades and wiping out any debris. Be sure to turn your unit off as you clean.
Just like their manual cousins, robotic lawn mowers also require consistent attention to blade sharpening and replacement as needed.
Is It Your Time?
The advanced technology of robotic lawn mowers means you can finally be in two places at the same time, getting the lawn mowed while washing the car or teaching your child how to play catch. Even better, your little helper won't make excuses or forget to get the job done.
The industry is still new enough that prices are high for many products, but when you calculate the cost of buying a traditional mower, making trips to the gas station to refill the gas can, and the time mowing takes away from other activities, you might just decide it's worth the investment.
When you purchase through links on our site, we may earn commissions at no cost to you.