6 Shelf Styles We Love
6 Shelf Styles We Love
6 Shelf Styles We Love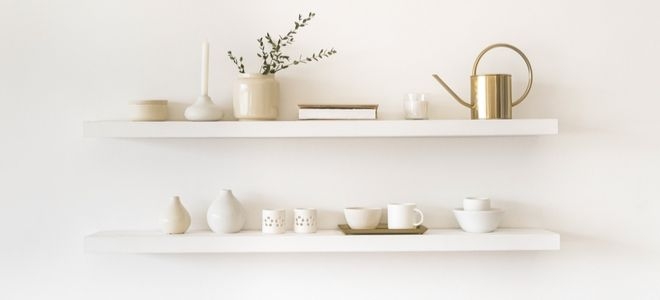 Stylish shelves can literally elevate your decor, both decluttering your spaces and elegantly displaying your favorite items. Here are some of our favorite approaches to wall-mounted shelving.
Space Savers
Photo: Sarah M Dorsey Designs
Make even the smallest space work for shelves in your bathroom. This trick works especially well in a home reno or flip, because you're often working with small spaces and unique layouts.
Use a simply DIY shelf tutorial and cut the wood to the exact size and length of your space. If you're installing these shelves on backsplash or tile, make sure to use the proper mounting hardware.
Style these shelves to be functional and fun by using other storage items like baskets to keep things simple and organized.
Bracket Floaters
Photo: Driven By Decor/ Ultra Shelf
Popular Instagram creator Kris, @drivenbydecor, does DIY shelving with the help of Ultra Shelf. By using the specialty brackets specifically created for floating shelves, you can easily hang premade or DY shelves with no exposed brackets. Hiding your brackets on your DIY shelves is a great way to achieve a mid-century or modern look in your bathroom.
What takes these DIY shelves over the top? The cute styling. The symmetry on the top and bottom shelves makes this look feel cohesive and professional.
Scandi Floaters
Looking for a DIY that will take your bathroom wall from basic to beautiful? Look no further. All you need for this simple DIY is wood, screws, a drill, and a pencil.
Decide how big you'd like the backboard to be. You can change this up based on the size of your wall. Then decide how many shelves you want and what size you'd like them to be. At a local hardware store, or with your saw, cut all of the wood to size. Assemble by using a drill to screw the wood shelves in from the back, making sure they are level.
You can attach this easy DIY to you wall in a number of ways, but if you want to screw it into your wall, make sure to create screw holes in the shelf before you attach your shelves.
Box Frames
Box shelves make a perfect bathroom shelf DIY (or even a housewarming gift). These shelves are super versatile and give you the power to create a unique and geometric look in your bathroom. Especially if you are trying to balance out a bathroom with lighter colors and softer lines and patterns, a box shelf can give your bathroom structure and form.
Take four equally sized pieces of wood and screw them together in a box shape. If you'd rather, you can use wood glue as well. If you want to build more than one box, make sure you are meticulous with your cutting so that everything turns out symmetrical.
Pro Tip: Take your box shelves pro by using forty-five-degree angle cuts on all of your corners, so the edges meet on diagonal planes instead of stacking.
Strap Supports
Photo - My French Twist
While these strappy wood shelves sit in the kitchen for popular blogger, Wendy at My French Twist—these simply DIY shelves would pop in any bathroom.
For homes with a modern or boho aesthetic, adding a leather detail to your shelves is a must. To DIY these shelves, start with leather straps that are at least three times the width of your shelf, and boards of equal sizes. The trick to nailing these shelves is to make sure that you mark the wall perfectly.
Figure out where the nails will go in the leather straps when you hang your shelves and mark the two spots on your wall. Then fold your leather straps exactly in half and screw them to the wall at the marked spot. Once your straps are secured, slide your selves through the loop and lay them down flat. For a little extra security, you can use glue to secure the straps in place on the bottom of your shelf.
And because these shelves don't hold a lot, make sure use secure them into the studs in your wall and don't put anything too heavy on them.
Upcycled Cabinets
Photo: Liz Marie Blog
If you've got the space, upcycle old shelves or hutches in your bathroom to create a totally unique shelving look. If you're a great lover of refinishing furniture you find on Facebook Marketplace, this Liz Marie Blog inspired flip is for you.
Pull out your chalk paint and steel distressing brush, and get to work adding a rustic/farmhouse shelf to your bathroom.