6 Things to Store on the Wall and Keep Out of the Cupboards
Are your cupboards cluttered? Are your cabinets bulging? Are your drawers overstuffed? Astart using your wall space for storage and start keeping your cupboards much neater. You can get much better organized all around the home if you start using the space you haven't been using. Turn those dead, empty wall spaces into creative storage solutions.
Install Bars
Fill up kitchen walls with horizontal bars. Several bars can be placed vertically down any wall using simple bolts and drywall anchors. Use a stud finder to drill into the stud and use wall anchors to give the bars plenty of support. This will allow them to support more weight.

Simple shower curtain hooks can be used to hang anything from the bars. That includes pots, baskets, cutting boards, even small potted plants. This not only adds storage space, it creates an interesting visual display.
This works great in the kitchen, laundry room, bathroom and many other rooms in the home. Rods and hooks can be used to store accessories in the bedroom and free up a little closet space.
Use it in the bathroom to store hair tools like straightening irons and hair dryers, electric razors and many other items.
Find Neglected Spaces
The sides of cabinets are big, empty spaces that are really blank canvasses. Add long magnetic strips that can be used to hold metal kitchen implements. Or, add a bar and hook to hang pots and kitchen implements from.
The sides of cabinets don't have to be bare and blank. They can be put to good use to store all sorts of items and keep tools you use frequently within easy reach.
Add Hooks
There are a number of interesting places where you can simply add some screw-in hooks and add a lot of storage. The underside of cabinets, for example, is a perfect place to add hooks. Hang hooks, baskets, cleaning cloths and other small items from here to free up space elsewhere.

Small wall spaces that are being under-used but that don't have a lot of room to offer are perfect for hooks. Mugs, utensils, washcloths and many small, lightweight items can be easily hung on hooks and free up space elsewhere.
Put Up a Pegboard
Add a pegboard to any wall to create a mini-pantry or junk drawer right on the wall that' snot filling up space in cupboards and drawers. Add wire baskets, small shelves, hooks and anything else you like to the pegboard to store all sorts of items and keep things within easy reach.
Pegboard works well in the garage, too.
Attach Pants Hangers
Add pants hangers to kitchen walls to add easy spaces for bags of chips. They can be hung up easily here. The clips on the hangers are built-in chip clips that keep bags closed to keep chips tasting fresher.
This is a very practical solution for snack bags, which often end up smooshed together and leaking crumbs.
Shelves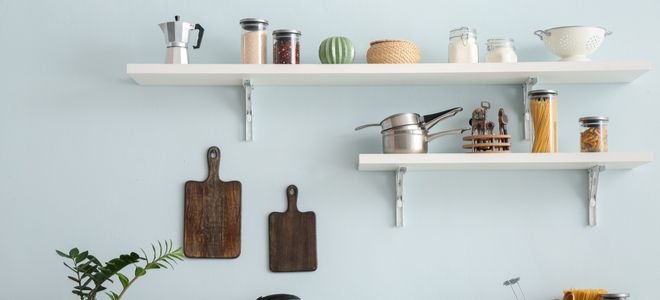 All your pretty glassware, such as long-stemmed glasses, can be beautifully displayed on small glass shelves in the kitchen or dining room. This makes glassware look more like artwork and it frees up a bunch of cabinet space.
Wall Storage
Once you put yourself in that DIY mindset and start looking for ways to add more storage to the wall,s you're going to come up with all sorts of cool and creative ideas. Use those empty spaces and turn your everyday stuff like plates, glassware and random odds and ends into pretty art.
Baskets, containers, file dividers, hooks and all kinds of other tricks can be used to create storage spaces. Use chalk label stickers to label jars and bins so you know where everything is. If you switch things up, just wipe off the label and write it new.

Put your DIY skills and creativity to use to start making more out of your wall spaces and start getting more stuff out of your cupboards, cabinets, drawers and all those other cluttered storage spaces.