7 Classic Vintage Cars You've Never Seen Before
Rare Classic Cars
Rare Classic Cars
Every car enthusiast seems to take a particular interest in one subset of mainstream rides or another. Maybe it's trucks or luxury rides. Perhaps it's an era, a brand, or an area of production. Regardless of where your passion lies, respect for innovations in the industry sparks awe for vintage and classic styles, each of which has a story to tell.
However, there are a variety of innovative rides that have lost their voice, likely due to a brief production period. While some lacked wide appeal simply because they were ahead of their time, others suffered from bad marketing or financial strife by the manufacturer. Whatever their story, they existed, and still do.
If you're a model enthusiast, this might inspire you to check out some vintage car models on Amazon.
When you purchase through links on our site, we may earn commissions at no cost to you.
1921 Helica de Leyat/Leyat Helica
There were only 30 ever produced by Frenchman Marcel Leyat and only 23 reportedly ever sold so it's no surprise it's a car few have raved about. But to say this is a unique design is a vast understatement. It's easy to see the connection with Leyat's biplane designing background and his focus on creating a car that was less clunky than those of the time.
His design incorporated aerodynamic improvements and cut the weight of the vehicle by attaching a propeller. Although innovative and perhaps fun, the design called safety into question and did little to permanently marry aviation and the automobile industry.
Allard J2
The Allard J2 comes from an experienced racer who knew a thing or two about the way a sports car should handle. Sydney Allard manufactured a limited edition series in the early 1950's, sending out about 90 cars. They drew attention during the era, being driven by elite names in the industry like Carroll Shelby and Zora Arkus-Duntov.
Smart suspension and braking systems created the ideal foundation to insert American V-8 motors. In recent years, a J2X model replicated the original design, catering to classic car enthusiasts.
Bricklin SV-1
The Bricklin is a two-seat sports car that was produced from 1974 to late 1975. A total of around 3,000 cars were made. Distinctive design features included the gull-wing doors and composite bodywork of color-impregnated acrylic resin bonded to fiberglass. Bricklin's goal was to produce an ultra-safe vehicle (SV) and the rig fit the bill for the times with a steel roll cage, high side-impact guard rails, and impressive front and rear energy absorbing bumpers.
The Bricklin suffered the consequences of being born in the 70's, a difficult time for the car industry, and tightened emission regulations that kept the engine from living up to the expectations set by the sleek exterior.
Tucker 48
This "Car of Tomorrow" was the vision of Preston Thomas Tucker (1903-1956), and only 52 were ever produced. Also known as the Tucker Torpedo, its most distinctive feature is the center-mounted third headlight. Inside, the luxury ride offered a padded dashboard and doors, and a pop-out safety-glass windshield. Tucker's story is an interesting one. You can learn more in the 1988 documentary "TUCKER: The Man and His Dream."
Porsche 916
You've likely heard of the Porsche 911, a widely popular model, but the 916 could have cast shadow on the mainstream release. The 916 was banned because it was too fast for the times and due to growing costs on the project. In the end, it's the car that could have been, since only 10 were made before the project was scrapped, but occasionally one hits the market when released by those who own one in their private collection.
Excalibur SS
Over 3,500 were produced, but the Excalibur SS seems to be a model that people either loved or hated. In the end, the opulent styling failed to appeal to the masses. Considering the long and varied history, spanning from the prototype release in 1963 to the final model in 1990, it earned recognition for its zero to sixty in under six seconds and estimated top speed of 134 mph.
Shelby Cobra Daytona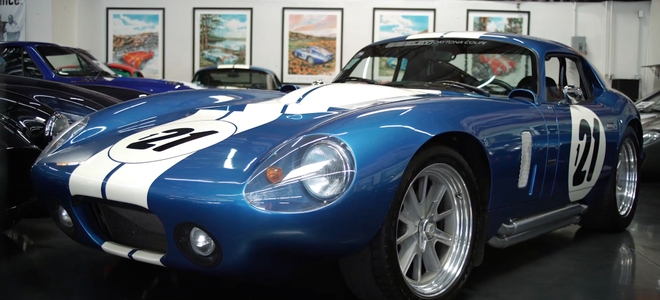 You've undoubtedly heard of Shelby, but likely didn't know about the Shelby Cobra Daytona, of which only six were produced. Living up to the name, it pulled out the performance of a sports car, building upon the design of the Shelby AC Cobra, a combined project with John Tojeiro. With a body upgrade to improve aerodynamics, the Daytona reached a top speed of 190 miles per hour and made its debut at the 1964 Daytona Continental 2000 in Florida.