7 of the Best Grow Lights for Indoor Plants
Supporting plants indoors can be a challenge. Thanks to grow lights, though, you'll never have to worry if your plants are getting the right amount of light to flourish. Here are some of the best models on the market.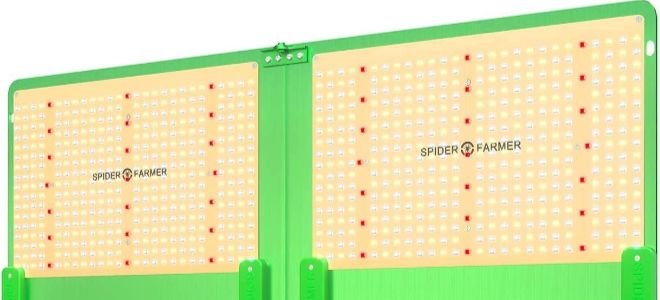 This is a heavy-duty indoor grow light for those who are serious about their plants. Perfectly designed to lead to a beautiful blossoming or harvest due to the light's uniform photon distribution, you'll be able to rest easy knowing that your plants are getting just what they need to thrive. This type of light distribution ensures that it's even across the board and penetrates plants deeply. Reviewers noted that this light is easy to install, which is a bonus!
If you are looking for something that is energy efficient without sacrificing on light provided to your plants, this is the grow light for you! With waterproofing, low noise output, and a sturdy design, you can't go wrong with this model. It's also ideal for use at all growth stages, offering full-spectrum coverage. This model features a convenient dimming knob, which is easy to use while planting or gardening.
We love this grow light because of the attention to detail the manufacturers put in as far as the cords go. Don't worry about clutter with power cords in your grow space with this model, as they're specifically designed to clip together to stay tidy. Like the previously mentioned model, this one also features a convenient dimming light. Plus, you'll love knowing that your plants are cared for with the heat dissipation rate this model has, as the larger aluminum heatsink helps dissipation and slows down the decay hours.
This highly effective grow light is just what your plants need to thrive. The maximum yield, full-spectrum coverage that this model offers is perfect for big buds and prompts rapid plant response from seed to flower. It also speeds up flowering time and boosts the yields you'll harvest from your indoor garden. The simple dimming design of the Hypohotoflux model meets the needs of plants at any stage of growth, making this an ideal choice.
This is another model that is energy efficient and that features a convenient knob dimmer. The Mars Hydro model uses the most advanced equipment and technology to provide tremendous light output, bright light, and a high yield. This model uses full-spectrum lights that work well with soil and hydro grow alike. Reviewers cite this grow light as a high value for the money and as really getting the job done with their plants.
This model is a more budget-friendly option that still does a great job providing lights to indoor plants. The full spectrum lights allow plants to consume over 95 percent of the energy output, which is impressive. This model is also easy to install as it comes complete with double-sided tape, clips, and cable ties. There are 16 lights included with this set, and each is separately controllable, which is helpful if you have a variety of plants with different light requirements.
This model looks different from the others, but that doesn't mean it's any less effective! Using full-spectrum light, it's perfect for enhancing the photosynthesis process for plants. The adjustable tripod is also convenient, as it's adjustable between 15 to 48 inches. This model conveniently features an auto power timer and five different brightness levels.
All of these grow lights are great options to help your garden flourish, even if it's not receiving any natural sunlight!
When you purchase through links on our site, we may earn commissions at no cost to you.