7 Renovations That Save You Money
Home renovations can cost a lot of money, especially if you make big changes. But you may have also heard the expression that it takes money to make money.
In other words, there are some home renovations that will actually end up saving you lots more money in the long run than what you'll spend upfront. So if you're going to renovate, consider adding these money-saving upgrades to your to-do list.
1. Money Saving Renovations
Certain renovations end up paying themselves off over time. Add these renovations to your list of upgrades and they could end up paying for the entire project, given enough time. Some of these upgrades will continue to save you money for many years. That's definitely the right type of renovation.
2. Get a Home Security System
A home security system is a great upgrade for your home. Not only does it increase your safety and the safety of everything in your home, but it can also get you a discount on your homeowner's insurance.
That is savings that just keeps on coming. A home security system is also a great selling point for the future, which can pay off in its own way.
3. Upgrade to a Smart Thermostat
It seems like one of those "bells and whistles" purposes that's more about style than function. However, smart thermostats will actually help you save a lot of money. The temperature is regulated so that the HVAC system does a lot less work when you're not around. It can provide comfort only in occupied rooms.
It can even learn your schedule, so temperatures can be reduced or rise during the day while you're and about. Some systems will even help you monitor your energy usage and find ways to make reductions that can help you save money and develop better habits over time.
4. Add Solar Shingles or Panels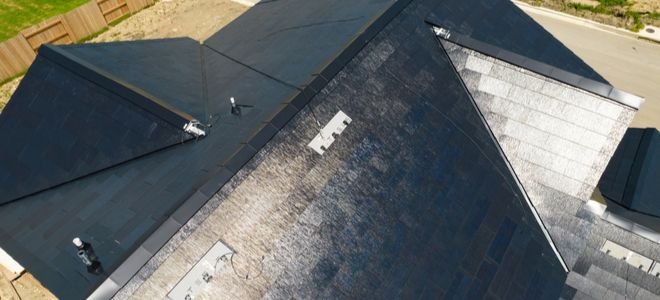 They're a pretty big upgrade and they are costly but solar panels will save you so much money in the end. An average solar power system will pay for itself in just seven years.
After that, you'll be reaping the benefits of creating your own sustainable electricity. That's going to save you big every single month on energy bills. It's also much better for the environment.
The newest solar panels are compact enough to fit in more typical roofing material, opening up the option of shingles that can collect energy with an easier installation process that's more similar to classic roofing.
5. Leave Everything Where It Is
Moving major fixtures, such as the toilet or the kitchen sink, is actually a really big deal. Even if you just want to "scoot" something one foot over, you might be looking at hundreds of extra dollars in cost.
Find ways to change everything around these fixtures and leave what is already there in its place. Changing plumbing and electricity is going to eat up most of your budget. Save it on other improvements whenever you can.
6. Head to Thrift Stores First
There's a lot that a coat of paint and a little DIY creativity can do. Instead of looking for new stuff to buy, head to the thrift stores and see what you can re-purposed and change around a little. Think about creative ways to re-surface furniture, such as self-sticking wallpaper.
You might not want wallpaper o your walls but it actually looks great on furniture. You can also find wallpaper in a huge variety of colors and designs, including some that look like wood finishes and other cool textures.
7. Change the Faucets
While it's not a great idea to move fixtures around, swapping out faucets can actually be a great way to save money. Newer faucets are made with water-saving features that will ultimately help you reduce your water bill. If you can't afford to swap out all your faucets, change your showerhead.
The water saver will help you use less water in the shower, which is one place where you're probably using a lot. Reducing the water usage here will have a real impact on your water bill. In other words, this is a great money-saving upgrade.