7 Ways to Make Painting Quick and Easy
To ensure our content is always up-to-date with current information, best practices, and professional advice, articles are routinely reviewed by industry experts with years of hands-on experience.

Reviewed by

on Jun 26, 2023
2-40 hours

•

Beginner

•

0-500
Want a new look for your home, but afraid you don't have the time to tackle a big project? Painting could be the perfect solution for you. Not only is it one of the least expensive ways to drastically alter your decor, but it's also one of the quickest. With paint, you can change the look of a single room in just a few hours, or your whole home in a single weekend.
Even if you don't think you have time to tackle a large painting project, think again! Read on to discover a few simple ways to complete your painting project lickety-split.
1. Plan Ahead
In the early days, it seemed like I was always overlooking something I needed to pick up during my painting shopping trip. As a result, I found myself making time-consuming trips back to the store. Fortunately, I quickly learned the value of planning ahead.
Before you go shopping, figure out exactly what you need, including supplies and tools. Take inventory of what you already have, and make a list of everything you don't. Be sure to include the basics like paint brushes, rollers, extra roller covers, roller pans, drop cloths, spackle, and of course the paint. Use an online paint calculator to determine how much paint you'll need, and when in doubt, buy extra.
2. Use the Right Tools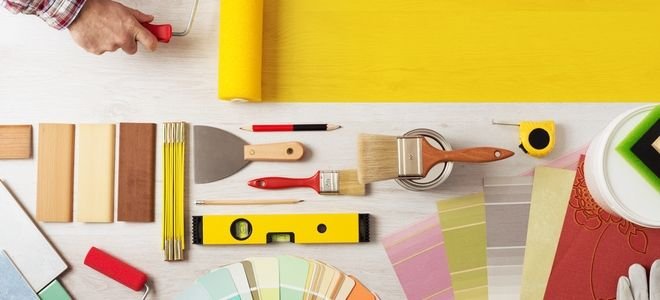 New painters may think all rollers and brushes are created equal, regardless of their price. In an effort to save a few bucks, I made this exact mistake. Now, however, I understand the value of a quality paint brush, and I'm much more willing to shell out a few extra bucks when I need to.
Quality brushes are worth their weight in gold. They cost extra because they last longer than their cheaper counterparts, don't shed brush hairs, and are less likely to leave unsightly brush marks that are hard to cover. This means you'll spend less time going back over your work trying to conceal the marks, and more time enjoying your new room.
3. Use Quality Paint and Primer
Like painting tools, not all paint is created equal. Some cheap paint is cheap for a reason - it takes several coats to get good coverage. Quality paints, on the other hand, will cover your walls much better, meaning you'll waste less time slapping on additional coats of paint.
If you're trying to cover dark or bright walls, a good color-blocking primer can be a lifesaver. For the best results, use a primer that has been tinted to match your new paint color. And if you're taking a wall from color to white, use a dark primer to conceal the old color better.
4. Choose a Similar Color
For some reason, this is always one of the reasons why my painting projects take much longer than I'd like. Instead of working with the old color, I always seem to be working against it. However, making a drastic change will take much more time, so I say if you can't beat 'em, join 'em!
Instead of trying to cover your wall with a completely different color of paint, opt for a different hue or shade of the current wall color. It will take much less time and effort to cover, since small mistakes and bleed-throughs are much less noticeable.
5. Prep Only the Important Areas
Extensive painting prep eats up a good chunk of time for any painting project. While you shouldn't skip the prep completely, you most likely don't have to prep as much as you think.
Particularly dirty or greasy walls may require a good degreaser and a little scrubbing, but there's no need to exert as much effort on relatively clean walls. Instead, quickly go over walls and trim with a damp cloth to remove loose dirt, dust, and cobwebs. Drop cloths should also be used to cover floors and large pieces of furniture, but you can most likely nix the painter's tape. It takes entirely too much time to cover all of the trim. With a steady hand, an angled trim brush, and a little practice, you'll get equally good results by cutting in.
6. Don't Clean Up During Breaks
I thought my father, a timber-framer and home builder, was just a little insane when I walked into his workshop and saw his expensive paint covered brushes wrapped in plastic. Then I got to thinking about just how much time I wasted painstakingly cleaning my paint brushes every time I took a break.
I've once again taken my father's advice, and instead of spending a great deal of time washing brushes and rollers between breaks, I now wrap them tightly in plastic wrap. If you make sure your brushes and rollers are wrapped airtight, they won't dry out and they'll be ready for use when break time's over.
7. Have a Painting Party
Painting parties are my favorite type of party. After all, tedious tasks, like painting, are much more interesting when you're tackling them with a fun bunch of people. Not to mention, they go much faster with the extra manpower.
All you have to do is provide snacks and drinks, crank up the stereo, and toss a brush or roller in everyone's hands. After the job's done and all evidence of the paint fight is washed away, treat everyone to a delicious meal for their hard work.