8 Different Types of Linoleum
To ensure our content is always up-to-date with current information, best practices, and professional advice, articles are routinely reviewed by industry experts with years of hands-on experience.

Reviewed by

on Mar 10, 2020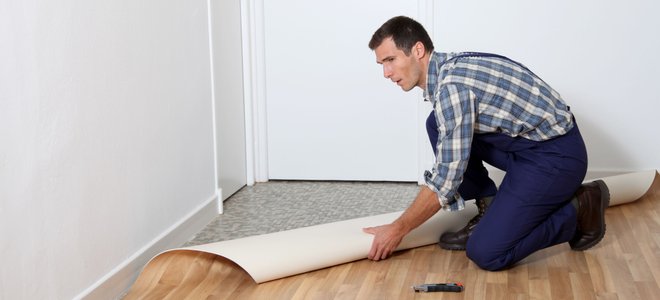 Linoleum is one of the easiest flooring materials with which you can work. All you really need to consider is what color you want because it's recommended as flooring material in all areas of the home.
Linoleum was the most popular flooring material choice between its invention in 1860 through the middle of the 20th century when hardwood flooring production techniques became the number one choice. In the late 19th and early 20th centuries, linoleum was popular in home construction because it was inexpensive and durable. It became associated as a kitchen floor material due to its water resistance and resilience, making it comfortable to stand upon and easy to maintain. The better grades were commonly called "battleship linoleum." This grade was actually used for flooring in warships. However, it proved unsuitable because it was highly flammable.

There are several types of linoleum in use, based on what they are made of and their colors and shapes or patterns.
Sheet Linoleum – The most popular choice for linoleum flooring. Sheet linoleum is available in the widest selection of patterns and colors and comes in 6'6" rolls, making it incredibly complex to install. Unless you possess the necessary skills, sheet linoleum flooring installation should be conducted by a professional
Linoleum Tile Flooring – Similar in shape and handling like any tile flooring material, but provides a different set of benefits than using ceramic or stone files. Its organic make-up allows for eco-friendly use in hospitals, nursing homes and other medical facilities or homes needing an anti-allergen environment. It has natural water resistance that makes it a lower maintenance alternative to ceramic or natural stone tiles. Linoleum has a different feel to it than ceramic or natural stone, and hence it's considered a better material to stand upon for long periods of time.
Floating Linoleum Flooring – Considered the best choice for do-it-yourself projects when installing kitchen flooring. This type of linoleum is installed onto a floor frame featuring click and lock edges that snap into place. It comes in planks that require no adhesive, so there's minimal mess. The end result is a great looking linoleum floor.
Forbo Linoleum – This is actually a linoleum brand, which produces different kinds of linoleum with names such as Artoleum® Graphic, Scala, Piazza, Passione and others. The Artoleum® Graphic product is the most popular, mainly due to its dirt-camouflaging technology. These linoleums are durable and more resistant to heat than general types.
Solid Colored Linoleum – Extremely popular, providing a variety of colors and shades. The colors are durable, resisting fading even over a long period of time.
Marble Linoleum – Provides a great and elegant look. Marbled patterned linoleum tiles provide that fancy, sophisticated look at an inexpensive price.
Flecked Linoleum – Provides a unique pattern that adds distinction to any room where installed.
Patterned Linoleum – Available in almost an exhaustive variety of patterns, providing a wide selection of different looks. These tiles are made tough but may require more to install so you can perfectly match seams.
Do a little research when picking out linoleum, deciding on factors such as ease of installation, cost, maintenance, color and pattern. Visit sites online where you can view tile images to help with your decision-making process. Check tile in person to examine surface and thickness.