8 Easy Steps to Tuning up Your Bike
Whether you ride your bike for fun, exercise, or it's a convenient mode of transportation to get back and forth to school or work, keeping it well-tuned is important. With all the parts of a bike that need to work together as a team for a smooth and reliable ride, it's important to do regular tune ups to keep your bicycle working its best.
Step 1 - Clean Your Bike Chain
Clean the chain with a wet cleaning/lube agent designed specifically for bikes. These agents generally act as a degreaser, as well, which helps in removing dirt and grime buildup. Apply the lube lightly over the entire chain, then using a small towel or cloth, grasp a section of chain on the lower portion. While gripping the towel tightly with one hand, use the other to pedal the bike backwards. As the chain travels through the towel/cloth, grease buildup is removed. Keep the backward pedaling motion in progress until the chain is clean.
An alternative method is to remove the chain and place it overnight into a container filled with degreaser. The next morning, use a cloth or towel to wipe down the chain until it's shiny and clean.
The lube provides two-fold help; cleaning the chain to remove goop and lubricating the chain for a smoother ride.
Step 2 - Clean the Bike Cassette
The cassette needs to be cleaned. To do this requires removal of the rear wheel. Once the wheel is removed, apply lube onto the cassette. Use a towel or cloth to remove the grease trapped between the cogs.
Step 3 - Check the Brakes and Derailleurs
Check the brakes and derailleurs. There are many moving parts on your bike that attract dirt and these two areas are prime examples. Do a visual check of your bike as well as using the brake levers while it's in operational mode. By doing so, a visual check will show the areas where metal meets metal. By using the levers, you'll experience any issues with low brake pressure and hear any squealing of the brakes. These are the areas where you will apply a drop or two of lubricating oil.
Step 4 - Clean the Brake Pads
There are two things to check. First, make sure the brake pads are aligned with the rims. They should not be in a position where they rub the tire, nor should they be aligned so they don't connect with the rim. If either situation is evident, adjust the brake pads so they fit properly. Second problem is dirt/debris that may become embedded in between the brake pads and the rims. Using a pointed instrument, carefully remove bits of dirt, grit, sand, or other material from the pads. This ensure the pads will not scratch the rims and keeps the mechanism working in proper "braking" order.
Step 5 - Maintain Proper Tire Pressure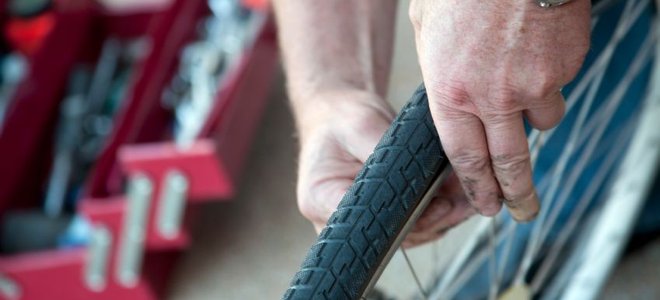 Just like a car's tires need proper pressure, so, too, do the tires on a bike. Know what the suggested tire pressure is for the specific manufacturer's tires on your bike. Using a tire pressure gauge, check the level of pressure and increase it to the appropriate level. Be sure the tire pressure is checked and adjusted in both tires. Failure to keep the tire pressure regulated promotes several problems. These include more difficulty pedaling, rims become damaged due to the proximity to street/highway surfaces, lessens the lifespan of the tires, and promotes the possibility of getting a flat.
Step 6 - Bicycle Tire Treads
Do a visual check of the tires frequently and inspect them for issues such as cracks or gouges in the side or bottom of the tread as well any worn spots where there is little to no tread. If you see evidence of degraded tread, it's time to replace your bike tire(s).
Step 7 - Check the Bike's Wheels
Check all areas on the bike where there are mechanisms designed to keep the wheels secure and in place. If these mechanisms are loose, tighten and/or adjust them to ensure a safe ride.
Step 8 - Inspect Your Handlebars
Use the appropriate tool to tighten any nuts/bolts, etc. that are used to secure the handlebar stem. If it is loose and not tightened, it can become disengaged resulting in no control of the bike, which can lead to an accident.
To keep your bike in good running order, keep a checklist handy, frequently go over it, and tune up your bike accordingly. By doing so can save both time and money by finding potential problems before they occur and extending the life of your bike.
From minor home repairs to complete remodels, Robert Ferguson has done it all. Robert's career as a residential contractor has spanned more than 40 years. Robert is now semi-retired. His career provided him with the experience to work on, and complete, home remodeling, repair, and renovation projects. In 2000, Robert began writing as a way to share his knowledge of the residential home improvement industry. Robert has since written for major branded sites such as Skyword, Pink Plumber, Modernize, DIY guru Bob Vila's website, Family Handyman, Workbench Life, Owners, Dremel, Skil, and Craftsman. Robert wants to share his knowledge to empower DIY enthusiasts with the expert guidance and educational tools they need in order to take on big or small projects safely with confidence and ease.  He has written about everything from auto repair to zoning restrictions to masonry tools for DoItYourself.com. In his spare time, Robert enjoys Florida beaches, boating, fishing, biking, travel, and gardening.  Next on Robert's list? Become scuba certified. Robert is also the owner and main contributor to the menshouldpause.com website, which is currently under construction.