8 Steps to Making Your Bed Extra Cozy This Winter
To ensure our content is always up-to-date with current information, best practices, and professional advice, articles are routinely reviewed by industry experts with years of hands-on experience.

Reviewed by

on Dec 31, 2019
Give Your Bed the Royal Treatment
Give Your Bed the Royal Treatment
With the winter weather settling in quickly in some areas of the country, there's never been a better time than now to snuggle up and settle in for the long haul! It goes without saying that having a wonderfully cozy, welcoming, and even indulgent bed is the ultimate treat throughout the winter. After a long day, there's nothing better than putting on a pair of soft pajamas, making a cup of delicious tea, and settling into a fluffy bed that allows you to relax, unwind, keep warm, and get a great night's sleep. Keep exploring here to learn how to make your bed your own personal warm and cozy oasis this winter!
1. Change Your Linens
When cold weather hits, it's the perfect time to switch over your linens to something geared towards keeping you warm. Exchange your light quilt for a thick and fluffy comforter and swap out your jersey knit or cotton sheets for fleece or flannel instead. This will guarantee a warm sleep night after night, no matter how low the temperature may go.
2. Use Soft Lighting
One way to make your bed feel cozier is to implement soft lighting around your room. Try installing a dimmer or using a muted chandelier in your bedroom to really set the tone for a serene setting. Hanging string lights above your bed is another great way to keep lighting soft and relaxing.
3. Layer Blankets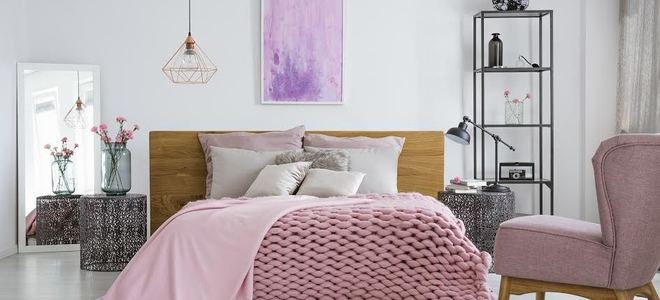 While you probably already have a top sheet, blanket, and comforter or quilt on your bed, adding on some extra blankets is one of the easiest ways to make it cozier this winter. Invest in some faux fur blankets to give your bed a new level of texture and to have something extra soft on there for your lounging pleasure. These blankets are perfect for napping, too!
4. Add a Mattress Topper
To give your bed some extra fluff, add on a mattress topper, which can be either a foam or feather pillow top mattress pad. This goes under your fitted sheet, giving you some extra padding for a whole new level of coziness and comfort! (This is also a great solution if you're due for a new mattress, but don't have the funds at the moment.)
5. Pile on the Pillows
Along with the blankets, adding an abundance of pillows to your bed is another way to make it as comfortable as possible. Find some throw pillows that complement your room's aesthetic and pair them with your normal bed pillows. Once they're all on there together, your bed will look more inviting than ever!
6. Outfit Your Nightstand
Making the bed your personal oasis means that you'll have everything you could need nearby while you're lying in bed. Use your nightstand for this! Have an easy-to-reach bedside lamp sitting on your table, a box of tissues, a caddy for any remotes you'll need, an accessible phone charger, and a coaster to hold a glass of water or mug of tea for easy access. With these items on hand, you'll never have to leave your decadent bed!
7. Add a Fluffy Rug
Stepping out of bed in the morning may be something you dread, but placing a comfortable and fluffy rug next to it can make the task easier! It also helps to make your room and bed cozier overall! Try a fluffy white faux fur rug or something shaggy and soft. Place your slippers on it as you climb into bed each night so that they're waiting for you when you're ready to get up!
8. Use a White Noise Machine
Another addition to your room that could aid in making your bed as cozy as possible is a white noise machine. Flick this on whenever you want to catch some z's, take some time to read, or just plain relax! Sink your head into your pillows, cuddle under the covers, and be instantly transported to another world as all other noises and thoughts are drowned out.
Follow these steps to your coziest bed ever and you'll enjoy spending time in your bedroom all winter long. Whether you're catching up on the latest binge-worthy show on Netflix, reading an engrossing novel, or simply hiding from the snow, a bed and room equipped with all these items is sure to be your best bed yet!