9 Ways to Incorporate Forest Themes into Your Design
Forest themes feel homey without being too basic. They can enliven your surroundings with a touch of nature's magic, keeping your decor delightful and comfortable at the same time. Plus they're unique enough that you're unlikely to find your friends or family remodeling their homes with the same items. From big projects to little trinkets, there's a lot you can do to create a forest-themed room.
1. Paint
One way to change the look of any room is to paint. Bold green colors scream forest but could clash with some of your other decor, so think about the overall look and feel of the room before you pick up that paintbrush. A muted moss green or mushroom tan might play a little more gently with your other elements.
2. Wallpaper
One of the most literal ways you can accomplish a forest theme look in your room is by adding wallpaper. Birch trees are an incredibly popular wallpaper print because they give off the forest vibe but are light in color, unlike some other trees which are dark brown. Birch tree wallpaper applied correctly can be a real show stopper.
Consider using the wallpaper to create an accent wall rather than filling a large room with it. You could also consider peel and stick wallpaper instead of traditional wallpaper. Peel and stick wallpaper is easier to apply than traditional wallpaper. And if you decide you no longer like it, it's easy to tear down. Peel and stick wallpaper can be found at most home decorating stores.
3. Plants
This should be a no-brainer but plants are an easy way to make your home feel like a forest. Consider getting a few big plants as opposed to smaller ones to really create the look you are going for. Remember to put the plants somewhere they will get the appropriate amount of light. Don't forget to water them. We're going for a lively forest look, not a dead forest.
4. Photos and Paintings
You could also add photos and paintings to create a forest theme. As with wallpaper, birch tree paintings are popular as a lighter-colored option. Unlike with wallpaper, though, you can afford for your paintings to be a bit darker since they won't take up as much space. Consider purchasing paint and paintings of plants that hold special meaning to you. Local art shows are a good way to find unique paintings and support a local artist at the same time.
5. Vines
If you have a tall ceiling or a pergola, you could hang vines. While some may think this creates a jungle theme and not a forest theme, if done well it can scream forest. Think moss and small pants with flowers rather than creating a thick brush.
6. Rustic Furniture
A less on the nose approach to creating a forest theme in your home is using rustic, statement-making, pieces of furniture. A coffee table that looks like a giant tree log or a table stained dark to look like it belongs in the forest are all great options. For this, consider looking at antique stores as some of them may have unique pieces with the look you're going for.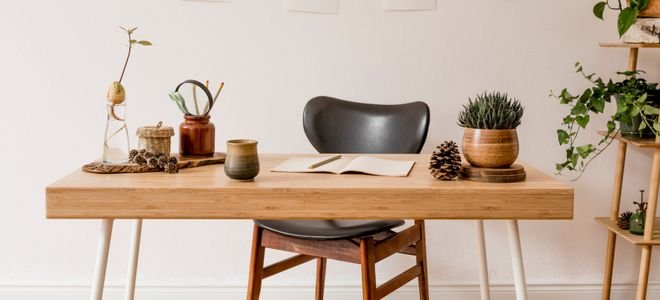 7. Rugs
While geometric and brightly colored rugs might be all the rage, there are a lot of rug options to help you accomplish your forest theme. You could go the literal route and get one with a giant tree on it, or less literal and do a pattern with lines mimicking trees or flowers, or just embrace natural tones and fabrics for a calm, comforting effect.
8. Treehouse
If you want to do a forest theme in a kid's room, consider going all out and having some fun with the theme. You could even build a treehouse that houses their bed. Some treehouses will even have a slide on one end for the kids, making it furniture and a toy all in one. You could also create a giant tree in the room with a door for when the kids play hide and go seek. As a bonus, the kids will also love this if they ever read "The Lion, the Witch, and the Wardrobe."
9. Trinkets
If you want a subtler way to add a forest theme to your home, consider finding a place to display smaller trinkets with a forest theme. This can be accomplished with wood coasters, candles, lamps, and other decor pieces.