A Classic Look a New Way: Wood Grain Tiles
To ensure our content is always up-to-date with current information, best practices, and professional advice, articles are routinely reviewed by industry experts with years of hands-on experience.

Reviewed by

on Apr 28, 2021
Are you considering swapping out your old, dull flooring this year with something fresh and practical? Perhaps you are building your dream home and want something easy to care for that will last for years?
There are actually so many flooring options that choosing one can be just a bit daunting. I have first-hand experience in this. When I decided to rip out the old carpeting in my living room and replace it with something a little... well... a little less dated and worn, I thought the choice would be easy. Boy, was I wrong; a trip to the local home improvement store made my head spin. The choices of floor type, color and texture seemed endless.
After what seemed like weeks of agonizing over what type of floor covering to choose, I decided to go with a floor type that is rather new to the scene - wood grain tiles.
What Are Wood Grain Tiles?
Now, once I decided on wood grain tile there were still decisions to be made. There are so many options even within this type of flooring - depending on what you are after.
There are light, dark, rustic, formal and even country collections. Pretty well anything you can imagine in wood can be found in these tiles. Realistic looking for sure - these tiles come in a wide variety of looks suitable for any room in the house.
They're not Wood

Made from ceramic tile, these wood look-a-likes are stamped with a wood look that even leaves a noticeable texture along the faux grain lines. Generally, these tiles come as planks of various sizes. They're longer than typical tiles. Expect to find them in lengths like 6x24, 6x36 and 8x45. This helps create the illusion of wood. Do be aware that the bigger (longer) the plank, the more difficult it may be to install.
If you are wondering about price - well you will pay anywhere from around $1.75 a square foot to $5.00 - depending on where you get them and what style you go with.
Pros and Cons

So far, my tiles have been in place for about a month and they are doing great. My friends come over and can't believe that my floor is not real wood -
Here are just a few of the reasons why I decided to choose wood-grain tiles over anything else:
They look just like a solid hardwood floor - they even have a raised grain-like look and feel
They don't fade or wear like solid wood
They don't warp
They don't chip
They are water resistant and don't require a seal
They are easy to clean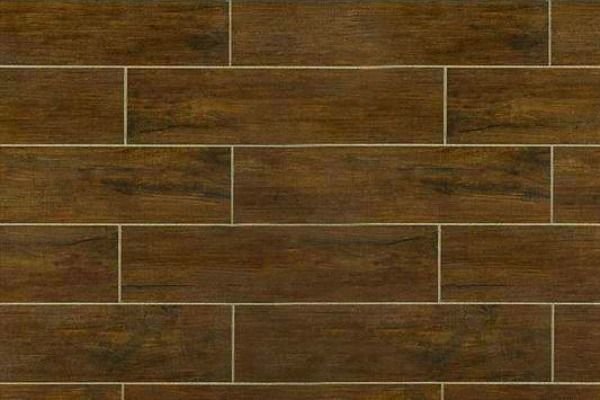 Here are a few things that you may want to consider before purchasing wood grain tiles for your home:
They may be cold in the winter unless you install radiant floor heatingThey need to be installed perfectly to look like authentic woodThe color and size of grout lines needs to be carefully chosen and applied to get the real - wood like feelThey may cost a bit more than other flooring options
Installation
They go down like any other floor tile, but with the considerations of precision and grout color I mentioned. Before I installed the tiles in my home I did attend a workshop at my local home improvement store. This, I would highly recommend. I learned a great deal from the workshop and gained the confidence and skill I needed to complete the job.