A Man Cave Fit for a Knight
Kurt Reineke decided to build himself a man cave. Luckily for him, he just happened to have the supplies laying around his yard, left over from several other DIY jobs he had done. But Kurt's man cave has a special theme that you won't find just anywhere.
An American Knight

Kurt has several medieval artifacts decorating his man cave. These artifacts fit well with his personality and his title. See, Kurt is a knight -- a real one. Kurt was given the title when he was retiring from the U.S. Army in 1996 as a master sergeant. Kurt was knighted into the Order of St. George for long and honorable service to the Armory and the Cavalry.
Three Rooms, Two Stories
Kurt built his man cave in his barn. The first thing he did was dig a hole in the ground where he wanted the man cave. He built three rooms above it: a bar, a bathroom and what he calls the "King's Throne Room." The hole is directly under the bar and the "King's Throne Room." It is 10 feet deep and mimics the two rooms above. This hole is meant to be the lower level of his man cave.
The "Kings Throne Room"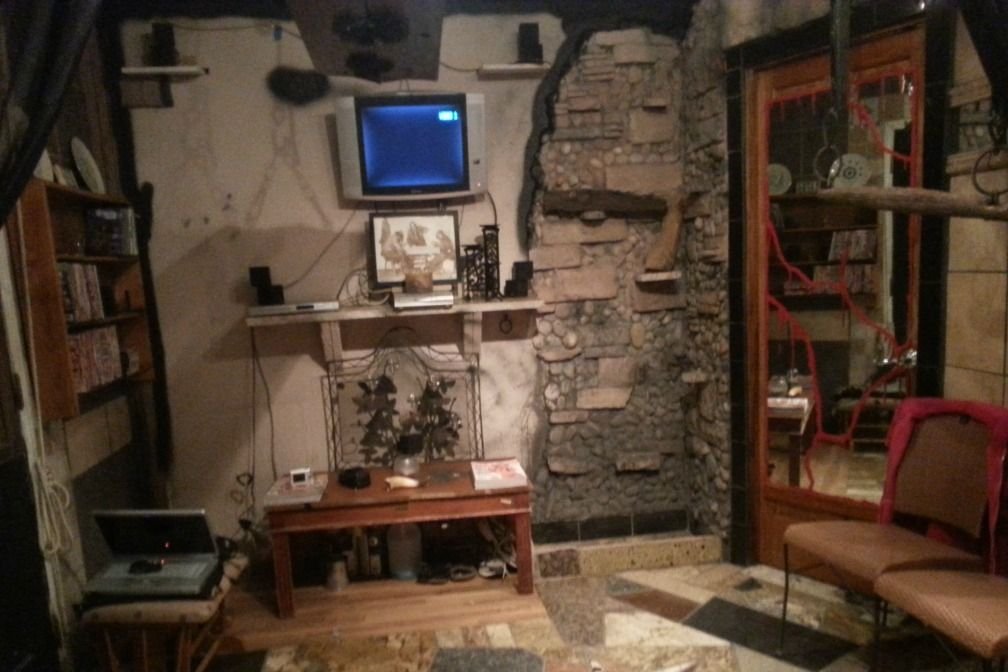 In the "Kings Throne Room" you will find four televisions, medieval artifacts and a refrigerator. The floor is made of granite and if you look closely at it, you will find a star and a sun inlaid in the pattern. There is a waterfall in one corner made of river rock and prefabricated stone, with granite shelves for the water to flow over. Kurt built some shelves into the walls by cutting a hole the width of the each shelf into the wall and installing studs to support the weight of the granite shelves. He then placed decorative stone underneath each one. In both this room and the bar, there are hatches in the floor. When you lift them, you will find a ladder leading to the downstairs.
The Bathroom
The shower is almost a separate story itself. After all, most man caves don't have their own shower. It's about 5 feet wide and 4 feet long. There are two steps leading down into it and six shower heads. (That's right -- six.) There are two on the ceiling, three on the back wall, and one on each of the two end walls. The walls of the shower are made of ceramic tile and granite, and the shower floor is made of river rock tile over a shower insert and a cement floor. Kurt built seven shelves and three mirrors into the shower walls.
Downstairs
As of yet, the downstairs remains unfinished. When asked what he plans on doing with it, Kurt said, "I'm going to make it into a medieval artifacts room. In other words, a dungeon."