A New Way of Looking at an Old Standby: We Try Out an Inflatable Shim
To ensure our content is always up-to-date with current information, best practices, and professional advice, articles are routinely reviewed by industry experts with years of hands-on experience.

Reviewed by

on Aug 20, 2019
The Winbag is a pretty innovative device that is so obvious in retrospect you'll wonder why no one thought of it before. The device has set out to not only replace shims for home improvement projects, but also to help with other leveling needs around the house. With its recent award for "Best Overall Value" in the New Product World Winner category at the 2015 National Hardware Show, this was something we just had to get our hands on.
The Product
At first glance, the Winbag looks a little quirky, similar to a blood pressure monitor. There is a 6x6.5 inch inflatable square attached to a squeeze pump and release valve. The device is lightweight and strong; the bag is made from a fiber-reinforced material and can withstand pressure of up to 220lbs.
Small Size
The great thing about the Winbag is how small it starts out. It was easy to slide it under anything that had even the smallest of spaces underneath. The bag itself is about 1/18 inch thick and can inflate up to 2 inches by squeezing the air pump with your hand or pushing it with your foot. The air release is a simple button on the side of the pump. Between pumping and releasing, you can adjust the size within a millimeter.
Easy to Use
The adjustable nature of the device is what makes it so great. It can be hard to insert a shim just right, and it takes muscles to readjust or remove one. However, the Winbag never took any more effort than a simple squeeze on the pump. No matter what we were lifting or adjusting, it remained pretty easy. And as an added bonus, nothing was ever in danger of being scratched or scuffed. A traditional shim can leave marks, but since the Winbag is simply an air cushion, nothing was harmed.
Possible Uses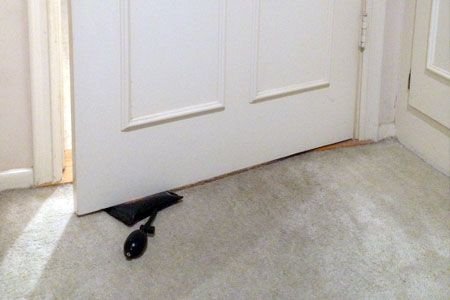 With a name like Winbag, it's easy to see that the air cushion was designed for installing windows. It's pretty easy to precisely align a window and keep it wedged in the frame with a bag inserted on each side of the window. However, the Winbag is so much more than that. We were able to lift up a large oven to easily level out the legs without needing a second hand to tilt back the appliance, and held up a door while we lined up the hinges.
The Winbag is a pretty versatile device. Its relatively small size makes it easy to pack or roll up and carry with the rest of your supplies or keep around the house for those moments when something accidentally rolls under the fridge.