Adding a Statement Wallpaper Wall to Your Bathroom
When we say the word wallpaper, it may conjure up images of your grannie's sitting room, or perhaps the cozy Howard Johnson's from road trips of your youth. Or you may have more recent memories of 80s/90s living rooms with that single wallpapered strip that bordered your popcorn ceiling.
Whichever way you remembered it, it's likely you chose to forget it. Though they may have fallen out of fashion in the past few years, 2022 seems to favor this retro trend, and your bathroom could be its next target.
Bold Botanicals
Gone are the boring florals of 70s orangey-yellows and repetitive 80s geometrics. Think more along the lines of patterns that stir up memories of vacations past: large tropical leaves that shaded your lanai during your visit to the Hawaiian islands, or maybe some natural looking panels of bold, bright flowers.
Nature inspired patterns can refresh a stifling space, and provide a much needed sense of calm in your own private refuge.
Go Big with a Mural
Since we're talking about being bold, how about a mural in this most private of spaces? This may be a specialty item that may require the services of a professional, especially if it's a subtle landscape to inspire you while you "go," but here are some tips if you want to hang that mural wallpaper yourself.
Whether you fully immerse yourself in the DIY or not, if it's a statement you want to make, then this is one to keep on the list of remodeling ideas.
The Single Life
A single accented wall can inspire and complement the decor of any room, so why not in the bathroom? It saves money, effort, and time, especially if you opt for a peel and stick option. You'll find a plethora of designs that fit any style or mood.
Choose a prominent wall (statement, right?) and give it a good look. This one single wall is the one you've chosen to tell people about yourself, your style, your je ne sais quoi. It's going to say a lot in a momentary stop to the bathroom, so what do you want it to say about you?
Add Some Texture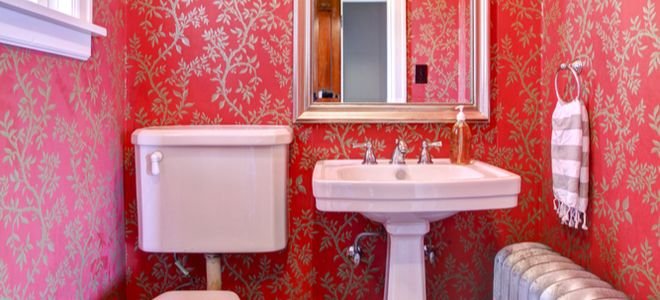 No, we don't mean adding wallpaper with raised patterns that can attract dirt and moisture. Save that for another area of the house. What we're referring to are the varieties of paper that add shimmer and shine.
With reflective wallpaper, texture is achieved as light and shadows play amidst the bathroom fixtures, casting their images onto the glossy sheen. If your life could use a little sparkle, or if it's the glam you're after, get some reflected texture into your powder room, stat!
Find Your Inner Animal
There was a time when we thought animal prints were only for those of a certain age. Now we know better. These prints are for anyone who is in touch with their wild sides, so if you're up for it, we dare you. A room completely dressed in animal prints can be beyond daring, and if that's what you're going for, we are in awe of you.
Keep in mind that too much could be slightly intimidating, so we suggest finding a balance among colors, textures, and shapes that appeal to your senses rather than accost them. Channel that inner wild child and feel comfortable in your private slice of nature.
Go Terrazzo
Terrazzo style doesn't just belong on floors. It comes in a wide variety of colors and plays nicely with wooden cabinets and metal fixtures already in your bathroom. That colorful composite has experienced a resurgence, finding favor with those who like clean lines and an industrial look.
Don't worry if you can't find matching wall and floor patterns. You're allowed—nay, encouraged—to mix it up! Too matchey-matchey can get a bit boring, so add some interest by choosing a complementary pattern of terrazzo to give the eye a break from too much of the same thing.
Art Deco
This distinctive style is glamorous and elegant, evoking historic days gone by. Characterized by strong geometric patterns, a streamlined look, and often expensive materials, it creates a pleasing feeling of motion as it leads the eye around the room. You don't have to be a polished Gatsby to experience this type of luxury.
Wallpapering the bathroom isn't the most glamorous of projects (or is it, art deco lovers?), but it doesn't have to be as long as it makes you happy. So whether you opt for paint or wallpaper, choose a style that suits your personality, budget, and is appropriately made for high humidity in the bathroom.