Affordable Patio Decor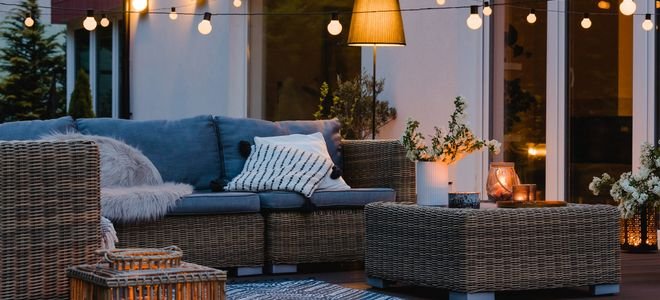 20 hours

•

Beginner

•

300
Table
Chairs
Lights
Decor
Table
Chairs
Lights
Decor
If you want to take your Patio to the next level this summer, you'll need to invest in some patio decor. Great style doesn't have to break the bank. With a little DIY spirit, and the help of our friend 'Internet Shopping', upgrading your patio on a budget has never been easier.
Seating
If you're spending lots of time sitting outside, you want somewhere soft to sit. Gone are the days when you haul out your great-grandpa's old camp chairs from the shed when everyone comes over to grill. You are now an adult with great patio seating.
Aside from comfort, you want to make sure that your chairs serve the purpose of the patio as a whole, are aesthetically pleasing, and are weather resistant.
For lounge lovers who want to kick back and read, reclining patio chairs are the way to go. These Amazon reclining patio chairs get all the stars for comfort and affordability.
If you need a handful of chairs to go around a table or fire pit, this five-pack from Amazon saves you a bundle.
And if you're in the mood to pull out the power tools and DIY patio chairs, consider which materials will hold up best in your climate.
Serving
All patios need a place to serve. Whether it's a dinner table, a bar, or a built-in around the grill, having a place to serve and eat food is the essence of a great patio. Before you commit to buying any patio items, make sure you know what purpose you need these items to serve. If you don't plan on eating outside, only socializing, a small bar would be the way to go—instead of a full table.
As with chairs, make sure your table or bar matches your decor scheme and is durable.
If you want a whole set of matching chairs and tables, Amazon has one that is far from breaking the bank.
If your patio table budget is a little higher, check out this Amazon acacia table specifically crafted for outdoor use. This is a great option if you want the freedom to add your own chairs, and has the seating so you can invite the whole crew over for a bbq.
If a DIY patio bar isn't the route you want to take, give this Amazon patio bar a try. This bar is the epitome of affordable patio decor and can easily be customized to match your patio. Even adding something as simple as a planter with flowers can make this table feel totally custom
If you want to DIY a built-in bar, work with reclaimed wood or old scraps that you have lying around to cut down on costs.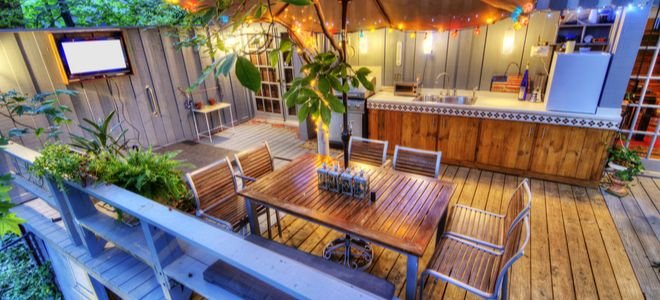 Shade
Especially if you plan to spend a few sunny afternoons on your patio, you're going to need to invest in a little shade. You can build your own patio onning, purchase a rollout shade, or use a patio umbrella on your patio so that you don't have to move every time the sun does.
No one wants to throw shade, so when you invest in a great, affordable patio umbrella you want to make sure to invest in an umbrella base as well. Especially if you live somewhere windy, protect your investment with a sturdy base.
If you want to purchase a patio shade made of sturdy, weather-proof fabric, make sure to measure your space first. A shade that is either too big or too small can end up looking a little comical in your backyard. Even with an affordable sunshade, you're going to need posts to attach the shade to. These posts can be purchased or DIYed, but the installation process is a full DIY experience.
Planters
The decor you add to your patio is the little something extra that makes your patio one hundred percent you. We love the way DIY planters look out on a patio, but if you want to snag a few affordable planters online, try these Amazon options.
Lights
If your patio lacks outdoor lighting, go ahead and invest in some good quality outdoor lights. Though good outdoor lights aren't always the cheapest, it's worth it to invest in safe lights that will last. If you're looking for a little casual ambiance, try these cheap table options (also on Amazon).
As you build out your patio on a budget, remember that it doesn't all have to come together at once. You can build up your patio slowly, at a pace your budget can keep up with.
When you purchase through links on our site, we may earn commissions at no cost to you.