All-natural Pest Control
To ensure our content is always up-to-date with current information, best practices, and professional advice, articles are routinely reviewed by industry experts with years of hands-on experience.

Reviewed by

on Feb 17, 2016
Cucumber slices
Garlic cloves
Baby powder, coffee grinds, or cayenne pepper
Soap
Water
Vinegar
Tea tree, rosemary, or citronella oil
Spray bottle
Baking soda
Cocoa powder or sugar
Beer
Bread
A deep can
Vaseline
Salt
Vacuum
Rosemary leaves
Garlic juice
Newspaper
Plastic bags
Paper bags
Watermelon
Bucket
Cucumber slices
Garlic cloves
Baby powder, coffee grinds, or cayenne pepper
Soap
Water
Vinegar
Tea tree, rosemary, or citronella oil
Spray bottle
Baking soda
Cocoa powder or sugar
Beer
Bread
A deep can
Vaseline
Salt
Vacuum
Rosemary leaves
Garlic juice
Newspaper
Plastic bags
Paper bags
Watermelon
Bucket
While insects serve a purpose in our ecosystem, they can often be quite a nuisance in our homes and yards. There are several products on the market that can get rid of these annoying pests, but more often than not, people don't like to use harsh chemicals around themselves or their kids and pets. Thankfully, there are plenty of natural options for getting rid of unwanted guests, many of which can already be found in your house.
Ants
Before you try any solutions for repelling ants, start getting rid of them right away by removing anything that they are attracted to. Ants are only present because there is something they have found to take back to their home, like food crumbs. Eliminate the things they are after, and keep it clean, and the ants will eventually stop returning.
While most foods will attract ants, some can act as a deterrent. Ants aren't fond of cucumbers, so put cucumber slices near the spot they are entering your home. If the problem is outside on your deck, near a barbecuing or dining area, try some garlic clove pieces between your deck cracks instead.
Ants don't like to walk across certain substances because they will lose the scent path they leave, so wherever their path is, you can sprinkle baby powder, coffee grinds, or cayenne pepper. Soapy water or a mixture of vinegar, water, and tea tree oil in a spray bottle can be used directly on the ants to kill them and also on the areas where they walk to divert their scent.
Cockroaches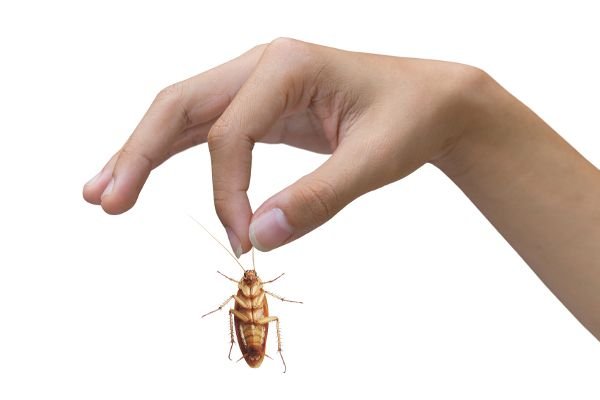 Similar to an ant problem, cockroach infestations usually come from a dirty house. Your best defense starts with keeping a clean kitchen and bathroom.
Fill a spray bottle with soapy water or water mixed with tea tree, rosemary, or citronella oil. Spraying either of these mixtures on a cockroach will kill it if you can coat the head or lower abdomen, as they can create a film on the bug and suffocate it. Baking soda also kills cockroaches if they eat it or inhale it, so to get them to ingest it, mix it with substances that they like, such as cocoa powder or any type of sugar. Place it on a lid or container where they can get to it.
If you have some beer in your house, you can soak an old piece of bread with it and place it in a deep can wherever the roaches like to gather. The beer doesn't kill them, but it draws them into the can and actually can alter their ability to run off quickly. If you then line the sides with Vaseline, they can't get out and then you can dispose of them however you want.
Fleas
We all love our pets, but they are the probable reason behind a flea problem. Usually for every flea you actually see there are many more you don't see lingering around. Start by addressing your pet first, bathing and combing them regularly with soapy water. Wash their bedding thoroughly, and then try these other natural methods to eliminate them in your house.
Take some salt or baking soda and sprinkle it all over your floors, well into your carpets, and especially in the areas your pet hangs out. Let it sit for several hours and then thoroughly vacuum everything.
Boil some water, add two cups of fresh rosemary leaves, and let it steep. Drain the water into a large bowl or container, throw out the leaves, and add as much as one gallon of water. Let the mixture cool until it is lukewarm and pour all over your pet, making sure they are thoroughly soaked, and then let them dry naturally.
Bed Bugs
You'll probably know if you have bed bugs because you will find small bites on your body. Bed bugs are not difficult to get rid of using any or all of these methods.
Wash everything! Take all your bedding, pillows, sheets, even bed liners, or covers, off your bed and wash them in very hot water and dry them in your dryer. This will take care of part of the problem. Then, thoroughly clean the room you found the bed bugs, or whole house if needed, by washing any fabric items and vacuuming well, including the mattress and box spring and all areas around the bed if found there. Finish with an all-natural cleaner, wiping down areas of the house that are not being vacuumed.
Mosquitoes
Keeping mosquitoes out of your house is best done by not letting them inside in the first place. Keep your windows and doors shut, especially at night when they are drawn to lights inside.
One of the primary things that attract mosquitoes is standing water. Any outdoor bird baths or pet bowls with water need to be changed frequently so they don't get stagnant.
To repel mosquitoes, you can mix together five parts water to one part garlic juice to make your own spray for your skin. Or, use the mixture to soak fabric strips to hang outside and fend the pests off.
Wasps
Wasps are not only a nuisance, but they can also pack a painful sting. Some items you have at home should help get rid of them and keep them away.
Having a fake wasp nest in the area will deter other wasps from building one. Take some newspaper and crumple it into balls. Put the balls into a plastic shopping bag and tie it shut. Then, grab a paper lunch sack and stick the plastic bag inside the sack and tie off the end with a rubber band. Hang these fakes in areas wasps are likely to nest throughout your yard.
You can also set a trap by using bait wasps cannot resist, such as a chunk of watermelon. Stick the watermelon on a wooden skewer above a bucket of water. The wasp will feed on the watermelon until it falls into the water and then it won't be able to get out. You can put soap in the water as well to be sure the wasps do not survive.
Perry Carpenter is a freelance writer living in Springfield, Missouri. Her love of everything DIY was instilled from an early age by her mother. Growing up, creativity was encouraged, and Christmas prep involved making lots of homemade presents. Perry has been a successful freelance writer since graduating from Missouri State University with a degree in journalism. She has worked on dozens of home renovations, completing projects from garage rebuilds and asbestos removal to shower installation. She has covered everything from auto repair to plumbing for DoItYourself.com. In her spare time, Perry enjoys traveling, especially abroad. Her best friend since kindergarten has lived in many places around the world, giving Perry and her husband lots of vacation destinations. She currently has plans to visit Germany and Italy, followed by Scotland and England. Scotland especially holds a special place in her heart because of her deep Scottish roots. In fact, her profile picture was taken in Fort William, a town in the western Scottish Highlands. Perry loves to cook for family and friends and can often be found prepping for the next big get together, whether it is a family birthday, or just another NFL Sunday. She also volunteers by coaching youth volleyball, as well as by raising money for her father's memorial scholarship fund.

Becky Hollada is a writer and editor with a decade of experience in both print and digital media. After graduating with a BA in Literature and Japanese from Bennington College, she started out pursuing work in fiction and dove headfirst into the eBook publisher phenomenon. Working with a small company required wearing many hats, so while she was copy editing novels, she turned her hand to maintaining the company blogs and working with the marketing teams on promotional material. This and her time volunteering at a small news publication focused on video game journalism fed a growing interest in digital media. Now based in Los Angeles, she specializes in both fiction and non-fiction content, with a portfolio spanning a variety of genres, topics, and styles. She aims to use her work in fiction to bridge the gap between reader and writer by exploring new angles to traditionally dry and complex topics and using storytelling to bring entertainment and accessibility to any subject matter. Becky's work has appeared on Yahoo! Finance, MSN, DoItYourself.com, and Weddingbee.com, as well as a variety of other publications. She has also worked in collaboration with a number of brands such as Disney, Macy's, Wayfair, Home Depot, and Osmocote.