Antique Bathroom Wall Designs
To ensure our content is always up-to-date with current information, best practices, and professional advice, articles are routinely reviewed by industry experts with years of hands-on experience.

Reviewed by

on Mar 31, 2022
Designing an antique bathroom can be both exciting and challenging. If you are looking for an authentic vintage design, research old photographs for period wall designs.
1. Wallpaper
Among the wall designs that were popular in Victorian homes was wallpaper.
Prior to the industrial revolution, wallpaper was often handmade; however, with the advent of mechanical production, this form of wall decoration became extremely popular as a way to decorate walls creatively.
2. Wainscoting
Wainscoting has been used for many years in bathrooms and other rooms. Wainscoting carpentry panels are set halfway up the wall and nailed into place.
They are usually completed with a chair rail to distinguish and complete the transition to the upper part of the wall, which is usually painted or covered with wallpaper.
3. Paint
The standard for most walls is simple paint. In the past, paint colors did not vary much, and standard white walls were common because it was the most available paint color.
White-washed walls over hand plaster were often livened with wall pocket vases, light fixtures, and mirrors.
4. Choosing a Design
The key to choosing an appropriate and beautiful wall design for your antique bathroom is to make sure it complements the overall bathroom aesthetic.
For example, if you are planning an art deco bathroom with clean lines reminiscent of the 1930s, you do not want to choose a glaringly contemporary modern wallpaper with splashes of bright colors.
Look through old photographs or even old home decorating magazines from the period you are interested in, duplicating it in your own antique bathroom.
If these sources are not available, then look at current magazines that specialize in the particular style you have in mind.
Victoriana is a magazine that focuses on decorating styles of the Victorian period. Often, you can conduct an Internet search on the antique period style and bathroom decorating ideas to find many sources.
5. Putting Elements Together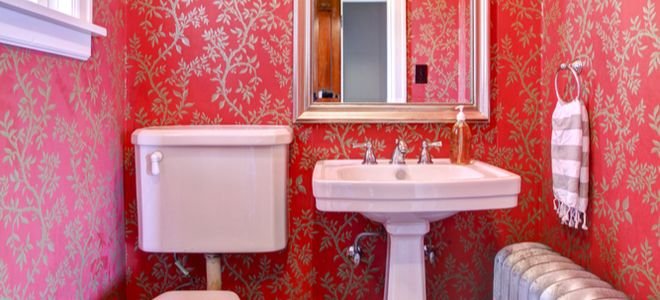 An antique bathroom should have a cohesive design that includes all of the elements of the bathroom. That includes integrating fixtures like the toilet, shower, vanity, and bathtub.
Consider what kind of vanity and sink design will go with the antique design you have chosen. Lighting fixtures are often the piece that draws everything together.
The wall design is integral to the lighting design. Accessories like towel racks, paper holders, shelving, and other items also are details that will bring everything together.
Designing an antique bathroom means putting all of the appropriate elements together to create a cohesive design statement.
When choosing a wall design, first picture the overall feeling you are attempting to create. Then choose other elements that will compliment the period, such as a tub, sink, and other fixtures.