Are Home Repair Warranties Worth it?
1-2 hours

•

Beginner

•

0-1,000
Your home is likely the biggest investment you'll ever make. Inasmuch, protecting it is an obvious goal. The question then becomes about the best ways to protect that investment, and the answer isn't cut and dry.
What Is a Home Repair Warranty?
A home warranty is basically an insurance plan against things that may go wrong with systems and products in your home (except it's not an insurance plan).
Some new (or new to you) homes come with a standard warranty plan that covers work the builders did as well as appliances and materials in the house.
Then there are home repair warranties that are offered at an additional cost. These cover appliances and systems that land outside the manufacturer's warranty.
So while a product or builder warranty may last a year or two, a repair warranty renews every year and covers expenses regardless of the age of the home or products.
While it's most common to buy a warranty at the time of home purchase, a homeowner can add a home repair warranty at a later date.
It's not just for newly built homes. However, it's typically a better deal when coverage is purchased along with the house.
The warranty commonly covers appliances such as the washing machine, dryer, ovens, stove, dishwasher, garbage disposal, water heater, and furnace.
It likely also covers the major systems in the home, such as electrical, plumbing, and HVAC systems. Smaller systems, such as your garage door opener, should be covered too.
Your warranty may also cover components that are specific to your house, such as a swimming pool, wine cellar, movie theater, or spa.
Some plans cover only appliances. Other plans cover only household systems. Some overlap, covering both. A few offer protection against issues with the roof, while others don't. It's rare to find one that covers mold.
Whatever type of warranty you have, the goal is for it to cover repairs or replacements as needed.
Where to Get a Home Repair Warranty
Home repair warranties are easy to find. The problem is making a decision about the right one for you. You'll need to do your research to understand the coverage options and associated costs.
What to Look For in a Home Warranty
Coverage
When considering a home warranty, the devil's in the details. You need to scrutinize every line. They are carefully crafted to sound more comprehensive than they likely are.
For example, your showerhead may be covered, while a leak in the connection behind the wall may not be.
This situation is convenient for the warranty company since a showerhead is an easy and inexpensive fix, while a water leak behind that wall can cost thousands, or tens of thousands, in repairs.
The warranty may cover damage caused by an electrical fire, but not one caused by damage in the chimney. Outside the home, if tree roots cause a problem with irrigation or drainage, it may negate the warranty coverage.
Cost
Obviously cost will be a factor in your decision. Once you understand exactly what the warranty covers, consider whether the cost is worth it.
In an older home, a few hundred dollars a year may offer a helpful return on your money when things go wrong.
On a brand new home, paying a few thousand dollars a year might be better serviced by putting that money into a savings account for a household rainy day.
Coverage, Part Two
In addition to the systems and appliances the warranty may cover, you'll need to understand how comprehensive that coverage is.
In other words, how much does the plan actually cover if there's an issue? Do they cover the required inspections? Will they charge a service fee to start a claim?
In addition to possible fees and exclusions, the warranty may only cover a portion of the costs.
For example, there may be a cap on the dollar amount for the repair--perhaps $500 towards a roof leak that costs $5,000 to fix or $3,000 on an HVAC system that needs $12,000 in repairs.
Be sure you understand what the warranty covers and what it doesn't. The information will be outlined, but it may be confusing or difficult to find.
For example, it may list the allowable amounts for the repair of certain appliances, like $500 for a dishwasher, or it may cover a standardized maximum for all types of appliances, like $3,000 each.
What's Not Covered in a Home Repair Warranty?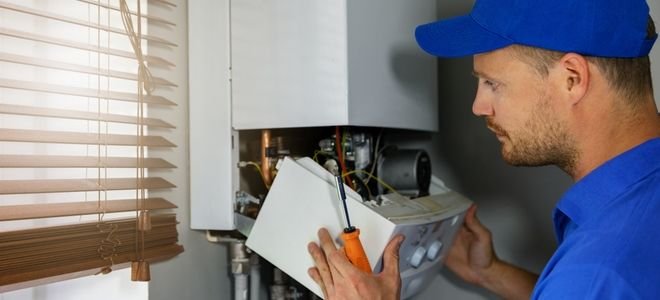 There are appliances you might expect to be covered, but may not be. For example, refrigerators and built-in microwaves are commonly not included in the warranty.
Even if your primary fridge is covered, a secondary fridge or freezer in the garage probably won't be.
Similarly, the water heater may not be listed. Same goes for the air conditioning. Many of these can be added for an additional fee but don't assume they are covered.
If you have a sump pump or similar device to keep the home from flooding, that will likely require a warranty addendum as well. Parts or all of the septic system may not be included too.
Of course, for the right price, you can get coverage for just about anything in the home. You can pay for plans that cover every type of repair, even countertop appliances, the pump in your whirlpool tub, ceiling fans, and security features.
In addition, regular wear and tear is often not covered, meaning the warranty company can make a subjective analysis as to whether the system or appliance was properly maintained.
If there's an issue with the furnace that is found to be related to an excessively dirty filter, for example, the company can claim they are not responsible since you, as a homeowner, failed to adequately maintain the furnace through regular filter changes.
Certain brands may also be excluded from coverage.
Pros and Cons of a Home Warranty
The value of a home warranty depends on your situation.
Savings
Obviously the biggest pro of a home warranty is that it can save you a substantial amount of money on spendy home repairs.
If you find out the HVAC system needs to be revamped you'll find yourself in for a $25,000 bill. Same goes for an electrical or plumbing issue that requires extensive repairs.
Convenience
Convenience is a big advantage too. It's nice to have someone else handle the problem, especially when you're already inconvenienced by trips to the laundromat or a flooded kitchen.
It saves you the hassle of finding capable and reliable workers, interviewing them, checking their business licensing, scheduling work, and making payments.
When all works as it should, you simply contact the home warranty company and they take it from there.
Costs
On the other hand, pouring hundreds of dollars a year into a home warranty you never need to use can feel like a significant waste of money.
How to Make a Home Warranty Claim
The process should be straightforward, but can be deceptively difficult. As mentioned above, there are things you expect to be covered you may be surprised are not.
When something goes wrong, the first step is to contact the warranty company. They will go over the process with you and send out a representative to take a look.
This might be someone from the claims department, or they may send a repairman to make an assessment.
That representative will then report back to the company, where they will make a decision about whether it will be covered by the warranty.
If it is, they will provide the repairman, supplies, and service.
What's the Difference Between a Warranty and Homeowners Insurance?
You almost certainly have homeowner's or renter's insurance. If you have a mortgage, your bank will require homeowner's insurance. If you're a renter, it's a wise investment.
Homeowner's insurance covers expenses associated with unexpected events that cause damage. This can include natural disasters such as floods, fire, and hurricanes.
Insurance usually covers damage from storms, such as roofing ripped off in a windstorm or damage caused when a tree falls onto the deck. It can also include burst pipes, an electrical meltdown, and even theft.
Note that, like home repairs warranties, homeowner's and renter's insurance has varying levels of coverage.
Some cover the basics of natural disasters and everyday perils, while others offer more comprehensive coverage for human-caused accidents, like spilling paint on the carpet.
To distinguish between insurance and warranties, consider the behind-the-wall water leak scenario above.
While your warranty on the plumbing parts should cover the repair and replacement of the parts, your insurance should cover the costs of fixing drywall and floor damage from the water leak.
To further clarify, the homeowner's insurance won't cover regular household wear and tear, such as broken appliances.
A warranty, on the other hand, won't cover damage to the home, even if it's caused by a broken appliance (but it will cover the appliance itself).
Put succinctly, your warranty will cover issues that are somewhat expected, while insurance deals with the mostly unexpected.
The important thing to remember is that this isn't an either/or situation. Your warranty and insurance will never cover the same things.
Choosing to hold home insurance may not be an option, but a given. This is especially true if you have taken a bank loan, since the lender will require it.
However, renter's insurance is usually optional. Warranty coverage is optional too.
So Is a Home Repair Warranty Worth It?
The answer depends on your situation.
Cost
Obviously cost may be a financial strain, so it may be out of reach for your budget. Do remember, however, many repairs are very expensive, so you'll have to come up with the money eventually.
DIY Skills
If you're adept at home repairs, warranty coverage may be less important to you. It might be worth it to save several hundred dollars per year if you feel capable of making necessary repairs yourself.
While this won't help if an appliance fails early and you have to replace it, if you're able to repair the appliance instead of calling in a repair person, the costs will probably be significantly lower than paying for warranty coverage.
On the other hand, an elderly person, a busy professional, someone who lives alone, or a homeowner that doesn't have the tools or skills to make repairs may benefit from having a warranty in place when repairs are needed.
Age of the Home
The age of the home may be a factor in whether you'll get your money's worth out of a warranty. If you expect a large system to reach its end soon, such as a furnace and associated ductwork, a warranty will save you substantially.
This goes for other appliances too. Even if they are smaller appliances, if a few go out in the same year, a warranty will be very helpful.
However, if the majority of your systems are relatively new and recently outside the manufacturer's warranty you may be willing to take a chance on them.
Considering the factors above, you may be able to make repairs if the appliance prematurely fails. Similarly, you may have several years of use where you're not paying for a warranty and all systems remain in go mode.
The Coverage
As discussed above, there is a range of coverage options. You could be paying a few hundred dollars each year or adding in additional coverages that raise that amount into the thousands.
If you're paying more annually than it would cover in the case of system failure, it's not worth it.
For example, if you're paying extra for roof coverage that only offers $500 when it starts leaking, you'd be better off putting money in a savings account for when emergencies arise.
Skip warranty coverage if your home is still under a builder's warranty or if your appliances are covered by manufacturer warranties.
A Note for New Homeowners
While a builder's warranty should cover any issues, you encounter for a time period in your new home, be sure the home is properly inspected.
You may not be aware of an issue in the building until many years down the road--after the builder's warranty has expired.
If the warranty company finds the issue is the result of an improper technique or installation from the original builder, it likely won't be covered by your plan.
In other words, if the builder cut corners, you'll need to make sure they fix it before the original warranty expires.
DoItYourself.com has covered these topics in more detail. For more information, check out Types of Water Damage That Homeowners Insurance Covers and How to Avoid Disputes on Water Damage Claims.