Basement Remodeling Pictures: 10 Modification Ideas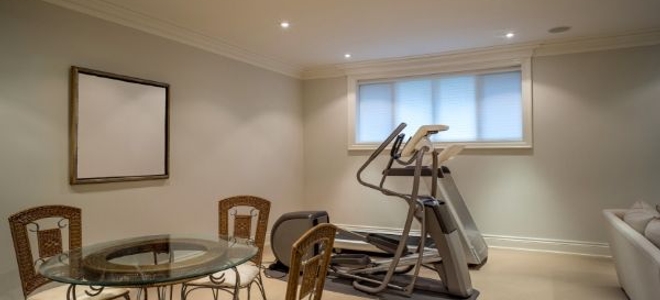 Do you pour over basement remodeling pictures wishing you could transform your basement into for your whole family to enjoy? There are so many things that you can do to make the space something that you really treasure. Check out these basement remodeling solutions.
Use Curtains
Divide your space into separate areas for privacy with curtains on a ceiling-mounted track, giving a single room dual functions. Combine an office space with a TV viewing area and pull the curtain for additional privacy.
Build Storage Units
Build under-stair storage to fit the space. Create a network of shelves to fit under your basement stairs that can hold totes with out-of-season gear or serve as pantry shelves.
Design a Home Gym
Arrange your laundry room near your fitness equipment and install a TV and ceiling fan to give it the feel of a gym while creating a comfortable space to do laundry.
Create a Home Office
Create a home office refuge with expansive storage, lots of lighting, and a large desk to make it feel like a plush office.
Install a Mini-Kitchen
Make entertaining simple by adding a kitchen or a mini-kitchen in the basement. Install a sink, dishwasher, and microwave along with a built in bar and TV to make it a nice alternative to enjoy a meal.
Turn It Into a Kid's Room
Create a kid's room complete with a homework zone and a play zone. Keep creativity high with lots of hands-on activities and install plenty of light to keep the space bright.
Arts and Crafts Space
Add a crafting room with bright colors for inspiration. Install plenty of storage for supplies and tools and make the room a functional space for all of your projects.
Design a Home Theatre
Create a home theater in a long, narrow space with terraced seating to create the feel of a real theater. Have great sound control and a perfect place to relax with the family.
Convert It Into a Game Room
Convert your basement into your own personal game room with family favorites like a pool table or table tennis and brush up on your skills. Enjoy some friendly play without even leaving home.
Build a Wine Cellar
For wine lovers, the basement can be transformed into a great wine cellar. Incorporate your storage into the room's design and create a place to enjoy a bottle of wine, as well as to age your collection.