Combating Toxic Black Mold in the Home
To ensure our content is always up-to-date with current information, best practices, and professional advice, articles are routinely reviewed by industry experts with years of hands-on experience.

Reviewed by

on Jun 26, 2023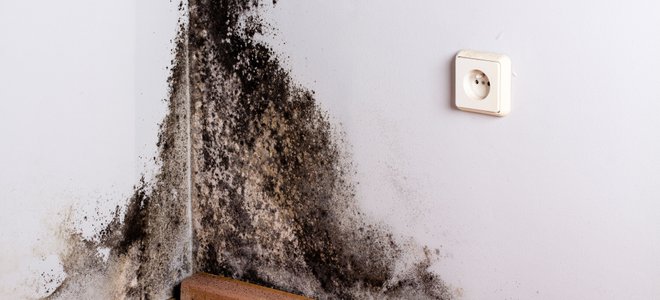 There are many different types of mold that can develop in the home. The most toxic is Stacybotrys Chartarum, or black mold. Black mold develops on anything with a cellulose base, such as paneling, wallpaper, cupboards, floors, or walls. It can be found anywhere within the home or office. This toxic form of mold presents itself as a black colored infestation, thus giving it the name black mold. This insidious contaminant produces harmful toxins which can be very hazardous to your health.
Where It Grows
Toxic black mold is a type of fungi that grows best in dark, damp areas of the home. Even though you may keep your home spotless, black mold needs little encouragement to gain a foothold in your home environment. One cannot live in a completely sterile environment - even the moisture produced from cooking, taking a shower, and running your clothes dryer creates a growing environment for black mold to develop.
Why It's Dangerous
The spores of black mold, called mycotoxins, are cast off in "blooms" from the parent host, and it is these airborne spores that cause illness in humans. Some of the threats to humans from breathing the spores can be asthma, brain damage, respiratory illness, and heart damage. Black mold is no laughing matter. If you, or any of your family members suddenly suffer from headaches, shortness of breath, or bronchial and respiratory illness upon moving into a new home, then suspect mold.
Testing for Mold
If you are buying a home, it is essential that it be tested for molds, especially toxic black mold. In areas of the South, or areas that have high humidity, this is an even a more important step to ensure the health and welfare of your family.

If you suspect black mold encroachment in your home, there are tests that can be performed to determine if the infestation is black mold. The mold expert will perform several different types of inspections when checking for mold in the home. These may include:

Swab Sample: This merely involves using a cotton swab to take a sample from a suspected area.

Air Sample: A sophisticated air sampling device is used to sample air in the home. It collects a determined amount of air, and any toxins are trapped in its filters.

Tape Sample: A piece of adhesive tape will be applied to the suspected area, and this in turn will lift a sample of any mold that can be detected in the laboratory.

Bulk Sample: This is nothing more than taking a suspected sample from the environment, such as a piece of drywall, wallpaper, flooring, or carpeting from the home. This is considered the best method because the laboratory does not need to wait for the mold to reproduce before it can determine the type of mold.
Prevent Mold
If you wish to do preventative maintenance on your home to ensure you have done everything you can possibly to prevent mold infestation, there are a few simple steps you can take to help ensure health and wellness:


Ensure that your dryer is not vented under flooring or into the home. Always have it vented to the outside air.
Install an exhaust fan in the bathroom and kitchen to remove steam and moisture into the outside air.
Install storm windows to ensure that condensation does not develop on inside windows during winter months.
In rooms that are perpetually damp, such as the bathroom, remove carpeting to discourage mold growth.
If your home has a crawl space, cover the dirt of the floor with plastic, and ensure that proper ventilation to the outside is in place.
Insulate pipes that "sweat" or otherwise produce moisture in an interior environment. Install a dehumidifier in rooms that are perpetually damp.
Kill Mold
If you find spots of mold in your home, the proper way to clean them is quite simple. Ensure the room is well ventilated, and clean the area with detergent and allow to dry. Then swab the area with a solution of chlorinated beach mixed in proportions of one-half cup of bleach per gallon of water. This solution ensures that the bacteria is destroyed.

Being aware of the dangers of this toxin in your environment can go a long way in ensuring the wellness of you and your family. Even though you may spend hours cleaning and taking care of your home, be aware that danger lurks in unexpected places.
H.R. Helm is an accomplished DIY craftsman. He has been DIY since childhood and is now a septuagenarian. He is experienced in wood and metal construction, having designed and built several houses and metal buildings. He built every permanent building on his current homestead and did all the plumbing and electrical work. He has several years experience as a professional cabinet builder, and he is an accomplished auto repairman, having operated an auto repair business for many years. He currently has a home shop where he sharpens and rebuilds saws, repairs lawn mowers, mobility scooters, hydraulic jacks, and anything else that comes along. He also builds custom tools for metal working. Invention prototypes are another of his many accomplishments. He owned and operated a manufacturing business building Compact Utility Vehicles for homeowner use. H.R. enjoys making jams and jellies during fruit season along with cooking meals. He is committed to outdoor cooking in a Bar-B-Q pit he welded together several years ago. He maintains fruit and nut trees along with helping his wife with a vegetable garden. He farmed commercial garden produce for several years. It helps to have over 50 years of farming and ranching experience. Employment/Education Highlights ASE Certified Master Auto Technician Certified Welder Cross country truck driver -- over dimensional freight Design Engineer/Project Manager for injection molded plastic company Bus Driver/Substitute Teacher Inventor with two patents (weight training – anti-rollback for manual wheelchair) BS in Industrial Technology