Choose the Best Lock for Your Door
To ensure our content is always up-to-date with current information, best practices, and professional advice, articles are routinely reviewed by industry experts with years of hands-on experience.

Reviewed by

on Dec 09, 2022
Protecting your home and the belongings inside is a legitimate concern, especially in areas more prone to break-ins. However, there are many types of locks available and it can be difficult to know which ones will be right for your home. Before you invest in high-quality locks, make sure you have high-quality doors that cannot be kicked in or busted through. Without a tough door, a heavy-duty lock won't do much good. Each of the following types does not require professional installation and can be done right at home with the proper tools.
Deadbolts
Deadbolt locks are heavy-duty locks that are separate from the door knob. Deadbolts are positioned so that a large metal bar—the bolt—pops out of the side of your door and into the wall when you latch it. This ensures that unless the deadbolt is unlocked, the door cannot be opened. Deadbolts are tough and strong, but if they are not secured correctly, they can sometimes be destroyed by kicking the door in or using a drill or other tools. Look for a hardened steel bolt for the best protection.
Also, make sure that the strike plate for the deadbolt is installed properly and that the bolt goes all the way into the hole in the door jamb. If it does not go all the way into the hole, or the strike plate is not secure, the door frame will not hold in a burglary. Use screws that are at least two inches long to mount the strike plate to the door frame.
Keyed Patio Door Locks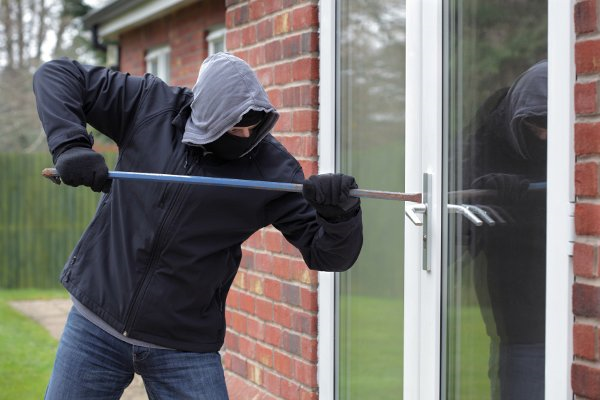 Keyed locks are best for doors that cannot have a deadbolt installed, such as sliding glass doors or patio doors. Over time, the original locks on sliding doors tend to wear out and do not provide adequate protection. While many people simply place a piece of wood on the inside track to prevent the door from opening at all when not in use, a proficient burglar will recognize this very quickly and work around it. Keyed locks offer the best protection on sliding doors, especially if they are installed at both the top and bottom of the door.
Electronic Locks
Many of the newest locks on the market don't even require the use of a key. Instead, they use a code via a keyless entry pad or your smart phone to open the lock. Most of these are deadbolt locks or high-tech options for different types of access and enhanced security.
These keyless options are not only a more advanced form of security, but they are very convenient. A lock that allows access with a code or the use of an individual's smart phone, for example, allows your children to get into the house after school if you aren't yet home from work or for a dog walker or house cleaner to enter without requiring you to be home. Since electronic locks are connected to your phone, they also provide you with direct information about who is entering your home and when. Some even come packaged with security cameras that you can also view from your smart phone. While these locks are high-tech, they are easy to install and interact with free apps that you can download directly to your phone.
Security Systems
For the highest level of security in your home, security systems and alarms are your best bet, on top of high-quality locks. Many of the features of electronic locks can also be found in security systems, such as code entry for access and cell phone notifications.