Choosing the Best Bathroom Ceiling Fan
To ensure our content is always up-to-date with current information, best practices, and professional advice, articles are routinely reviewed by industry experts with years of hands-on experience.

Reviewed by

on Nov 28, 2022
2 hours

•

Beginner

•

20-300
The process of choosing a bathroom ceiling fan that best suits your bathroom appears to be an easy project, but in fact, there are some important features to factor in before you buy.
1. Amount of Ventilation
Your ventilation needs are based on size, existing fan application, and level of air that needs to be pulled up and out of the room.
According to the Home Ventilating Institute, there is a standard formula to use to determine the size of fan you need to install. For example, if your bathroom is an average 8x5-foot room you would use the following calculation:
8x5=40 square feet. You need one CFM (cubic feet of air pulled per minute) per square foot. So you would need a fan of 40 CFM air pulling power. For homes above 100 square feet, approximate measurements are used. Simply add up these numbers according to what personal options are available in the room. The standard CFMs are:
Toilet - 50 CFM
Shower - 50 CFM
Bathtub - 50 CFM
Jetted Tub - 100 CFM
So, if you had a larger bathroom with a shower, bath, and toilet, you need a fan with a 150 CFM capacity. Another option is to put in three fans directly above the bath, toilet, and shower each with their recommended CFMs.
2. Type of Installation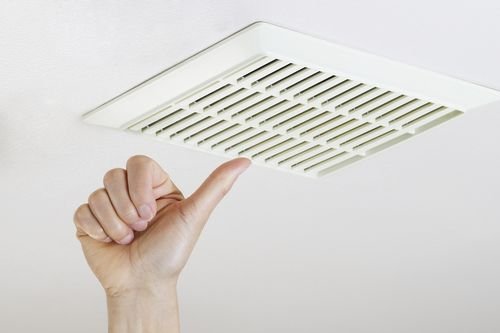 The primary objective of a bathroom ceiling fan is to pull out moisture to prevent mold from forming in and around the frequently used moisture producing areas. The best fans are the ones that require an exhaust system that moves the moist air directly out of the house through an exhaust pipe and out a vent in the roof.
Some homes have installed fans without pipes, directing the air straight up and into the attic. With the frequent change in air temperature in an attic, many times the homeowner (or builder) is merely redirecting the mold producing properties to that space. This system does work if you have an overall home attic fan installed.
Determine which system you have and decide if it will continue to service your needs as it is. This is the best time to introduce upgrades or changes.
3. Additional Configurations
The more powerful the fan, the more noise potential it will produce. If a quiet fan is important, what you are looking for is a low "sones" level. These are units of sound. The higher the "sones" recorded, the louder the fan will be. A fan that is rated two sones will be quieter than one rated at four. The highest quality fans have a rating of 1.5 sones. You won't find these ratings listed on the packaging, your best resource will be an online search or a professional installer.
Additional features are now built right into the exhaust fan configuration. Some models come with humidity detectors that will trigger the fan automatically. Others provide timers, various light arrangements and delay switches. Refer back to the type of current installation characteristics discussed in number two to determine if your system will be able to support these upgrades.