Cleaning Your Home to Fight Coronavirus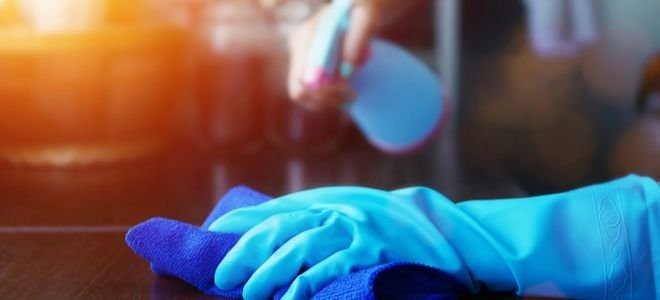 1-40 hours

•

Beginner

•

0-50
In the current era of COVID-19, also known as the novel coronavirus or more specifically SARS-coV-2, paying attention to proper cleaning techniques is more important than ever. Scientists have discovered the virus can live on surfaces anywhere from a few hours to several days or more, depending on the surface, and what they've learned about the effectiveness of different cleaners might surprise you. Here's a rundown of common products along with what works and what might not.
Bleach
Sodium hypochlorite was first recognized for its cleaning abilities in the late 1700's and it is commonly a first line of defense now. The truth is, bleach is very effective against viruses, including every version of coronavirus we've seen so far. When using, allow the bleach to soak for 10-15 minutes before wiping.
Be aware, though, that in many cases bleach can do more harm than good. As a caustic substance it can create breathing problems, and its corrosive nature will eat away some materials such as metal. Review the directions on the bottle for the proper bleach-to-water ratio and be sure to open all windows to allow proper ventilation while using.
Prepare a bleach solution by mixing five tablespoons (1/3rd cup) bleach per gallon of water, or four teaspoons bleach per quart of water.
TSP is another sodium hypochlorite product that can be used on a variety of surfaces. Again, follow manufacturer's instructions.
Industrial Solutions
Cleaners made for industrial use are available at a retail level too. While many are seen as "overkill" for the coronavirus, if you have access to these cleaners, they are likely to kill the virus. Use caution with fumes, mixing, and application. The EPA provides a continually updated list of approved products here.
Lysol
During cold and flu season, many people already have Lysol around the house and it is effective against coronavirus too. In fact, many products made by Lysol from wipes to toilet cleaners are on the list.
Soap
Hand soap, dishsoap, and laundry soap are effective against both dirt and germs. While cleaning and disinfecting are two different things, soap is the top choice for both. If an item can be washed in the dishwasher or washing machine, take advantage of that.
For hands, use bar soap whenever it is available. Basic household soap will kill germs as well as most commercial cleaners so use liberally. There is some debate regarding the effectiveness of foaming and antibacterial soaps.
Common All-purpose Disinfectants
If you're wondering if your common household cleaner will do the job, the answer is most likely yes. Whether you have a concentrated favorite or go with the premixed option, follow directions and never mix household cleaners together.
All-natural Homeopathic Products
Vinegar and baking soda certainly have their place in cleaning your home, but they can't disinfect spaces to a medical level. Instead, save them for freshening carpets and cleaning the teapot. Avoid vodka or other liquors as a disinfectant—the alcohol content isn't high enough. Hydrogen peroxide, however, has proven effective against the rhinovirus, so it is believed to also kill coronavirus.
Procedures
In addition to using the right products, make sure to implement the proper procedures. The CDC recommends wiping down commonly-used surfaces at least daily, including wood tables and chair backs, sinks, faucets, light switches, remotes, and door knobs. Use disposable gloves while cleaning any space used by someone who is sick, including bed sheets, clothing, towels, etc. Dispose of gloves after disinfecting.
If you are caring for someone who is ill, create a separate space for him or her and while checking on them often, try to limit the number of times you clean the space, therefore reducing your own exposure.
Conclusion
The truth is coronavirus is actually easier to remove from surfaces than rhinovirus or norovirus, so if you have a cleaner claiming effectiveness against those viruses, you're likely good to go in your fight against COVID-19. If in doubt, go with a soap, sanitizer with at least 60% alcohol, hydrogen peroxide, or bleach base.
To help move airborne droplets, air out the space by opening windows. Wash your hands obsessively. Also, throw out your toothbrush if it has been in a space with an infected person or if you've been ill yourself.
Planning for the Future
If you're stuck at home anyway, it might be a good time to do some DIY that could help protect your family against future cold and flu seasons. For a naturally antimicrobial option, consider cork flooring. You can also install voice controlled devices and hands-free faucets.
Dawn Hammon has thrived in freelance writing and editor roles for nearly a decade. She has lived, worked, and attended school in Oregon for many years. Dawn currently spends her days convincing her children she is still smarter than them while creating new experiences with her husband of 24 years.  Her multiple interests have led her to frequently undergo home improvement projects. She enjoys sharing the hard-earned knowledge that comes with it with the audience of DoItYourself.com. Dawn and her sister make up a power-tool loving duo that teaches classes to local women with the goal of empowering them to tackle their fears and become comfortable with power tools. Tapping into her enthusiasm for saving money and devotion to sustainable practices, Dawn has recently launched a passion project aimed at connecting eco-friendly products and socially-responsible companies with consumers interested in making conscientious purchases, better informing themselves about products on the market, and taking a stand in favor of helping to save the planet. When she is not providing stellar online content for local, national, and international businesses or trolling the internet for organic cotton clothing, you might find her backpacking nearby hills and valleys, traveling to remote parts of the globe, or expanding her vocabulary in a competitive game of Scrabble. Dawn holds a bachelor's degree in psychology, which these days she mostly uses to provide therapy for her kids and spouse. Most recently, I worked for a small local professional organizing and estate sale company for four years where I learned a ton about organizing and/or disposing of just about anything. She was raised in a tool-oriented, hands-on, DIY family. Her dad worked in the floor covering business and owned local floor covering businesses, so of course selling floor covering was one of her first jobs. Her brother was a contractor for about 30 years and site supervisor for Habitat for Humanity. I worked with him often, building decks, painting houses, framing in buildings, etc. With her sister, she holds power tool classes to empower women who are scared or have never used them. Not quite homesteaders, she did grow up with a farm, tractors, motorcycles, expansive gardens, hay fields, barns, and lots of repairs to do. Plus she and her family preserved foods, raised cattle and pigs, chopped and hauled firewood, and performed regular maintenance on two households, outbuildings, fencing, etc. As an adult, she has owned two houses. The first one she personally ripped out a galley kitchen and opened it up to the living area, plus updated every door, floor covering, and piece of trim in the place. In her current home, she's tackled everything from installing real hardwood flooring to revamping the landscape.