How to Clean the Kitchen Sink
To ensure our content is always up-to-date with current information, best practices, and professional advice, articles are routinely reviewed by industry experts with years of hands-on experience.

Reviewed by

on Apr 11, 2023
The kitchen sink should be one of the most spotless surfaces in our home. We rinse our fruits, vegetables, fish, meat, poultry, and almost any food we can think of in it. We drain our pots and pans into it, and we wash dishes, glasses, and silverware there! All of these things come into contact with your mouth somehow and will bring the germs with them if you're not careful. But your kitchen sink sees a lot of action besides just rinsing food and dishes. Sometimes, we toss a child or a pet in it for a nighttime bath. Maybe we even rinse the pet's dishes and toys. And when you need wash water for scrubbing a dirty kitchen floor, what's more convenient than the sink? Unfortunately, a quick rinse until the sink looks clean is not going to keep it or your family germ-free. Regular cleaning and sanitizing should take place in order to rid the sink of unwanted bacteria. Different types of fixture require different types of cleaning solutions; however, they can all benefit from a simple sanitizing procedure that works to deter germs and bacteria from taking roost.
Basic Sanitizing Solutions for All Sinks
To sanitize the kitchen sink, you have three basic options. First, you can purchase a commercial disinfectant and apply it according to the directions on the label. These are widely available in most home improvement stores, discount stores, supermarkets, and online.
For ceramic and cast iron sinks, you can prepare a solution of one part liquid chlorine bleach to sixteen parts water. Please note that you cannot use this solution on stainless steel sinks. Additionally, even for ceramic and cast iron, you need to exercise caution when using any solution that includes liquid chlorine bleach. Pour it slowly and be careful not to get any on surfaces that will undergo damage.
An application of undiluted white vinegar is another option that you can use. For the best results, apply the vinegar using a clean cloth to ensure that the entire sink is treated with it.
Stainless Steel Sinks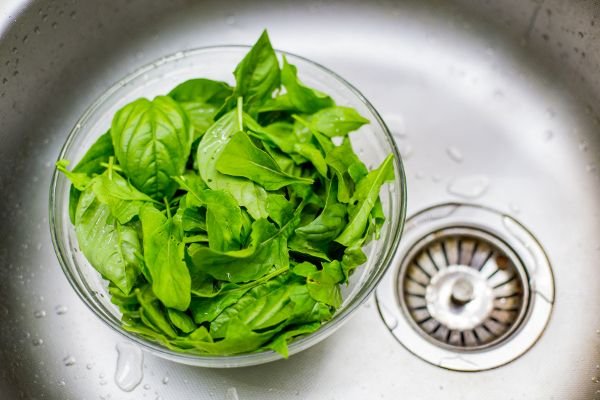 Stainless steel sinks should always be thoroughly rinsed after every use, not only to keep them clean, but also, to prevent potential pitting. Acids and salts can damage the finish of stainless steel, so it is important to avoid leaving foods containing these in the sink for long periods.
Mild soap and a nylon sponge can be used for daily cleaning with this type of sink. Also, an all-purpose cleaner or a glass cleaner can be used. Always rinse thoroughly after using cleanser or soap and then dry the surface with a soft cloth.
If spots are a problem with your sink, a clean cloth soaked in vinegar can help. To keep the finish at its finest, avoid using bleach, ammonia, and abrasive cleaners. Also, avoid using abrasive sponges and steel wool pads on stainless steel, as they tend to damage the finish.
Wetting the entire sink and liberally sprinkling baking soda onto the surface is the best way to deal with any stubborn stains. Take a nylon scrubbing sponge to the baking soda, work it in, and then rinse it clean.
Tough mineral residue can be dealt with by lining the entire sink with paper towels soaked in white vinegar. Allow the vinegar to sit undisturbed for several minutes, up to half an hour, and then toss them in the trash. Use your scrubbing sponge saturated with soapy water to scrub the area clean, and rinse the sink completely when finished. Remember to dry the sink with a clean, soft cloth for the best results.
Stubborn stains can be dealt with by using a commercial stainless steel cleaner according to the directions included. Don't forget to rinse the sink and dry it well when you're finished.
Cast Iron Sinks
Cast iron sinks should also be thoroughly rinsed after each use in order to promote cleanliness. Moreover, this type of sink benefits from a thorough drying with a clean cloth after it has been rinsed.
To clean a cast iron sink, wet the entire surface and liberally sprinkle baking soda around. Use a clean nylon cleaning sponge to scrub the baking soda into the surface just like you would a stainless steel sink, and rinse all the residue clean when you're finished.
You will have to avoid abrasive cleaners when cleaning cast iron, so for stains, it's just best to prevent them in the first place. Never place any item into the sink that might leave a stain on the finish. Don't let dirty dishes, pots, or pans sit for extended periods, and definitely do not leave any tea bags, coffee grounds, coffee, or cans in there.
Ceramic Sinks
Ceramic sinks can easily be cleaned with a cleanser in a gel or creamy form. It is also important not to use abrasive cleaners on ceramic sinks to avoid scratching the surface. For stubborn stains, repeat scrubbing with your cleanser using a bit more effort. If the stain persists, remove it with a clean cloth soaked in club soda.
Faucets and Handles
Faucets and handles can easily be cleaned with a mild soapy solution. If fingerprints or water spots remain, take a clean cloth soaked in white vinegar and wipe them away. The vinegar also sanitizes as it cleans as an added benefit.
Susan M. Keenan has a Master's Degree in Community Psychology, and writes articles on many topics, including home improvement, gardening, travel, real estate, personal finance and more. Born and raised in Philadelphia, Pa, Susan is married with four children, and teaches in an elementary school.

H.R. Helm is an accomplished DIY craftsman. He has been DIY since childhood and is now a septuagenarian. He is experienced in wood and metal construction, having designed and built several houses and metal buildings. He built every permanent building on his current homestead and did all the plumbing and electrical work. He has several years experience as a professional cabinet builder, and he is an accomplished auto repairman, having operated an auto repair business for many years. He currently has a home shop where he sharpens and rebuilds saws, repairs lawn mowers, mobility scooters, hydraulic jacks, and anything else that comes along. He also builds custom tools for metal working. Invention prototypes are another of his many accomplishments. He owned and operated a manufacturing business building Compact Utility Vehicles for homeowner use. H.R. enjoys making jams and jellies during fruit season along with cooking meals. He is committed to outdoor cooking in a Bar-B-Q pit he welded together several years ago. He maintains fruit and nut trees along with helping his wife with a vegetable garden. He farmed commercial garden produce for several years. It helps to have over 50 years of farming and ranching experience. Employment/Education Highlights ASE Certified Master Auto Technician Certified Welder Cross country truck driver -- over dimensional freight Design Engineer/Project Manager for injection molded plastic company Bus Driver/Substitute Teacher Inventor with two patents (weight training – anti-rollback for manual wheelchair) BS in Industrial Technology