Create a Simple Terrace Garden with Container Plants
To ensure our content is always up-to-date with current information, best practices, and professional advice, articles are routinely reviewed by industry experts with years of hands-on experience.

Reviewed by

on Jun 22, 2020
3-20 hours

•

Beginner

•

0-300
Planting pots
Good potting soil
Water
Container plants of your choice
Planting pots
Good potting soil
Water
Container plants of your choice
Creating a terrace garden can be quite fulfilling when you see the blossoms of your hard work. This is a great way to add color and beauty to your outdoor spaces. There are various kinds of flowers, vegetables, herbs, foliage and fruits that can be grown on a garden terrace in a simple and easy way. Here are ways to create your own garden terrace.
Step 1 - Get your Pots Ready
The first thing you will need to do when creating a garden terrace of your own is to get the pots for the plants ready. Generally, a few simple terracotta pots are ideal to get you started, but you can also use ornate, decorative pots if you want. Remember that getting different sized pots, in varying heights is a good idea as it will make your terrace garden more attractive.
Step 2 - Choose your Container Plants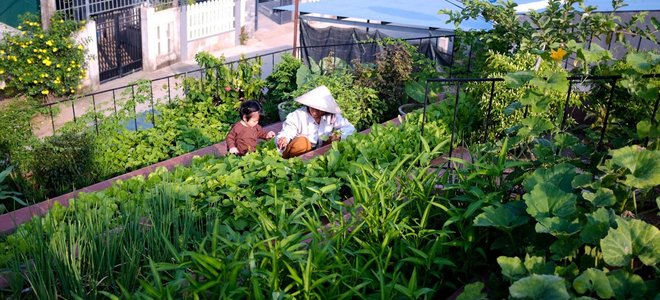 The best way to choose plants for your terrace garden is by making a list of your favorites. If you want a really attractive garden terrace, you should include plants that are available in different colors. A great idea would be including different plants that will bloom throughout the year so your garden would always look great. For instance, Ferns, Primrose, Lettuce and Pansies are spring plants. Juniper, Boxwood and Wintergreen are wonderful for winter. For summer, Ornamental grasses, Wave Petunias, Tomatoes and edible flowers are perfect. Berries, Asters and Daisies are lovely fall plants.
Step 3 - Pot your Plants
When you have decided on and bought your selection of plants, you will have to start planting them. It is important you research what type of soil different plants need and plant them accordingly. Use good quality soil, adequate amounts of water and mulch to keep them nourished and looking fresh and beautiful. You can plant two or three plants every weekend, so in about two or three months, you will have a full terrace garden.
Step 4 - Arrange your Container Plants
This is the most crucial part of creating a beautiful terrace garden. Remember your terrace garden will not look as good as it should if the plants are not arranged well. The best way to do this is by placing taller plants behind the shorter ones. This will not only make your terrace garden look attractive but will also ensure all your plants get adequate sunlight as taller ones will not block the others. It is also a great idea to mix up plants of different colors as it will increase your garden's beauty.
Once your container plants have grown, consider adding a water feature to your terrace garden to make it more attractive.