Design Ideas for Upscale Fences and Walls
To ensure our content is always up-to-date with current information, best practices, and professional advice, articles are routinely reviewed by industry experts with years of hands-on experience.

Reviewed by

on Nov 07, 2022
Cool Concrete
Cool Concrete
For a sleek and cool look, build your divider out of concrete by stacking blocks or pouring a wall. Concrete can be the basis of a sturdy, long-term boundary. Plus, you can change the look as often as you like with a fresh coat of paint, beautiful plants, or a unique design.
Photo credit: RENOGUIDE
Natural Bamboo
Bamboo is a fast-growing tree, popular around the world for use in flooring, furniture, and decor. It's also a great option for your indoor screen or outdoor fencing. Create this upscale look with richly colored framing wood to tie it all together.
Photo credit: RENOGUIDE
Frosted Glass
It seems that frosted glass has a place in every generation of decor. It's been a popular choice for shower walls and restaurant dividers for decades because it provides privacy coupled with visual appeal, and it can bring the same benefits to your yard. Use panels of frosted glass to enclose your entire space, or just to frame a single wall.
Photo credit: RENOGUIDE
Rock It In
For hundreds of years, field fencing has been built with a basic wire-frame design. Although the look is still ubiquitous across many farms and plains, it works just as well in a residential setting, to partition off a patio, protect a yard, or even create a semi-structure.
Rocks are typically easy to come by, so installation is a matter of setting the frame, attaching the wire, and filling it in. Rock walls can be made from any mineral, in chunks as large or small as you'd like, so you have lots of flexibility in the look you're designing. These barriers are durable, secure, and relatively inexpensive.
Photo credit: Habitos
Steel the Show
Weathered steel offers a rustic yet artistic vibe to a courtyard or patio. Laser cut designs on the panels create a dynamic, almost magical look to incorporate into your space.
Photo credit: Urban Design Systems
Cut It Out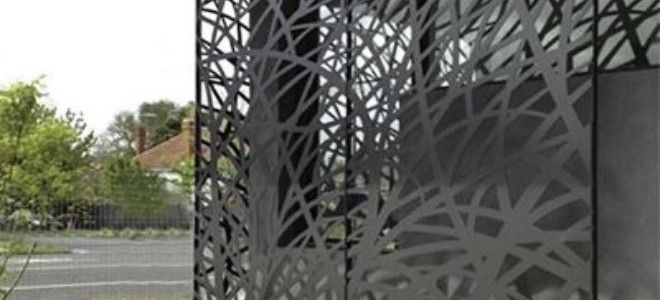 Great style comes from an artistic approach, and metalwork like this falls into the realm of artistry. With a clever design and some metal working skills, you can create just about any look you want for interior or exterior walls. Use cutout metal for an entire barrier, or just as a layer of depth to add visual appeal on the outside of a structure.
Photo credit: Cutout
Slatted Appeal
Wood is an easy material to source and work with, but that doesn't mean you'll be left with mediocre results. Smaller pieces of wood can come together to create an eye-catching horizontal slatted design, offering privacy with a natural element.
Photo credit: DesignTies
Metal Working It
Sheet metal is a versatile border material. From small privacy walls to complete fencing options, sheet metal offers a clean, streamlined look to accentuate decking or landscaping. Contrasting with wood beams, pillars, or framing stimulates the brain with visual intrigue.
Photo credit: Pinterest