DIY Board and Batten Wall
5-15 hours

•

Intermediate

•

100-1,000
Wood
Power tools
Liquid nails
Nail gun
Caulk
Caulk gun
Level
Wood
Power tools
Liquid nails
Nail gun
Caulk
Caulk gun
Level
As board and batten grows in popularity, you may be looking for a few easy ways to add this traditional wall treatment to your home in a modern way. We have you covered.
What Is Board and Batten?
Board and batten is a wall treatment used to bring a dynamic texture into the home. Originally used on the outside of homes with a more traditional design, this popular design trend has made its way inside with increasing popularity over the past few years.
Exterior board and batten looks very similar to many interior board and batten designs and is created using siding. In interiors, you can get the look with various wood panels.
There are dozens of different board and batten designs, and a few easy (*see cheater) ways to get the look for a lot less work and money.
Styles of Board and Batten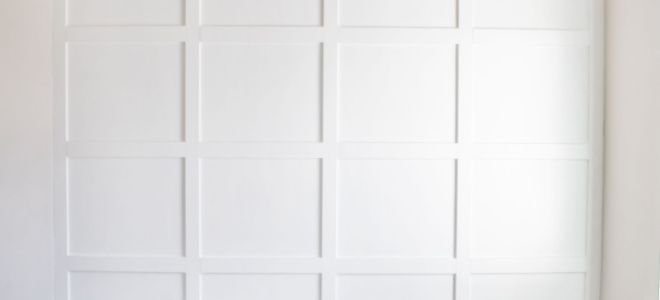 There are dozens of different board and batten styles, but there are a few popular ones. One of the most popular designs is long, vertical planks paired with a variety of horizontal planks.
In this design, you're not creating perfect squares, you're creating something akin to plaid on your walls. You can keep this look simple or go crazy, adding wood of different thicknesses to create a true plaid.
Another popular board and batten look is just vertical battens that stretch from floor to ceiling. This makes your space feel taller and draws the eye up. You can use thicker battens—traditional battens are usually around three to six inches thick depending on the space—or you can use thinner battens for a more modern look.
When we added board and batten to our home, we selected thin, vertical battens about two inches across to create a look that is both timeless and more modern.
Perfect square board and batten designs are also very popular and take more math to figure out than the rest of the designs. It's a fun, bold look—and is more modern than traditional—but it's also sometimes tricky to figure out. To get true squares on the wall, you have to make rectangles with the wood.
All this being said, board and batten has transformed into just a fancy way of talking about wooden wall treatments in most settings, leaving behind many of the historical requirements, so you are free to create a design that works great in your space and really brings in your personality.
What Design Style Does Board and Batten Match?
There is a timeless element attached to board and batten, so you can make this look work in a lot of different aesthetics. While it's traditional to traditional and farmhouse-style homes, this look can be modernized and altered to fit everything from mid-century modern to minimalist or bohemian.
Our home is very vintage and Scandinavian, and we added a modified board and batten wall that fits the vibe perfectly.
What Material Is Used for Board and Batten?
If you're giving the exterior of your home a board and batten treatment, you're going to use siding. Specially siding will help you create the look you're going for, and you can use cedar planks, boards made of treated wood, or even certain types of vinyl.
If you have a contractor handy, they'll be able to help you find the perfect siding for your home. It's important that you take into account the weather in your area, and pick a material that works for your climate.
For interior board and batten, things get a little more complicated—and at the same time, a little more freeing. You can use a lot of different materials to get the board and batten look in your home. But before we dive into materials, it's important to know how the concept of board and batten comes to life.
In traditional board and batten, you first must attach a smooth board to the wall. This covers all wall textures and gives it a really clean look. You paint this board whatever color you'd like the final wall to be—generally just the existing color of the wall—and go from there.
After the board is attached, you attach the battens—or slats of wood—to create the pattern you'd like.
So for your interior, you can use lots of different types of wood, both real or engineered, to create the look you want. More often than not these days, if your walls have very little texture, many people opt to save money and skip the board part altogether.
For a look that's going to last, it's important to invest in materials that are high quality. Heading to the hardware store and just grabbing the cheapest wood isn't always the best idea.
Wood has bends and curves. It warps. Trying to attach a warped batten to the wall is nearly impossible, and it makes the final product look sloppy. To nail this look, you must be precise, and that means using quality products from the start.
How Do You Attach Board and Batten to the Wall?
To attach the board and batten to the wall, you are going to need liquid nails and a nail gun. We've seen the project attempted with a hammer and nails, and while it's possible, it's significantly harder.
Liquid nails and a nail gun ensure that everything gets on the wall nice and straight and that everything that goes up on the wall stays up on the wall.
If you don't own a nail gun, rent one. You will need to make sure to rent an air compressor too. We've seen more than one nail gun mishap in our time, so always use caution when operating one.
Once all of your board and batten is attached to the wall, caulk all of the seams and nail holes. This is going to take you a minute, but it's really important because that's what's going to make this design look flawless and like it's always been on your wall.
Make sure to use paintable caulk because once the caulk is dry, you're going to want to finish off the project with a coat or two of paint.
How to Calculate Board and Batten Spacing
Calculating your board and batten spacing is the trickiest part of the entire project. Because every project is different, it's hard to tell you exactly how to do the math, but here are a few tips.
Our first tip is this, if you're copying a blogger's look exactly, use their measurements. Most of the time, when you come across a how-to blog, the writer will give you the spacing and measurements they used to create the look.
This is a great place to start. You will still have to adjust the designs a little, but it's not like you're starting from scratch.
If you're not following a step-by-step tutorial, here's how we tackled the project in our own home. First, we measured the wall and drew it out to scale on a piece of paper.
Then, we selected the thickness of our battens and knew that we wanted to have about fifteen or sixteen across the space of the wall. We also knew we wanted a batten in every corner.
Taking our scale drawing, we added a two-inch batten in every corner and then one in the middle. From there, we added in six battens between the first batten and the middle, and six battens between the middle and the end batten.
This gave us our desired number of battens. Then we spaced everything out on the paper equally and measured, determining that we needed ten inches between each batten.
We then cut an extra piece of wood to ten inches and used that to space each batten perfectly as we moved along the wall.
You can calculate the distance between battens without drawing it out too. You take the entire length of the wall and the number of battens first. So if your wall is nine feet long and you want three battens on the wall, you would divide the nine feet into three sections, leaving you with a batten every three feet.
The center of your batten needs to be what hits the three-foot mark, though, not the edge of your batten. So if your batten is one foot long, you're actually going to have six inches on one side of the mark and six inches on the other, making the distance between the end of one batten and another two feet, not three feet.
These measurements are just for the purpose of illustrating how to go about doing the math. If you use these measurements on a wall, it's going to look incredibly odd.
How Much Does It Cost to Make a Board and Batten Wall?
The cost of a board and batten wall depends on a lot of things. Firstly, anyone who has been watching lumber prices jump up and down over the last few years knows that lumber is subject to large inflation rates.
If you decide to build a wall when the prices are high, it's going to cost a whole lot more than when the prices go down, even just a little.
For our board and batten wall, we got creative and used nice fence posts that we were able to cut down, and the whole project cost us less than fifty dollars. We don't have hardly any texture on our walls, though, so we didn't have to add a board backing either.
That saved us big too. If you're comfortable working with wood, there are other solutions out there instead of just traditional lumber that can help you save money on a project like this.
You also need to consider other costs like nails, power tool rentals, paint, and caulk. These smaller expenses add up quickly too.
Where Can You Put a Board and Batten Wall?
Board and batten walls go great in bedrooms, front entryways, and bathrooms. Hallways are also quickly elevated thanks to this type of wall treatment. The more board and batten you add into a home, the more traditional it begins to feel.
If you want your home to have a more blended aesthetic, just pick an area or two to enhance with this wall treatment.
If you want to add lots of board and batten to your home, consider keeping some continuity throughout the space through color and board and batten patterns.
While it's completely fine to do one or two types of board and batten treatments throughout the entire home, it begins to feel disjointed and chaotic if the layouts clash or collide in a busy way.
Board and Batten Alternatives
One of the easiest, most cost-effective alternatives to board and batten is beadboard. While beadboard definitely has a different look than board and batten, it's a relatively inexpensive wall treatment that still brings a lot of classic texture and interest into a space.
You can buy large sheets of beadboard for less than thirty dollars at most hardware stores. We added an accent wall to a bathroom using beadboard and only used half a sheet—it goes a long way.
Another great benefit of beadboard is that it requires very little math and cutting to install. You may have to cut for outlets, but in general, beadboard is a lot simpler to install than board and batten, and it's also a lot cheaper.
If you don't have access to power tools and still want the look of wood treatment on a wall, you can buy adhesive picture-frame moldings and attach them to a wall, and then caulk them and apply paint over the top for a seamless look.
These moldings range in price, but they're a fantastic option for anyone looking for the elevated look of molding without access to power tools.
Ready to tackle your board and batten project? Here's what you need to know about working with wood, and how to get a clean cut with a saw.