DIY Mother's Day Gifts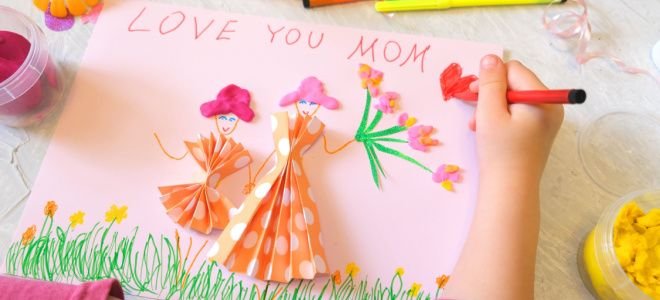 Show mom how thankful you are for her by creating your own DIY Mother's Day Gifts.
DIY Mother's Day gifts are a great way to show your appreciation for mom, save a few dollars, and create something truly personal for the mothers in your life. These simple Mother's Day DIYs can be tackled in an afternoon and are sure to make mom smile.
DIY Cards
Cards are an essential part of any Mother's Day but mass-market cards can be pricey and impersonal. Creating your own cards is a great way to save a few dollars and make something meaningful.
To create your own cards you're going to want to start with nice, quality paper. Card stock is a great paper to start with, but you can buy card-making paper too.
After you purchase a base paper, the sky is the limit when it comes to secondary supplies that you can use to personalize your cards.
We love using ink and stamps, patterned paper, stickers, decorative buttons or brads, and punch-outs. Craft stores also carry card-making supplies and kits full of decorative card bits and bobs.
We like using our Cricut to cut out the card and write a personal message on the inside of the card but you can certainly create a card by hand.
For Mother's Day cards, try and create a card that's specific to your mom. Add images of things that she likes or that remind both of you of special memories you have together.
To make your DIY Mother's Day Card look polished, make sure to crease your card really well so you have a nice, crisp fold.
We like rounding the corners of our card too, and we also recommend creating the card in a standard size so that it fits nicely into an envelope.
While store-bought cards are a dime a dozen, a handmade card can become a memorable keepsake.
DIY Floral Art
This craft takes a little planning, but creating your own dried floral art is a great way to create something beautiful that mom will cherish.
Start by selecting the flowers you'd like to dry and press. We love the idea of selecting flowers that your mom loves and creating a special work of art with her in mind.
You can usually grab flowers at the grocery store. You don't need super high-quality florals because you'll be pressing and drying them.
Just make sure to select the florals based on colors that go well together, and what will press and dry well. Flowers with a large center tend to be more difficult to press.
For this project, you'll need a flower press or a bunch of heavy books. A flower press uses screws and wood to flatten and dry your flower over time.
You can purchase expensive flower presses, but you can also purchase a less expensive press (or DIY your own) and those will work just as well.
If you don't want to purchase a press, you can press smaller flowers using paper and heavy books.
You'll place one book down, add a piece of paper and sandwich your florals between the bottom paper and the top paper. Then, add several heavy books on top of the paper and let it dry for several days.
With either kind of flower press that you use, you'll probably need to let things dry for a week or two at least. The longer the flowers dry, the easier they will be to arrange.
The actual arranging of the flowers won't take long, but this is definitely a DIY that takes some planning!
After you have selected your flowers and get them pressed, it's time to arrange them. You can arrange yours on paper and use glue dots to secure the delicate florals and then frame it.
We like arranging ours in a floating frame so that the florals are the star of the show.
DIY Pottery
A DIY pinch pot is one of the first things we remember making in elementary school to give to mom for Mother's Day.
We've advanced a little past the DIY pinch pot but we're not great at pottery. So what do we do when we want to craft pottery for mom?
Our cheat for creating a personal bowl, mug, plate, or cup for mom is a paint-your-own-pottery studio. Now, we know it's not the same as throwing your own bowl or firing your own mug, but hey, it works.
Creating a DIY gift at one of these studios is a cost-effective way to try your hand at personalizing a gift that's both personal and practical.
These studios can also be fun to attend as a group, so if you all need gifts for moms, grandmas, and aunts, make an afternoon of it at one of these studios.
Before you begin your pottery painting party, come prepared with ideas. It can be overwhelming when you get into the studio and you're presented with tons of options. Having an idea ahead of time helps.
Getting this Mother's Day DIY gift done will take a few hours, but you will have to return to the studio to pick up your item after it has been fired in a week or two.
So if you want to create your own mug for Mom, plan ahead and head to the studio a few weeks before Mother's Day.
DIY Clay Earrings
If your mom loves jewelry, DIY clay earrings might be the perfect gift DIY for her.
To create clay earrings, you'll need oven-dry clay, earring posts, and backs, heavy-duty glue, a rolling pin, and something to cut your earrings out with.
Start by selecting colors for your clay. Think about the colors your mom or grandma wears a lot and start there. You can mix clay together to create custom colors or you can stick to what comes prepackaged at the store.
After you have your clay, you need to roll it out evenly to about a quarter inch thick. If you'll be creating a design in your clay, create the design with the idea that it will be flattened in the end, in mind.
After you have your clay rolled out to a quarter inch, you can cut your design out and carefully transfer it to a lined baking sheet.
Bake your earrings following the instructions on the package, careful not to overbake the earrings or they will crack, crumble, or break.
When the earrings are out of the oven and cooled, you can attach them to the earring posts using glue. Let the whole thing sit for a while while the glue cures to the clay.
Then you'll have earrings ready for mom, or any other mother figure in your life.
DIY Planter
Mother's Day always makes us think of spring and spring makes us think of flowers and plants. If you've got a mom with a green thumb, consider giving them the gift of plant life this year.
You can create your own porch planter for mom using a simple method. You'll want to select filler flowers or plants, spiller plants of flowers, and a thriller flower or plant.
Figure out which direction your mother's porch faces and get plants that need either afternoon or evening light, depending on the sun on her porch.
Then select a thriller plant or flower that is eye-catching and fun, a filler plant or flower to fill in all around the pot, and a spiller to add some height, vining, or dimension to your arrangement.
Next, grab a cute planter and some dirt—it's time to start assembling.
If you don't want to tackle a porch arrangement, you can create an indoor arrangement for your mom. If you know she loves houseplants, select one, or a trio of plants, and pot them for her.
If you want to make this project DIY approved, paint your own terracotta pot or water catcher to match the design aesthetic of your mother's home.
Lastly, if neither of those green thumb activities sounds like gifts your mom would like, consider planting her an herb garden in a strawberry pot.
Strawberry pots are large terracotta pots with lots of openings for different herbs. You fill the pot with dirt and plant various herbs around the pot.
If you decided to do a mix of herbs though, we recommend avoiding mint as it has a tendency to take over everything.
DIY Chocolates
Did you know that making your own chocolates is simpler than you might think? Moms with a sweet tooth will love snacking on homemade chocolates or cake pops.
To make chocolates, we recommend coming up with a candy center idea first. You can crush a box of Oreos and mix it with a block of cream cheese for a super easy center.
You can also crush vanilla wafers and add cream cheese, powdered sugar, and orange juice for a yummy center, as well.
After you've created the center of your chocolates, melt either melting chocolate or chocolate chips slowly in a double boiler, adding a little bit of coconut oil to the mix.
Once the melted chocolate is warm and smooth, you can dip the centers into the chocolate and create your own candies.
If chocolates with rich centers aren't your mom's favorite, try cake pops. To make cake pops the easy way, you'll just need a cake mix and dipping chocolate — oh, and sucker sticks.
Bake your cake mix to the specifications on the back of the box and mix the cake together right when it comes out of the oven.
Using a hot cake for cake pops will negate the need for frosting in the cake pops, giving them a strong texture without making them overpoweringly sweet.
After the cake pops are formed into balls, stick the sucker stick into the formed ball and dip it in melted chocolate.
If you want to decorate the cake pops you'll want to use white chocolate, but if you don't want to decorate them, you can use any kind of chocolate you'd like.
Craft stores often sell colored chocolate that you can use to create aesthetic, tasty cake pops.
DIY Floral Arrangement
Every year for Mother's Day we like to share flower arrangements with not only our moms and grandmas but other mothers in our life that we admire, as well.
This has become a fun tradition that lets us celebrate all of the good moms in our life.
Living close to lots of these moms, we've started DIYing our own floral arrangements for those close by. This is a fun, creative activity that we really enjoy, and it saves us a good chunk of money.
We like to source our flowers locally when possible—there's a local flower farm here that sells DIY floral buckets full of coordinating flowers at a discounted rate.
But if you don't have a flower farm like that nearby, check out your local grocery store or Trader Joe's. These stores stock flowers year-round and you can usually buy several bunches for a great price.
If you're making more than one arrangement, we recommend sticking to a color theme that can be used across all arrangements. That way you can purchase lots of florals that all coordinate.
To create dynamic floral arrangements use several different types of flowers. We like to pick a color family, like reds and pinks or blues and purples, and then mix in neutrals—like white.
We always use baby's breath in our arrangements to help fill in gaps and add lots of green and white, but you can use whatever you'd like.
Take your time and experiment with height different groupings in your flowers. We source our vases at a local thrift store, so we like to grab a few extra so we have several options to pick from.
After we've arranged the flowers and trimmed the ends at an angle, we add water, the food packet that came with the flowers, and a splash of vodka to the water for freshness.
Then we tie a DIY tag around the vase and call it good.
We love delivering these flower arrangements to all our mom friends and family.
Refurbishing, rediscovering, upcycling, and reinventing—all things Maddison can do with a pair of scissors or a can of paint. A Brigham Young University grad with a degree in English and communications, Maddison has worked with small and large businesses alike, developing creative marketing strategies. Maddison is also a seasoned photographer whose work has been featured on ESPN and in several magazines in the US. After several years as a sports photojournalist, Maddison primarily focuses on product photography and capturing families, newborns, and kids with her camera.  As a DIY writer of 5+ years, with a decade more of experience, Maddison has a knack for turning trash into treasure and convincing her friends it came from Anthropologie. In the last few years, Maddison has begun consulting as an interior design specialist, working with corporate spaces and homes.