Don't Be Such a Square: Alternative Window Trends
We have our own individual preferences when we shop for windows—price, energy efficiency, and style. If you're considering new windows, we'd like to introduce you to the glamorous world of alternative window trends.
Types of Windows
Before embarking on this journey, we submit to you a little info on the types of windows commonly found in homes. Which ones do you have?
Picture Windows
Made of a single plate of fixed glass, these windows provide homeowners with unobstructed views of the world around them. Being fixed means these windows cannot be opened, though. At all.
So the downside is there's no way to take advantage of the weather when cool breezes blow through—a deal breaker for those who love having fresh air.
It's not all bad, though. Fixed windows, when properly installed and sealed, offer increased energy efficiency. By restricting air flow, they keep summer and winter air outside, making interior temps more moderate.
Casement Windows
Also called crank windows because of the hand crank used to open it. Tighter seals on these windows make them more energy efficient than other windows. When cranked open, they offer good ventilation and ease of cleaning, with panels that can be tilted to 90-degree angles.
One downside is they can obstruct walkways when fully opened, so keep this in mind when considering placement on lower levels of the home.
Bay Windows
Very traditional-looking, bay windows consist of three side-by-side sections with panels angled outward, allowing them to extend beyond the walls of the house. This extension provides a wider view of the outside than a flat window would.
Often found in kitchens where they increase light and add space to the area above the kitchen sink, they can be used in other areas of the home, too, creating additional floor space (AKA more square footage).
Single-Hung Windows
Commonly used in bedrooms as vertical sliders, single-hung windows have a bottom sash that opens while the top half remains fixed.
Double-Hung Windows-Styled similarly to the single-hung type, but instead of only one moveable sash, both top and bottom sashes can be opened. These can feature vertical sliders or hinges.
Awning Windows
This is a type of casement window that opens vertically instead of horizontally. It's usually found in bedrooms where good air circulation is desired.
Horizontal Sliding Windows
Also called an XO window (where the 'X' is the slider and the 'O' is the fixed portion,) this style is versatile and budget friendly, making it common in homes.
Unfortunately, they aren't as efficient as hinged windows, so you'll need to evaluate whether or not they're truly budget friendly for you.
Alternative Window Styles
Now that you're familiar with the different types of windows you may have in your house, check out these configurations you may have spotted around town, but never thought could work in a residential space.
Arched Windows
A far cry from the more common rectangular window, you may have only seen them on Spanish missions or churches built in an architecturally traditional style, but that old world look can still have a place on a modern home.
Need some convincing? Think about those clean lines and simple curves on an arched window. This will actually blend well with most modern exteriors, and their capability to increase the amount of light in a room versus a regular window is something worthy of consideration.
Before making your decision, there are three dominant styles of arch window that can be customized in a variety of configurations.
Fixed
As mentioned previously, fixed windows do not open, so if ventilation is important to you, choose another option.
Opening
Just as it sounds, this type of arched window opens up for increased airflow. They can be either casement or double hung for ease of cleaning.
Multi-Window Arch
This is actually made up of several rectangular windows and a semi-circular transom at the top aligned to create the shape of an arch. While not technically an arched window, it provides the same look without the higher cost associated with the real deal.
Bow Windows
Nope, not a misprint of 'bay' window. Bow windows are similar by design, being an extension outward from the walls of the house, but they differ from bay windows in a few ways.
A bay window has three sections, while a bow window usually has four or more.
A bay window has the typical configuration of a picture window in the center, and side windows of a different style from the center window. A bow window, on the other hand, has the same style of window in each of its sections.
And last, but not least, a bay window with its three sashes can only be built along angles, giving it a very different look from a bow window which will have the appearance of being rounded or curved, hence the bow.
Creating the rounded bow of windows takes skill, therefore, installation can be trickier, and naturally, more expensive. But the end result adds a unique feature that isn't too common in other houses.
Bay of Windows
We've already mentioned the compelling attributes of the bay window, but the bay of windows is something else entirely. If you've got more windows, you've got a lot more light, and with a bay of windows looking out onto the world, it almost seems like the wall they have been installed in has disappeared.
Imagine removing one wall of your home. What would you be looking at? A wall full of windows gives you unadulterated access to the outside world. See what we're getting at?
A bay of windows can include the namesake bay window (three sections that feature the picture window in the center, and two other types of windows on the sides—remember our lesson from earlier?) To call it a bay of windows, you'll need to add on any number of extra windows for all the drama you can handle.
It's definitely a sight to behold, but with a great many windows comes great responsibilities. Cleaning them can be one heck of a chore, requiring special tools and equipment if you've gone big with sashes spanning floor to ceiling. If this was you, brave soul, color us impressed!
Because not only are you intrepid enough to accept the responsibilities of keeping those behemoths clean, but you've also taken on the duties of ensuring your privacy is not compromised. Unless you're a bit of an exhibitionist, in which case, we don't judge. It's your life and your prerogative.
So unless you don't mind living your life in a fishbowl, a bay of windows might be right up your alley.
On the other hand if you like the idea of them, but you have some limits on what you want to share with the rest of the world, you'll probably want to find appropriate window treatments to keep your neighbors from knowing your business.
And if you haven't gathered it already, just know that covering all those windows isn't cheap.
Black Frame Windows
Black window trim isn't just a trend. It's a look that's been around the block for a number of years. We love how it adds emphasis to windows, doors, shutters, etc. It's a feature we've admired and continue to do so even more, especially with the black hardware that's fairly new to the scene.
Attach it to black window frames, both on the interior and exterior of the home. The black hardware blends into the black frame, rendering them invisible. Disguised against the frame, they keep the lines nice and clean. Perfect if you're going for the minimalistic look.
Grid Windows
Grid windows mimic the look of a multi-paned window, without the expense and hassle of glazing each individual pane inside the frame.
Decorative strips that create the grids (a.k.a. muntins or grilles) are applied in one of three ways:
1. Between glass, so the interior and exterior are smooth
2. On the exterior, so only the interior is smooth
3. On both interior and exterior, and with a between-glass insert
We think the third option creates the most authentic look of individual panes of glass, but your mileage may vary.
The grid styles can be custom-made, but these six designs are the most common:
Colonial
A style in which symmetry is a dominant characteristic. Each window is divided into equal sections of four, six, or nine.
Typically both sashes of a window will have the same grid, but if a homeowner decides to break from that configuration, it's usually the upper sash that will have the greater number grid pattern than the lower. Colonial style is often used with double-hung windows.
Prairie
This style features a large square in the center, and strips along the sides, top, and bottom that create smaller squares in each corner. It's popular with casement and sliding windows.
Craftsman
Very similar to the colonial style, but in this case, the grid is used only in the upper portion while the lower sash has no grid. Craftsman style generally appears in double-hung windows.
Victorian
The unique aspects of Victorian architecture, with steep gables, asymmetrical elements, and elaborate details, requires windows with just as much character. Grid patterns tend to be ornate, and can be customized to mimic the look of stained glass.
Farmhouse
Best for awning or single/double-hung windows. Farmhouse style typically has blocky trim, without frill. The look is utilitarian and functional to complement a minimal grid pattern.
Removable
If you just can't make a decision, no worries. Some window manufacturers offer removable grid windows. This option has a grid you can place on the interior window that can be removed when they need to be cleaned or if you're just ready to change the look of your windows.
Can I Mix Window Styles?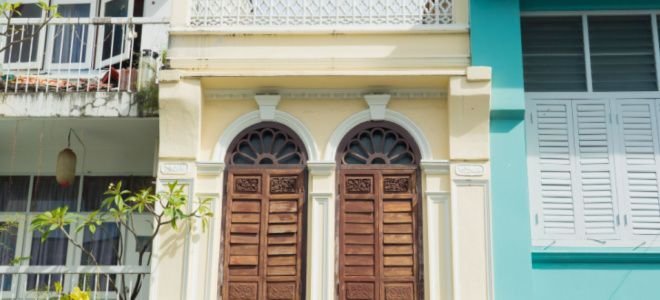 No hard and fast rule says you have to use the same type of window for every single window in your home. Choose the style you think is best based on each individual location.
If you're replacing the bedroom window, you might need a simple slider, unless your bedroom opens out onto the garden, in which case, why not go for a dramatic bay window to take in the view?
If you've got a second floor bedroom with a balcony leading to a mountain or ocean view, just think of what a floor-to-ceiling bay of windows would do, not only to your spirit and mental health, but to your property value.
With a bay window (or a bay of windows) in your bedroom, does that mean the other bedrooms need one? Nope. Depending on what you want to showcase (or disguise) in each area, choose accordingly.
This also includes your decision to use grid windows. You don't even have to put grids on both the upper and lower of a vertical slider. The grid adds dimension, but it also creates a minor obstruction of view, so adding a grid to the upper sash, while leaving the lower free and clear is a fair proposition.
But as with any huge project, and windows tend to be one of the more expensive ones, due diligence is essential. Try using one of the many free online apps that allow you to download your photo and experiment with the looks of different features, including windows, before making your decision.
Know When Your Windows Need Some Attention
We know they're one of the most expensive remodels for a homeowner. Unfortunately, they have to be done at some point. Be prepared for either the expense of new windows or some extra projects around the house to caulk and reseal when you start seeing these things:
1. Drafts of cold air in winter or hot air in the summer.
2. Condensation between panes or on the windows. May indicate a failed seal.
3. Peeling paint around exterior windows that could indicate rot or mold. If a tool pushes easily into the exterior wood, it might be time to replace it.
4. Cracks, either in the window or in the casement.
5. You can't open or close them properly.
So many options, so few places where we can try them out. You don't have to stick with the same-old same-old. Take a moment to appreciate the differences that make our neighborhoods and homes unique, and look for inspiration for your next window project.
If your windows need some repair, check out our coverage of sash pulls, cladding, hinges, and double panes.