Dressing Up the Holidays with State-of-the-Art Cooking Tools
To ensure our content is always up-to-date with current information, best practices, and professional advice, articles are routinely reviewed by industry experts with years of hands-on experience.

Reviewed by

on Oct 15, 2019
Holiday entertaining can be stressful, from party planning, to menu planning, to decorating the house, and of course, to the actual cooking. Thankfully, there are tricks of the trade you can take advantage of to make your next get together less stressful. The secret lies in your arsenal of kitchen tools.
The right kitchen tools can help transform tedious food preparation by making the process more efficient, fluid in motion, and even more fun. Whether you're cooking for four or 24, cooking tools can make the difference, from easily adding a colorful curl of lemon zest to a cocktail rim or chipping veggies to serve alongside this season's roast.
As a designer of housewares, I always have my eye out for state-of-the-art tools. Below I've listed five features to look for when buying kitchen tools that are sure to transform the way you entertain this holiday season:
Comfortable Grip
If you're going to spend a morning or afternoon preparing a holiday dinner, you want to do so comfortably. There's nothing worse than a hand cramp due to the awkward grip of an ill-designed chopping knife. Being able to securely grip and maneuver cooking tools can help speed the prep process up all while making it safer by preventing accidental slips. Look for ergonomic handles and soft-touch rubber grips that help the tool sit comfortably in palm of your hand and keeps fingers safely away from blades.
Dual Functionality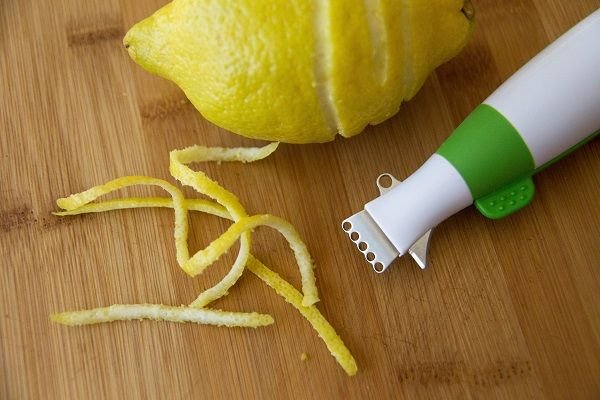 I appreciate getting extra mileage from a single tool. It not only saves space in your kitchen drawer, but also helps you do more with what you have. One of my go-tos for holiday cocktails garnishes is the Crisp Zester, which features a scoring blade and channel knife for easy peeling and slicing fruit, and two zesting blades to help add that colorful lemon punch or nutmeg dash to any recipe.
Bruise Prevention
Any tool that gives you a bruise should be kicked to the curb for obvious reasons. Bruising herbs, however, does have a time and place in cooking, but when you're looking to add a trimming or fresh-chopped lettuce to a dish, you want the greenery to look clean and crisp, not bruised. Tools that have been specifically designed to prevent bruising or browning, like lettuce knives with plastic or nylon blades or herb mincers with fine blades for delicate cuts, can quickly ensure a recipe continues looking fresh and fabulous.
The Wow Factor
Sometimes the smallest details make the biggest impact. When you're hosting for the holidays, you want to excite and impress guests with beautifully plated dishes and sometimes cooking tools can play a huge role in that. The Crisp Wavy Knife was designed with soft waves carved in a durable stainless steel blade to help turn a regular platter of veggies into a showcase of design.
Easy Cleanup
Everyone hurries to the table for a beautifully plated meal, but when it comes time for cleanup, nobody races to the kitchen sink. Tools that are easy to take apart and are dishwasher safe always make cleanup less painful and let you enjoy the holiday meal alongside the company of your guests.
About Carter McGuyer
Based in northwest Alabama, Carter McGuyer Design Group has breathed life into products that are equal parts beautiful, functional and cost-efficient—many of which live in the kitchen drawer. Carter McGuyer and his wife and co-founder Brandi bring to the table over 25 years combined experience in the housewares industry, hold more than 150 patents and have brought more than 350 products successfully to market, including the new line of Crisp Cooking Tools by Tailor Made Products. Defining their work as clean, tailored and modern, McGuyer has received numerous accolades for his kitchen tool designs, including the Housewares Design Award for Best in Show, the Red Dot Design Award, the Gourmet Gold Award, and Good Design Award.
Leah is a contributing writer for DoItYourself.com. From stone walls to raspberry bushes, Leah has experience with a wide range of home projects, and enjoys learning how to tackle each new challenge.

Andrew Montroy is a food service professional with over 30 years experience in the food business.  He has experience in all facets of the industry, from the Ma and Pop corner restaurant to fine dining, and just about everything in between. His passion lies with creating great food and creating great relationships, not only with customers, but also employees and vendors. He has held positions in all areas of a restaurant and has also consulted. Most recently, he serves in the capacity of Executive Chef in one of the largest elderly healthcare facilities in northern New York.  Highlights 30+ years in the food service industry 19+ years in food service management In 1986, Andrew got his first job in a restaurant and hasn't left the industry since. In 1991, He joined the United States Navy as a cook (at the time it was a Mess Management Specialist but has since changed to Culinary Specialist). During his time in the Navy, he served as the wardroom chef (serving officers) and as a the Captain's cook. He has served many foreign dignitaries, admirals and even former senate majority leader Trent Lott.  Andrew received his Nutrition Certification from the National Restaurant Association while taking an advanced culinary course at First Coast Technical Institute. He has also completed the Apprentice Program for cook in any industry by the Department of Labor.  He is also ServSafe Manager Certified. The majority of his learning has been in the restaurants serving under chefs and managers.  His passion for food has never subsided over the years and he is a constant student of the industry. Often found with a culinary book in hand, he is always learning new aspects of the food business. He loves to teach and impart the knowledge that has been given to him over the years to the upcoming chefs and leaders in the food service industry.