Dwell on Design 2014: Things I Saw That You Want
To ensure our content is always up-to-date with current information, best practices, and professional advice, articles are routinely reviewed by industry experts with years of hands-on experience.

Reviewed by

on Aug 25, 2022
If you're remodeling, redesigning, redecorating or just thinking about adding some flair to your home or your lifestyle, Dwell on Design is the launch pad for what's new, what's next and what's timeless. It's the largest design event in the US, with more than 200 designers, 400 exhibitors and thousands of products and materials from all over the world. That's a lot to take in, so I went to the show and boiled it down to a baker's dozen of things I think you'll think are cool.
This Camping Pod
There were a lot of eye catching items on display, but it was easy to pick one to take this lead spot. The Hütte Hut "teardrop caravan" portable camper is crafted from laser cut, marine grade plywood, for a look that is both classic and unique. Created in a small shop by a husband and wife team at Sprouting Sprocket Studio, it's the perfect size for a couple to get away for a weekend, and it opens up so wide you won't feel cramped inside. Since it looks so stylish, it'll also be at home in your backyard as a lounging spot for your next barbecue. Their official site will be up soon - until then, follow them on Twitter @sproutsprock.
This Block Seat
If you're looking for something more grounded, this weighty seating made from a simple block of wood is inviting, comfortable and tactile. From the artist and artisan Delaney + Chin studio in San Francisco, these blocks add a touch that is both rustic and modern, and no two are exactly the sam because each preserves the character of the tree it came from. And for something that is both grounded and up in the air, these stone and wire hanging sculptures are calming in their Zen like stillness, and carry a hidden message, in that each one spells out a poem in Braille.
This Printed Wood Art
Also artistic but not so heavy, Prints on Wood does just what the name says. Photos, paintings or text are printed on high quality plywood from 4x6 inch all the way up to 30x40. You can choose from their catalog of original fine art and photos, or create your own designs with photos of your own. Swipe a pic from a friend's Facebook page, have it printed and give it as a gift. The wood gives a special quality to the image, lending extra interest to whatever design you choose.
This Paint Label
Also getting high marks for simplicity are these much less flashy, but very practical stickers. When you've got partially used cans of paint, these What's That Paint labels eliminate the mystery of what color's in what can, when it comes time to do touch-ups or make one room match another. Keep track of the color name, the brand, the room where you used it and more, making organization much easier than the old method of trying to identify the drips and splatters on the can.
This High-Tech Drawer
Sticking with the purely practical, you've got a lot of devices to charge, and not a lot of counter space to hold them. The tangle of cables and wires is confusing and unsightly. With the Docking Drawer UL approved in-drawer power outlet, all that disappears and you can hide the plugs in the drawer. Different models fit various sized cabinets, and several power options provide the juice you need for your particular situation, whether it's built in USB or enough current to run your hair dryer and flat iron.
This Agro Office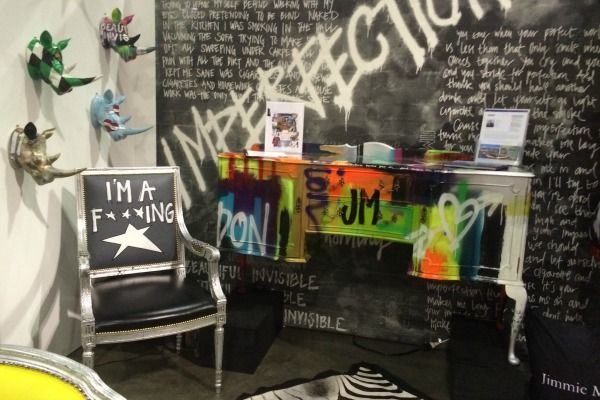 Not all design has to be nice. Coming at you from out of London and now in the states, Jimmie Martin designs individual pieces or whole rooms with vintage furniture, for classic symmetry, hand painted, for a challenging and modern punch. If you're looking to seriously liven things up, and you like a little Sex Pistols in your God Save the Queen, this is for you. And if you don't, it will still stop you in your tracks.
These Pavers
Pavers are nothing new, but someone had the idea to shape them more like lumber than like bricks and that changes the look dramatically. Stepstone's narrow, modular pavers are 3, 6 or 12 inches wide and from 9 to 48 inches long. Lay out your patio like a wooden deck, creating long, elegant lines unlike either brick or wood.
This Pizza Oven
Since you're out on your new patio, why not have a pizza? Kalamazoo Outdoor Gourmet makes this countertop outdoor pizza oven and it requires no special installation. It'll get up to 800 degrees and cook a Neapolitan style pizza in 3 minutes. Now your barbecues just turned into pizza parties.
This Shower
You need a rinse off after all that time in the pool. Before you go inside, stop at this shower from the Fermob collection of outdoor furniture and accessories. It comes in four colors and needs no installation other than hooking it up to a hose.
This Wine Cellar
While you're inside, grab me a bottle of wine. Instead of disappearing down into an actual cellar, open the glass door of this two tiered, multi-zone wine chiller from True that keeps your reds at "room temp," your whites cold and your bubbly even colder. Lit from the inside with LEDs, choose a color scheme to fit your mood.
These Cabinet Doors
Now that we're in the kitchen, it would be nice to put a personal stamp on those IKEA cabinets. The people at Semihandmade help you create a new look for your old kitchen, or step in when you're starting from scratch to help design to your custom specs, based on the off the shelf IKEA skeleton. They offer a range of styles from simple shaker, to reclaimed barn wood, to dressing up your original IKEA hacks.
This Expanding Kid's Furniture
Speaking of customizing furniture, what if it could grow along with your kids? The clean, simple, modular pieces from Casa Kids can do just that. Buy a crib for your baby, and in a few years take it apart and reassemble it into a toddler bed. When it's time, disassemble it again and add a few parts to create a twin bed or bunk beds, or turn it back into a crib as a hand-me-down.
P.S.
These were pretty cool, but the people running the booth spent all their time talking to each other about how weird or stupid the guests at the event were, so instead of reviewing their product, I'll see if I can build one myself.