Easy Ways to Landscape Around Trees
To ensure our content is always up-to-date with current information, best practices, and professional advice, articles are routinely reviewed by industry experts with years of hands-on experience.

Reviewed by

on Nov 02, 2022
Some areas of your yard are easy to landscape, but it can be tricky to figure out what to do around trees. It doesn't have to be hard, though! The tips below can help landscapers of any skill level add some pizzaz to their timber.
Choose Plants that Love Shade
Especially surrounding trees with wide branches, you'll want to plant shrubs that can easily flourish in shade. Plantain lilies (or hostas) are a natural choice—they're beautiful and require little sun. Ferns, coral bells, impatiens, and begonias also grow happily in darker areas.
Go Bold
Instead of leaving the trunks bare and boring, think about adding some beautiful flowers to bring the look of your yard to the next level. Bold planting can turn a formerly bland tree area into an exciting focal point of your yard. Consider surrounding the trunk of a tree with brightly hued flowers. Incorporate some vibrant greenery, too, to make the space pop even when flowers aren't in bloom.
Or Keep it Simple
Sometimes a well-manicured shrubbery is enough to make the area around a tree a special place.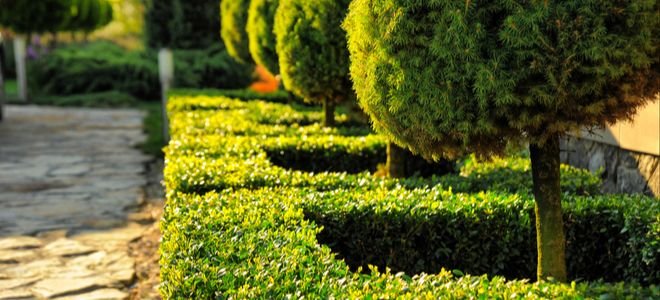 Add Accents
You don't need to stick to strictly flowers and shrubs. Landscaping around a tree is a great chance to work in garden accents that can enhance the space. Add whimsical stone statues or rocks, both for a pleasing aesthetic and to hinder the growth of weeds. This could also be the perfect place for an elegant, welcoming bird bath.
Create a Container Garden
If you're not looking to add mulch around your trees, or to plant shrubs and flowers directly into the ground, you could still enhance your grove using container plants. Pair container plants of different sizes around the trunk of a tree for a varied and interesting look.
Make it an Oasis
How about a two-for-one? In addition to making the area surrounding a tree beautiful, you can turn it into a personal oasis. Plant some flowers if you like, then install a bench to sit on. This shady and relaxing spot can become a place to read, chat, meditate, or to share a snack with the local squirrels.
Create a Walkway
In between two trees could be a stellar place for a walkway. If it makes sense for your yard and you're looking for a heftier DIY project, this could really change the look and feel of your outdoor space. Imagine waltzing between the trees into your yard every day!
Use Pavers
For something a bit more creative, use rock pavers to create a wall around your tree to plant within. This works best with smaller trees that have thin trunks. Form a circle around the trunk, filling in the space between the pavers and the tree with dirt and mulch to create a raised bed. In the bed, plant flowers and small shrubs. This is a relatively easy project—pavers are simple to work with, and usually affordable.
Landscape in Layers
Landscape layers look especially great around trees. Start by planting shrubs that are at least a foot off the ground closest to the trunk of a tree. These can be bushes or larger flower plants. Then, in the ring surrounding those plants, add flowers that are close to the ground. This provides different colors as well as layers outside of the tree. To expand this feature, add a layer of natural rocks of varied sizes in between the two plant layers.
Trees are beautiful enough to enhance your yard on their own, but landscaping around them will really elevate your outdoor space. Use these tips and you'll love the results.