Four Things to Know Before Starting Your Shedquarters Project
Last year's shelter-in-place orders proved to be an unintended boon for the residential construction market, driving a 40% jump in kitchen and bath remodels in the summer of 2020. A less-anticipated trend — home extensions and additions — jumped 52% last summer, leaving many residential contractors rushing to catch up with client demand.
Looking beyond the pandemic, accessory structures and dwellings promise broad-reaching opportunity for affordable housing supply, extended family accommodations, and rental income potential. Here are four things you should know to take advantage of this emerging trend.
Know the Vernacular
There are various terms circulating in the home extension market, and it's important to familiarize yourself and your clients with the right terminology.
Accessory Dwelling Units
Accessory dwelling units, or ADUs, are a new buzzword in the housing world even though the concept is nothing new. Sometimes called "mother-in-law apartments" or "granny flats," ADUs are self-contained residential units located on the same lot as an existing single-family home. According to the Municipal Research and Services Center, ADUs have all the basic facilities needed for day-to-day living, such as a kitchen, sleeping area and a bathroom, but are generally smaller than the main residence. An ADU may be created as a separate unit within an existing home (such as an attic), as an addition to the home (a separate unit with separate entrance), or as a separate structure on the same lot (such as a converted garage or new build). Other terms include "accessory apartment," "accessory living unit," "secondary unit," or "junior dwelling unit."
Accessory Structure
An accessory structure, or detached room, is exactly what it sounds like — a room completely disconnected from the existing house. The room may contain a small kitchenette and a bathroom, but it is not built as a fully-functional separate apartment. Accessory structures have numerous slang names you may be familiar with, including "man caves," "she-sheds," "shedominiums," "barndominium," etc.
Know Current and Future Use Cases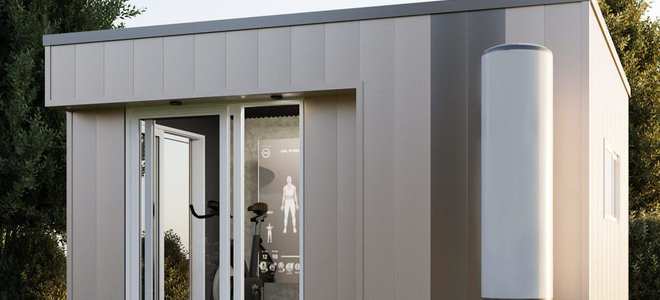 The use cases for ADUs and accessory structures are seemingly endless, like their multitude of nicknames.
Traditionally, home extensions/additions were designed to house aging parents or, more recently, short-term renters. Today, ADUs and accessory structures have taken on an additional purpose: to create flexible space for people cooped up at home.
Colorado-based Studio Shed highlights customers' "shed stories" on their website, opening up the mind to creative use cases and designs for home offices, remote classrooms, creative workshops, guest rooms, rental properties, pool houses, garages, garden sheds, wellness studios, home gyms and more.
The most important thing to note is that your client's needs will likely change over time. While they may be looking to create extra space now while cooped up during quarantine, talk to your clients about the long-term investment opportunities. A yoga studio could become a private room for adult children in the future. A home office could someday evolve into a short-term rental property.
Having this conversation before you design and build can open up additional sales opportunities for you, while also helping your client think beyond their short-term needs.
Know Local Rules and Regulations
Even before Covid-19, momentum was gaining for cities to allow accessory dwelling units and structures, which have traditionally been forbidden or highly restricted by building codes.
For example, Los Angeles' Department of Building Safety (LADBS), in partnership with the mayor's office, recently launched its ADU Standard Plan Program, offering homeowners an online catalogue of fully vetted designs, reducing the permitting time to as little as a single day.
According to buildinganadu.com, there are many reasons why municipalities may want to spur ADU development, including economic, environmental and social benefits. ADUs provide greater density in established communities, utilizing existing governmental infrastructure (eg. roads, sewers, schools). ADUs can also provide housing with a relatively small environmental footprint. In a building lifecycle, smaller residential spaces use less energy in construction, deconstruction and habitation. Perhaps most important to city officials, ADUs can provide more affordable housing options in residential neighborhoods without dramatically changing a neighborhood's character. Some municipalities may even incentivize ADU housing if rented to low-income individuals.
Despite new programs and incentives, the regulations for ADUs and detached sheds can be complex. Check with the city first, as well as applicable homeowners associations, on zoning and permitting requirements. You will likely be limited by size, including possible height and road-visibility limits. Shared utilities with an adjacent structure may be required, and the homeowner may have to live on-site. Surrounding properties, including the primary home, might need to be brought up to code before a new structure is built, and landscaping is another consideration — including possible tree preservation requirements.
Whether attached or detached from the main residence, most codes require that the main residence and the ADU are owned by the same person and not be sold separately. The good news, at least in larger municipalities, is that you will not likely be the first to inquire about these rules and regulations. Just be prepared with this key information when having the kick-off conversation with your clients.
Know the Right Partners
Branching out into the accessory structure/dwelling market does not have to be a solo venture.
There are hundreds of shed and ADU manufacturers, as well as architects who specialize in this type of design. Start by searching for potential partners in your area, but don't be afraid to look beyond your city or state borders.
Prefabricated and modular construction, as discussed in our recent blog, is opening up a world of premade possibilities with companies like Rent the Backyard and Plant Prefab. Many manufacturers offer affordable, preconfigured designs that ship as a 'kit-of-parts' for quick and easy installation.
In addition to DIY options, companies like Studio Shed are actively seeking certified installer partners to join their network. According to their website, Studio Shed installations are nearly always performed in conjunction with additional work for the customer that you can quote directly, such as foundation preparation and finishing details like decking, interior finish work, and more.
Now that you know the basics of accessory construction vernacular, use cases, regulations, and potential partnership opportunities, there is no time like the present to capitalize on the growing enthusiasm of this emerging trend. For more information about opportunities in residential construction, visit ThinkWood's guides to home wood projects.
Photo credits: First Image - Kanga Room Systems, Fourth Image - Studio Shed