Step-By-Step Garage Door Repair
To ensure our content is always up-to-date with current information, best practices, and professional advice, articles are routinely reviewed by industry experts with years of hands-on experience.

Reviewed by

on Feb 27, 2023
1-6 hours

•

Intermediate

•

0-300
How do you know if it is time for a garage door repair or check-up? Is your garage door opening and closing slower than it used to do? Is there wear and tear on the springs? What about loose screws or bolts? If the answer is 'yes', it might be time for some repairs.
Troubleshoot What Needs to be Repaired
1. Loose Screws
Are any of the bolts and screws for each mounting bracket, located along the sides of the tracks, loose? Tighten them.
2. Misaligned Tracks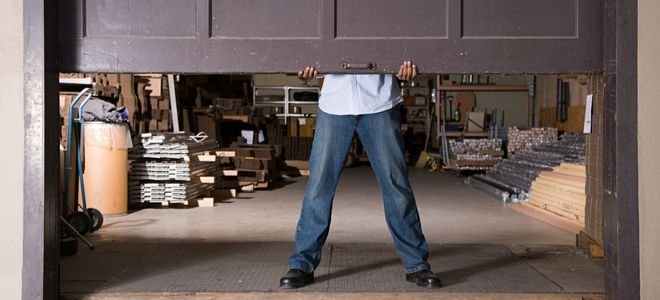 Vertical tracks should be perfectly straight and the same height as one another. Horizontal ones should slant down slightly toward the back of the garage. To set them in proper alignment: loosen - don't remove - bolts and screws for each mounting bracket. Tap the tracks back into proper position. Re-tighten the bolts and screws. Once you've got the tracks aligned properly, take the time to get rid of whatever hardened grease or dirt has built up inside them or on the rollers with a concentrated household cleaner. Be sure to wipe both rollers and tracks dry after cleaning.
3. Springs
There will be just one on a single-car garage, two on a two-car garage. Roll-up doors are operated by torsion springs, controlled by cables on pulleys. Two-car models can be adjusted by pulling the cable further through the plate above the door, then knotting the end to hold the newly established tension. One-car roll-up door springs should only be adjusted by a professional, as there is such a great amount of tension on the one spring that you could be injured when trying to adjust it yourself. Swing-up door springs are hooked on each side of the door into special notches or holes. To adjust the tension on these springs, simply move the spring hooks to the next notch.
4. Door Won't Open
If you're not able to open your garage door at all, or the mechanism is moving slower than it used to do, and you've made all the repairs needed during inspection of the door itself, the problem is likely rooted in the garage door opener. Today's models operate by a motor that opens and closes the door by moving a carriage with a drawbar across a rail located just above the door.
5. Remote Not Opening the Door
Are you stuck outside with the door not opening? Check the battery inside your remote control door opener first. The batteries in these openers usually last no more than a year, then must be replaced.
If the batteries are alive and well, but you still can't open the door, your remote may have gotten out of electronic sync with your main opener. In that case, reprogramming your remote may be in order. How to reprogram varies slightly with each model. Check with your manufacturer to get specific instructions on how to do this with your remote. Their website will often be able to provide this information for you.
6. No Other Solution
So you've changed the batteries. You've reprogrammed the remote and the mountain that is your garage door still will not be moved. It's quite possible your opener's motor may need replacing. Cost for replacing these motors runs around $100 and can be purchased at most hardware stores. If you don't have time right now to fix it, but you still need to open that door, there's a red cord that hangs down from the motor which will temporarily disconnect your door from its power, enabling you to open the garage door manually.