Gardening in the Heat: Keep Cool and Stay Safe
To ensure our content is always up-to-date with current information, best practices, and professional advice, articles are routinely reviewed by industry experts with years of hands-on experience.

Reviewed by

on Nov 01, 2022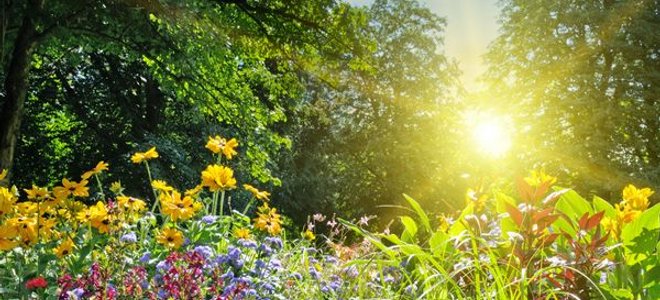 Spring is the time many gardeners wait for after a long winter. They burst through the doors of their local garden centers like wild bulls seeing red. Then, summer strikes.
Summer is the time when flowerbeds are cleaned up, perennials are popping through the ground, annuals are in their full form, and vegetables are well on their way to ripening in the warm sun. With all this garden excitement, it's easy (and important) to sit back and enjoy all the hard work.
However, there there's still so much going on in the garden during summertime, so it's not enough to simply admire all that is in bloom. Unfortunately, it can be challenging stay outside in the summer heat working in the garden.
Luckily, we know some of the best ways for you to enjoy working in your garden without letting the summer sun get the best of you.
Be the Early Bird and Catch the Worm
Sure, sleeping in is one of the many joys of the weekend. But, what if waking up early on your day off meant you could spend more relaxed, cooled off time in your garden?
Some of the best moments in the garden are the times where you can see wildlife buzzing about your plantings. You've created a sanctuary for yourself and creatures of all types. When you wake up early, you're more likely to see those creatures enjoying your space. On a practical note, it's also a great time to seek out hard-to-find garden pests that are destroying some of your prized plants.
And yes, in the morning hours, you'll have more shade cover and cooler temperatures. It's also the best time to give your plants a deep watering at the base so that they can take up hydration before the afternoon sun heats them up.
Give yourself and your garden a head start on beating the heat by waking up before the sun is at its peak. The good news is, after a morning of catching up on plantings and seeing insects and birds fly about your garden, you still have your whole day ahead of you!
Throw Some Shade Garden in the Mix
During the summer time, it's important to find solace in the shade garden. Many of our beloved plants are soaking up the sun, producing delicious tomatoes and peppers. If you're a die-hard gardener, the shade garden is full of opportunity and color, and summer is the perfect time to amp up your shade garden game.
Try planting some new heucheras, hostas, or cimicifugas. Look into native plants, some early spring ephemerals may be on sale at your local garden center; plant them now, and you'll enjoy them as they pop up early in your garden next spring. You can also get creative with shade-loving plants like begonias, coleus, or caladiums.
After trying some new shade plants, take the great opportunity to sit back and enjoy all the hard work you've done through the season. Dead head a few annuals, seed some herbs, maybe weed a few overgrown beds, and just take a moment to sit in your shade garden (maybe even with an ice-cold beverage).
Do a Little DIY to Keep Cool
Okay, so you're not a morning person. That's okay. You can still head out after 11 a.m. stay cool.
Applying something cool behind your neck or around your wrist will drastically cool down your body. For a do-it-yourself cooling mechanism, wrap a gel ice pack in a bandana and loosely tie it around your neck, placing the part with the ice pack on the back of your neck. You could also create a smaller version of the same thing around your wrists.
Quench Your Thirst
Most people can agree that a cold glass of lemonade on a hot summer day is a seasonal delight. But did you know there's a new drink in town?
Squeeze half a lemon and add a dash of salt into your water bottle. This is a great alternative thirst-quenching drink that you can easily make at home. Drinking from this mixture instead of straight water or sugary lemonade is an excellent way to stay truly hydrated.
Keeping hydrated means your body will ache less after some tough work in the garden. It's also a tasty accessory for when you're sitting in the shade and rebooting between tasks.
Eat Your Water
Having a cold bowl of fruit waiting for you after a long day in the garden is a great way to hydrate and cool down. Watermelon is an obvious choice for a delicious and refreshing snack. Of course, you can also add cucumber, celery, and strawberries to your list of hydrating foods that will provide you with some instant relief.
Tip: You can also add any of these foods to a water pitcher for a fresh, hydrating beverage. And you can eat up the fruits once you've drunk all the water.
Keep Covered Up
The skin is your screen between your internal functions and the elements. Applying sunscreen or wearing loose, lightweight long sleeves will keep your body at a lower temperature, as you avoid direct contact with UV rays. This simple method will help you ward off problems like heat stroke and exhaustion.
Go for a Swim
What better way to finish a day of gardening than by taking a refreshing dip in the water?
If you have a local swimming hole, make it a tradition to finish every day of summer garden chores with a swim! This is a training method of sorts. Get some work done and reward yourself afterward. You're more likely to go out again the next week because you associate the task with the reward of a relaxing swim. Any solution to a problem that involves swimming is a good one.
If you have a pool, this is also a great way to get off any excess dirt without bringing a mess into the house.
Tip: This could be a great way to get your family to help with garden chores like weeding. Reward kids who help in the garden by taking them all for a day at the community pool or local beach.
There's no reason to stay out of the garden during these warm days. There are so many ways to keep yourself cool while working outdoors and have some fun with it in the process. Go out and enjoy all there is to see in the amazing summer garden!