Guidelines for Building a Custom Bathroom Vanity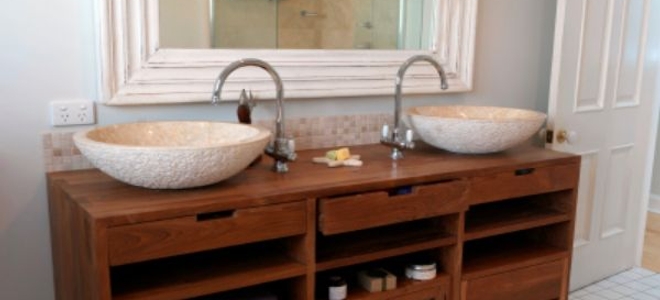 A custom bathroom vanity gives your bathroom additional space. You can be as creative as you desire. Additionally, the vanity can be crafted easily by following these steps.
Take Measurements
Before you start building your vanity, make sure you have accurate measurements. By taking exact measurements, you can be assured that the vanity will fit into the space without future adjustments.
Decide on Drawers and Hardware
Although you can create drawers on your own, you may want to purchase them pre-assembled. Whether you craft them yourself or purchase them, be sure that the measurements are compatible with your design. Additionally, decide on the sinks, faucets, mirrors, and other items.
Get Your Material
There are many materials from which to choose, such as wood, metal, or even a sturdy glass. Have your measurements with you when you go to the store. Buy extra material in case you make a mistake during the vanity's construction.
Assemble
To assemble your vanity, place the base down and attach it to the wall and floor. Then add the countertops and sink to the top. Place any other hardware such as, drawers or mirrors, into your vanity. Check that every item is functional and make an adjustments as necessary.