Hardscaping: An Alternative to a Plant-Based Landscape
To ensure our content is always up-to-date with current information, best practices, and professional advice, articles are routinely reviewed by industry experts with years of hands-on experience.

Reviewed by

on Oct 06, 2022
If you want to improve the look of your yard but want an alternative to traditional landscaping, then hardscaping might be a viable option. Hardscaping is the use of hard materials including concrete, brick, stone, pavers and even wood to landscape a space. You can add real value to your home with hardscaping features like a patio, pool, fire pit, or an elegant walkway. With so many hardscaping materials to choose from, it's important to consider all the choices before making a final decision on what to use.
Concrete: Affordability at its Best
Concrete is one of the most popular materials to use with hardscaping because of its versatility. Concrete is a mix of cement, sand, aggregate, and water, and can be used for just about any hardscaping feature. As a material, it's very affordable, ranging from around $8 per square foot, and can last a long time if installed correctly. Additionally, you can even have it stained and textured to match whatever design you have in mind. The downside to using concrete is that if it isn't installed correctly, it can crack and fissure after time. Also, concrete can be tricky to install as it requires a lot of prep work and once poured has a limited time before it dries.
Brick: Breezy Installation
Brick tends to be more expensive than concrete but has a less intensive installation. Brick normally comes in specific patterns, which can be used to make the surface more formal or informal, depending on your style. You can use bricks as pavers for a walkway or driveway, or even construct a brick wall to add privacy to your space. The cost of brick runs around $15 per square foot. Whether you're installing a wall or a walkway, you'll need to do some pre-work on the ground before installing the brick, and you'll need to use some mortar between the brick layers on a wall. The downside of bricks are cost and the time it takes to install.
Stone: Easy Elegance
There are quite a few options when it comes to stone, including flagstone, sandstone, slate, limestone and quartzite. Flagstone is often used for patio flooring and is typically installed on top of a layer of concrete and connected with grout joints. The downside of stone, especially natural stone, is that you'll have to deal with bumps, ridges and varying heights and weights. (But if you're going for a rustic or "natural" look, that may be to your advantage.) Another downside to using natural stone is its cost, as it is easily the most expensive in terms of paving costs. However, the great part about using stone is that installation is fairly easy and can add an elegant look to your space.
Wood: A Transitional Base
Wood can create a fluid transition between your hardscape and natural landscape. It's a material commonly used in fences and decks, with both being built out of pressure-treated lumber. You can also use wood chips for a rustic looking walkway. Two great things about using wood is that it's relatively inexpensive, depending on the type of wood used, and the installation is easy and fairly straightforward. The downside to wood is the maintenance and upkeep, as wood needs seasonal cleaning and protection to keep it from rotting and molding.
Pavers: Building Blocks of Pattern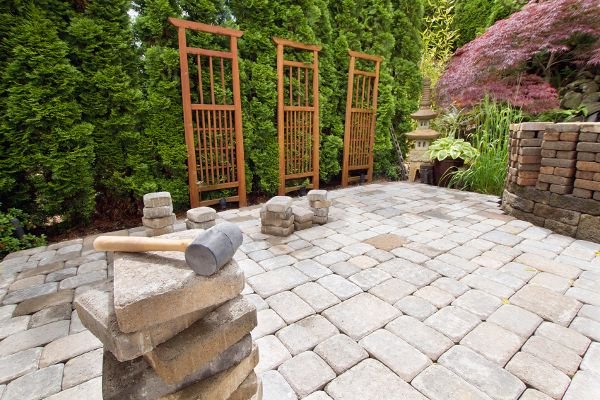 Pavers are different kinds of units, roughly brick-sized, that are used for patio flooring and walls. Pavers can come in the classic brick look, while some are made of concrete. The great thing about pavers is that you don't need mortar to install -- most interlock to form a pattern. Just make sure you construct a permanent border to avoid any shifting and sliding as the materials settle. Additionally, if you don't want to pour concrete you can install pavers on top of pea gravel and bedding sand, or even a dirt surface. The cost of pavers is the around the same as brick, at about $15 per square foot.
Outdoor Tile: Customize to Your Climate
Ceramic, slate, natural stone, and terracotta tiles are some of the options available when it comes to outdoor tile. One thing to keep in mind is that outdoor tile is rated for various climates, so make sure you choose one that fits your zone. Installation isn't complicated with tile, but it should be set in a bed of mortar on top of a concrete slab. The downside to using tile is the cost, as it can run anywhere from $1 to $35 per square foot. Be warned that some of the cheaper tiles have a tendency to crack when faced with extreme weather conditions, so it's better to choose a more expensive kind when installing outdoors.
Gravel: Covers the Most Ground
An alternative, and easy to install hardscaping option for a walkway or driveway, is loose material. Pea gravel, Mexican river rock, small stones, and even recycled rubber mulch are great materials to choose from. Because you can often get these loose materials in bulk from local quarries, it's definitely one of the cheaper options and can also cover a large area for relatively little cost. Before you install, make sure the ground is even and packed, and that you have a sufficient border to keep the loose material inside the desired area. The downside to gravel is that it has a tendency to escape and degrade over time as it compacts down, leaving you with plenty of seasonal upkeep to manage.